The last century was the golden age of music from the subcontinent. At no other time in history, perhaps, had the subcontinent produced so many truly accomplished exponents of classical, semi-classical, ghazal and film music. Iqbal Bano lived and performed in this golden age. However, it is surprising — in fact, ironic — that when we scan the thousands of artists hailing from  South Asia, we can count the masters of ghazal singing on our fingertips. For me, these great masters are: K.L. Saigal, Kamla Jharia, Mujaddad Niazi, Akhtari Bai Faizabadi, Talat Mahmood, Ustad Barkat Ali Khan, Ustad Amanat Ali Khan, Ghulam Ali, Mehdi Hassan, Farida Khanum and Iqbal Bano. The list barely reaches double digits.
Ghazal came to India from Iran. In the beginning its singing was confined to the kotha (salon of singing girls), where the elite of the town enjoyed listening to their own kalam (poetry) and that of other well-known poets. What differentiated ghazal from the popular semi-classical genre of thumri/dadra was the stress on the correct and clear adaigi (expression) and tallaffuz (pronunciation) of Urdu and Persian words and ash'aar (verses). In the delivery of thumri and dadra there was more emphasis on bahlawa (variation and improvisation) of notes. Iqbal Bano excelled in both genres.
Unlike Mehdi Hassan and Ghulam Ali,  Iqbal Bano did not have a vast repertoire. It was the quality of her work, not the quantity, that stood out.
Her rendering of Faiz Ahmed Faiz's work was impeccable. She went on to record a Faiz album with EMI in 1988. It included  masterpieces such as "Aaiye Haath Uthaen Hum Bhi," "Mere Dil Mere Musafir," "Rung Pairahan Ka Khushboo Zulf Lahraney Ka Naam," "Tum Aaye Ho Na Shab-e-Intezar Guzri Hai," "Kub Thehre Ga Dard Aye Dil, Kub Raat Basar Ho Gi," "Dono Jahan Teri Mohabbat Mein Haar Ke" and "Hum Dekhen Ge."
The last mentioned was a special favourite with listeners. First rendered at a Faiz mela in Lahore, it drew standing ovation and sustained applause from a crowd of 50,000 in the audience. It became her national anthem at all performances. In fact, it subsequently raced ahead of her immensely popular numbers "Ulfat ki Nayee Manzil" and "Payal Mein Geet Hain," composed by Master Inayat Hussain for the films Qatil and Gumnam, which had featured in Amin Sayani's Binaca Geet Mala from Radio Ceylon. She also sang for other films, among them Sarfarosh, Ishq-e-Laila, Inteqam and Nagin.
Like her contemporaries Farida Khanum and Mehdi Hassan, Iqbal Bano was a regular at the Jashn-e-Kabul, held every year in the Afghan capital, prior to the Soviet invasion. Besides Urdu verses she would always render some Persian numbers, much to the delight of King Zahir Shah.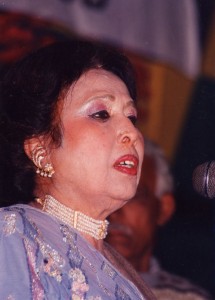 Born in 1935 in Delhi, Iqbal Bano trained under Ustad Chand Khan and her first public performance was at the Lahore Arts Council in 1957, and subsequently she performed at several music concerts. One of the conditions she laid down before her prospective husband, a feudal landlord,  was that he would never stop her from singing. And he never did.
Bano was awarded the Pride of Performance for her invaluable contribution to music. However for her, it was always the spontaneous applause and love of her audiences that kept her going till the very end.
Iqbal Bano's death on April 21 is a grim reminder of the fact that the true practitioners of classical music are dying. As is the golden era of music in the country.
Next