NA 1 (Peshawar)
Generally the PPP and ANP have taken turns at winning the prestigious NA-1 seat comprising Peshawar city, but this equation could change this time due to Imran Khan's decision to contest from the constituency.
The only time when neither the ANP nor the PPP could win from NA-1 was in 2002, when the six-party religious alliance, MMA's candidate, Shabbir Ahmad Khan, belonging to the Jamaat-i-Islami emerged victorious and Ghulam Ahmad Bilour's nephew, the late Bashir Bilour's son Usman Bashir Bilour was runner-up. Shabbir Ahmad is, once again, contesting on a Jamaat-i-Islami ticket for the seat, but the MMA is now a thing of the past and the JUI-F has fielded its own candidate, Haji Shahnawaz.
ANP's Ghulam Ahmad Bilour is 75 years old but he has no intention of calling it a day. Despite security concerns and even after surviving a recent suicide bomb attack that killed 19 people, he is again the party's candidate for NA-1 after having won it thrice, once against Benazir Bhutto. However, he lost twice from this constituency — once to Aftab Sherpao in 1988 and the second time to Zafar Ali Shah in 1993, both PPP candidates. Two of his nephews, Haroon Bilour, who is the son of ANP leader Bashir Bilour who was killed by the militants in a suicide bombing in Peshawar last year, and Ghazanfar Bilour are contesting for provincial assembly seats that fall in NA-1. The incumbency factor and the yearning for a change could affect the Bilours' chances of victory, but the family is resourceful and experienced enough to fight and win an election.
The PPP has put up a relatively weak candidate, Zulfiqar Afghani. However, the party still has a solid vote-bank despite the general frustration with its leadership and its performance during the party's five-year term in office. Afghani is a committed worker and might be able to mobilise the rank and file. However, there is demoralisation in its ranks and defeating Bilour would be an uphill task for Afghani.
The real challenge to Ghulam Ahmad Bilour comes from Imran Khan, who has yet to campaign in Peshawar. In fact, Imran's absence and the feeling that he may not keep the NA-1 seat even if he were to win is affecting his chances of victory. However, there is no lack of enthusiasm among the PTI workers and the common people appear to be drifting towards Imran in the run-up to the polling day. But the party will have to run a disciplined campaign in order to defeat the formidable election apparatus of the Bilours. Additionally, the JI and JUI-F candidates could split the rightist vote and pose problems for the PTI, though there is also the possibility that the voters may switch to Imran if they realise that he has better chances of beating the elder Bilour.
NA 7 (Charsadda)
ANP President Asfandyar Wali Khan has yet to visit his native Charsadda to take part in the election campaign in his NA-7 constituency due to security concerns. His party workers have asked him not to come as his life is in danger. They are campaigning for him door-to-door and through corner meetings and use of the local FM radio station and the social media. A group of women party workers, led by former MPA Shagufta Malik and Nabila Rehman, are also actively campaigning for him.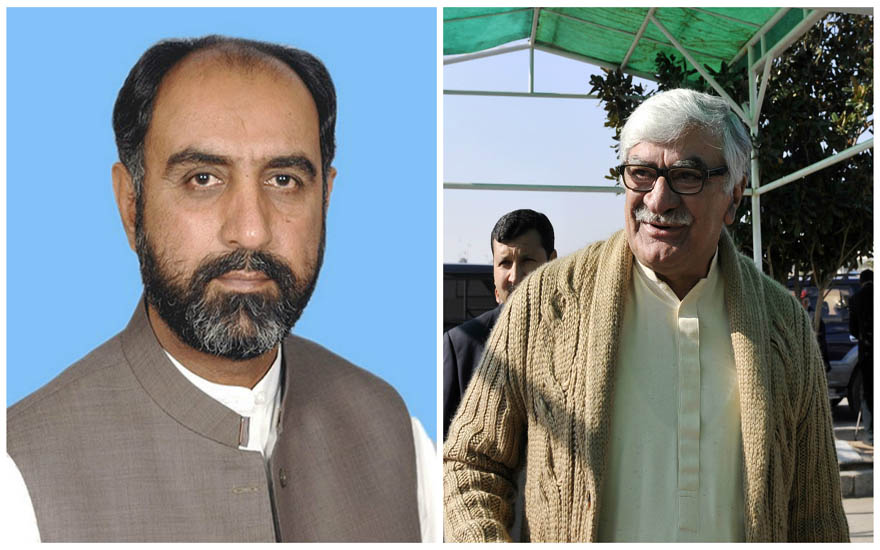 Asfandyar Wali has visited Charsadda only once, since surviving a suicide bombing at his home on Eid day in October 2008. On that occasion, he addressed a public meeting in the company of his nephew, Ameer Haider Hoti, when the latter was the chief minister of Khyber Pakhtunkhwa and was entitled to high-level security provided by the state.
The NA-7 constituency has been an ANP stronghold, even though it isn't impregnable as the defeat of Khan Abdul Wali Khan in the 1990 election at the hands of the revered religious scholar and JUI-F candidate Maulana Hasan Jan showed. Asfandyar Wali too lost to the JUI-F candidate, Maulana Gohar Shah, in 2002. Asfandyar Wali's absence from his constituency and the difficulties being faced by the three provincial assembly candidates in PK-17, PK-18 and PK-19 in running campaigns in their constituencies due to the threat posed by the Tehrik-i-Taliban Pakistan (TTP) militants has provided a window of opportunity for other contenders to snatch the seat from the ANP head.
Fortunately for the ANP, unlike in the previous elections no grand alliance against the ANP has been formed yet. Or else their candidates would have faced major problems. Though Aftab Sherpao's Qaumi Watan Party (QWP) and Maulana Fazlur Rahman's JUI-F have made seat adjustments in Charsadda on certain assembly seats, including NA-7, this arrangement isn't for the entire Charsadda district and is still being opposed by some JUI-F candidates. This should come as a respite for the ANP.
In NA-7, the QWP will support JUI-F's Maulana Gohar Shah, a former MNA who defeated Asfandyar Wali in 2002. The PTI has fielded Fazal Mohammad Khan, son of former federal minister Nisar Mohammad Khan, who is an old Muslim Leaguer vacillating from one PML faction to another. However, a much stronger candidate against Asfandyar Wali in NA-7 seems to be Arshad Khan, a former MPA who was in Sherpao's party for years before joining Jamaat-i-Islami. However, that didn't stop him from contesting the 2008 general elections that were boycotted by a Jamaat-i-Islami on the JUI-F ticket and losing. He has now returned to the Jamaat-i-Islami and is gradually emerging as a serious challenger to Asfandyar Wali.
Unlike in 2008, when Asfandyar Wali also contested for a National Assembly seat in the ANP stronghold of Swabi and narrowly lost to the independent candidate Usman Tarakai, he hasn't filed nomination papers for any other constituency this time. It is an indication of his confidence that he will be able to retain his traditional NA-7 Charsadda seat and thus there was no need to contest from another constituency.
NA 24 and NA 25 (Dera Ismail Khan)
Maulana Fazlur Rahman belongs to Dera Ismail Khan and has been contesting every election from the district since the death of his father, Maulana Mufti Mahmood, who won a famous victory against Zulfikar Ali Bhutto for the National Assembly seat in 1970.
However, the JUI-F chief has also been fighting from constituencies in neighbouring districts in the last two general elections because he has been unsure of a win in his native Dera Ismail Khan. His worst fears proved true in the 2008 polls, when he lost his Dera Ismail Khan seat, NA-24, to the young PPP candidate Faisal Karim Kundi by a margin of 37,570 votes.
Maulana Fazlur Rahman is not taking any chances this time round. He is contesting for three National Assembly seats, this time from Dera Ismail Khan, Tank and Lakki Marwat. In his native Dera Ismail Khan, his major rival appears to be PPP's Waqar Ahmad Khan, who belongs to the district but his family has been living in Lahore for years and regularly contesting elections for the Senate instead of the National Assembly. In fact, his family of businessmen established a record of sorts in Pakistan's electoral history when Waqar Ahmad Khan, his brother Amad Ahmad Khan and their father Gulzar Ahmad Khan all became members of the Senate at the same time, after having used their considerable wealth to ensure their victory in the election to the Upper House of Parliament.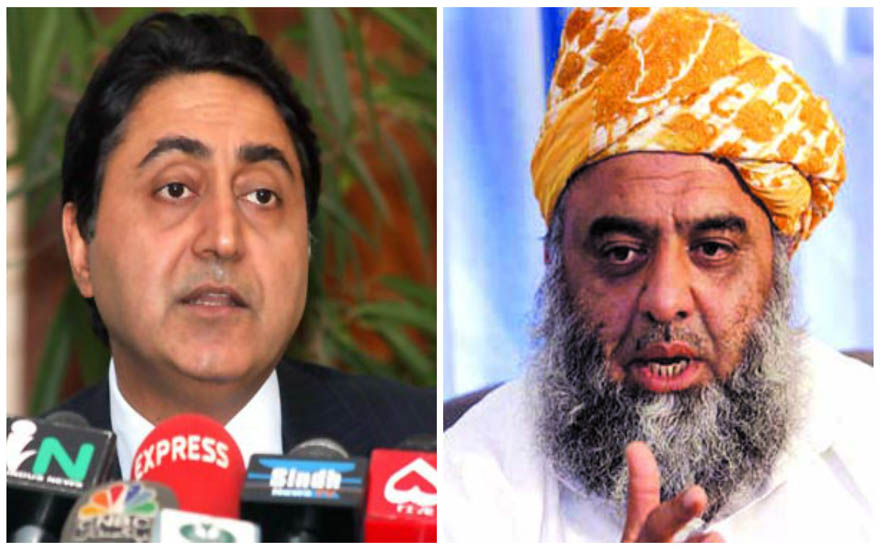 Though the main contestants in NA-24 seem to be Maulana Fazlur Rahman and Waqar Ahmad Khan, there are several other candidates fielded by almost all known political parties or independents. The hopes of Mustafa Kundi , a candidate of the Pakistan Tehreek-e-Insaf (PTI), were also raised when the party head Imran Khan recently addressed a big public meeting in Dera Ismail Khan. The PML-N's Rehan Malik and Jamaat-i-Islami's Zahid Mohibullah, candidates who are seeking a Seraiki province, and actress Musarrat Shaheen are also in the run, but none of them stand a chance of winning the seat. In the NA-25 D I Khan-cum-Tank constituency, Maulana Fazlur Rahman is engaged in a triangular contest with PPP's Faisal Karim Kundi who shifted from Dera Ismail Khan to Tank for this election, and PTI's Dawar Khan Kundi. Yet another member of the Kundi clan, former provincial minister Habibullah Khan Kundi, is also an important candidate for this seat.
NA 26 (Bannu)
However, he managed to enter the National Assembly by easily winning the NA-26 Bannu seat against independent candidate Malik Nasir Khan, who polled 56,546 votes against the Maulana's 91,484. It was a smart move on the part of Maulana Fazlur Rahman to contest from Bannu because Akram Khan Durrani, chosen by him to be the chief minister of the province in 2002 following the victory of the Muttahida Majlis-i-Amal (MMA), had increased the party's vote-bank in the district by undertaking unprecedented development projects using public funds.
NA 27 (Lakki Marwat) 
Perhaps the most keenly watched electoral contest involving Maulana Fazlur Rahman would take place in Lakki Marwat for NA-27, where he has challenged Salim Saifullah Khan. The Maulana has managed to obtain the support of leading groups and families in the district and opened his party's doors to moneyed politicians by awarding them provincial assembly tickets so that they could pose a serious challenge to the Saifullahs.
The Saifullah family has contested every general election from Lakki Marwat and won often. This time, Salim Saifullah is contesting as an independent even though he is president of PML-Likeminded. His elder brother Anwar Saifullah, who is provincial president of the PPP, is contesting for two out of the three provincial assembly seats from Lakki Marwat. Anwar Saifullah, in particular, is desperate to win a provincial assembly seat to be able to mount his bid for the chief minister's job in the event of the PPP doing well in the elections in Khyber Pakhtunkhwa. However, Maulana Fazlur Rahman appears determined to defeat the Saifullahs in their own backyard.
Next