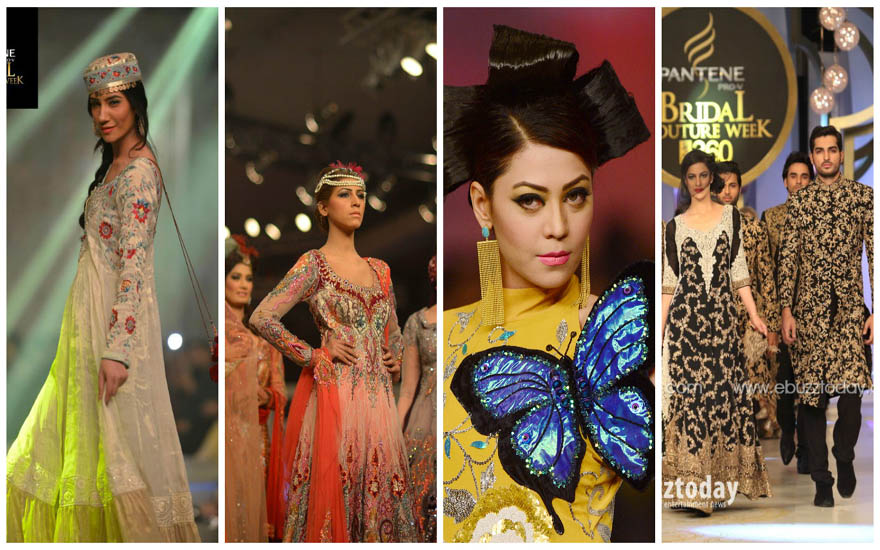 Brides and bridal shows never seem to go out of fashion. So, no surprises that Pantene Bridal Couture Week held at the other end of town, the Expo Centre, drew an impressive list of designers and equally impressive crowds.
Day One of Pantene Bridal Couture Week 2013 started off with Zainab Chhotani's exquisite collection, setting the mood for the extravagant evening ahead.  Chhotani's use of a predominantly pastel palette was like a breath of fresh summer air. The beautiful champagnes, delicate mints, blush pinks blending into vibrant corals, and the painstaking intricate detailing made for a stunning visual feast. With bare hints of the traditional wedding red complementing some of her designs, little doubt was left that this collection was a beautiful marriage of traditional and contemporary bridal colours. Well-known TV celebrities Shaista Wahidi, Nida Yasir and Fahad Mustafa walked the runway for the talented designer, but the show-stopper of the evening, a red outfit with a two-meter long train, was worn by the gorgeous Nadia Hussain.
Nadia Chhotani's jewellery show that followed was an homage to the by-gone Mughal days of grandeur. Her collection mainly showcased long, three-tiered necklaces encrusted with large jewels, with jhumkas and nose rings completing the very traditional bridal jewellery look. The theme ended with a skit featuring a Mughal-inspired bride and groom.
BodyBeats added some "masala" to the evening with a high voltage dance number by the talented couple Aamina Sheikh and Mohib Mirza to the tune of a quintessential Bollywood wedding mashup.
Saim Ali's collection deserves kudos for his brave use of sheer, voluminous pleated kameezes, and that too for a bride. His collection was an eclectic mix of Indian influences merged with the 'sheer' trend rampant on runways in New York, Paris, London and Milan. Although his bravado for keeping Pakistani wedding fashion aligned with global trends is appreciated, one feels that Pakistan brides are not ready to don sheer, shapeless outfits.
The highlight of Mona Imran's collection had to be the exaggerated strut of the beloved Hina Dilpazeer aka Momo of Bulbulay fame, opening the show, with the crowd wildly cheering as she sashayed down the runway. Imran's collection used traditional 'mukesh' and 'kaamdani' with a wide array of colours. But her standout pieces were the black and gold ensembles worn with flowy capes.
Day Two of BCW may not have included as many prominent designer names as the first and final day, but some of the up-and-coming designers certainly gave the more established names a run for their money as they showcased some of the most stunning bridal wear of the entire event. Lahore-based designer Hina Butt and Karachiite Yasmin Zaman, in particular, deserve a special mention for their understated, pastel shades, fine cuts and exquisite embroidery. Also, the outfits were very wearable and designed for brides who wish to break away from tradition while still retaining some conventionality. Hina Butt's pistachio green and pink lehnga with dark gold embroidery worn by Mehreen Syed enthralled the audience, as did Yasmin Zaman's contemporary, Central Asian themed wear.
Lajwanti and Madiha Nauman, on the other hand, opted for the traditional look with heavy ghararas and ostentatious jewellery.
Maliha Sheikh's jewellery, unmistakably inspired by traditional Sindhi designs, was complemented by Sania Maskatiya ensembles
The dapper men of Fuzon treated the audience to two of their current songs. Music lovers will certainly be excited about their comeback.
Finally, Indian designer-duo Anjali & Arjun Kapoor, who have dressed some of the biggest stars of Bollywood, showcased their very loud and flamboyant 'Mughal Opera' collection. The assemblage was very ornate and the models in glittering head-gear appeared to have stepped out of Las Vegas rather than the Mughal era. The duos collection offered a stark contrast to the much safer designs by the Pakistanis. While not being everyone's cup of tea, it's always refreshing to see designers push the boundaries of creativity.
The third and final day of BCW featured two upcoming designers. Sana Abbas's segment began with models walking down the ramp in pastel ensembles that were elegant, albeit a bit safe. The other relatively unknown designer was Mifrah, whose collection was high on the glamour quotient, as she made extensive use of gold work. Two black outfits, in which the embroidery was used sparingly, stood out in their simplicity whereas the ensembles in which Mifrah employed coral and white together did not quite work since the gold embellishments did not compliment the cool colours.
But the weakest show of the night was inarguably Nadya Mistry's segment which had the models walking down in ensembles that looked like costumes from a 1980s' sci-fi movie. Mistry's sartorial experiments cannot even be called avant-garde or campy and show-stopper actress Amna Malik seemed extremely uncomfortable as she walked down the runway in a gaudy gold outfit.
At the other end of the spectrum was Deepak Perwani, who made use of classic colour combinations and traditional blockprinting. A pink sari with an intricately embroidered blouse was fit for a bride who does not want to go for the ubiquitous ghararas. Perwani stayed true to tradition and showstoppers, Wasim Akram in a dhoti ensemble and Zeba Bakhtiar in a regal embroidered coat, were met with a long round of applause from the audience.
Day Three also a featured a special segment in which 12 emerging designers showed an outfit each. Some (Ruby Shakeel and Tabassum Mughal) seemed to be competing with Nadya Mistry in creating outlandish bridal wear, while others such as Obaid Sheikh, who used the unusual colour combination of white and taupe, showed more promise.
But everything paled in comparison to the dramatic finale featuring HSY's bridal collection. The models walked into the dimly lit stage and began voguing to the song 'Dil Se'. Most sherwanis presented at bridal weeks border on tackiness, but HSY's black sherwanis, ornately embroidered in pale gold thread, were both regal and refined. The female models wore monochromatic outfits — reds, whites, blacks — with gold embellishments, which were glamorous but not garish. Model Mehreen Syed looked like she had stepped out of a Mughal miniature as she made her way down the ramp in an ornate red and purple ensemble.
HSY was also the choreographer for the three-day show and his experience showed as he brought variation to each segment.
With some minor glitches in sound and same major ones with time management, BCW was overall a successful event.
The writer is a journalist and former assistant editor at Newsline.
Next