Thar Crisis: Living a Nightmare
The death count has stopped. TV channels are no longer airing live coverage of screaming, malnourished children, and the humanitarian assistance camps are speedily disappearing from the Thar desert of Sindh. But hundreds of thousands of men, women, children and livestock are still struggling to survive, while others have left for the barrage areas rather than see their children die.
No surprises here. This is what the people of Thar experience, year after year. But, it is for the first time that the media has exposed the abysmal conditions they live in and what is tragic is that this is not a natural famine, but a man-made tragedy caused by poor governance and criminal neglect.
A malnourished child desperately awaits treatment but help, unfortunately, arrives too late — he is dead. This is a common occurrence in Tharparkar, where food insecurity, diseases and lack of medical services have claimed the lives of 201 children this year, according to news reports. The Provincial Disaster Management Authority (PDMA) states that 259,947 families and 40 per cent of the livestock have been affected while 167 lives have been lost, including 99 children, since December last year.
Initially, the Sindh government dismissed the crisis as a media-driven famine, but after facing increasing pressure from the public, it was forced to declare Thar a calamity-hit region and initiate emergency relief measures. A billion-rupee relief package was also announced by Prime Minister Nawaz Sharif. The past few weeks have seen a flurry of visits from politicians and officials to Thar. But these official visits, donations of relief packages and deployment of doctors offer only short-term consolation — not a permanent solution. To deal with the complex socio-economic situation in Thar and cope with the problems of this neglected community, a long-term strategy needs to be devised.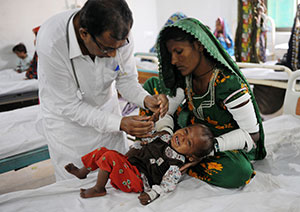 Alarming facts about the drought have emerged in the first scientific report released by the Health And Nutrition Development Society (HANDS), with the support of the United Nations Office for the Coordination of Humanitarian Affairs (UNOCHA). The report claims that scant rainfall and the outbreak of a sheep pox epidemic has created food insecurity in Tharparkar. Thirty-five per cent of the total population in Chachro Taluka, 28 per cent in Mithi Taluka and 26 per cent in Diplo Taluka have been affected. Seventy-six per cent of the population of Tharparkar has no food stock and faces severe food shortage in the coming months. The report also states that if vaccinations are not immediately made available to 89 per cent of the sheep suffering from sheep pox, they are most likely to die.
Tharparkar district is the largest desert in Pakistan, and the eighteenth largest in the world. Boasting a population of 1.5 million, this is the only district in Pakistan where almost 50 per cent of the population is Hindu. Sixty per cent of them belong to the scheduled castes, known as Dalits. Their main source of livelihood is agriculture and livestock farming, and the survival of both is entirely dependent on the rainfall, which mainly occurs between July and September and in normal years varies between 200 mm to 300 mm annually. The lack of any other sources of livelihood forces many families to work in the carpet industry. According to a survey conducted by the Thardeep Rural Development Programme (TRDP) in 2003, 98 per cent of the carpet weavers' families were in debt: many had taken multiple loans and half of them had used the loans to purchase food because they had little by way of earnings. The family debts also forced their children into carpet-weaving, and 47 per cent of the children labouring on looms worked an average of eight hours a day. Consequently, about 65 per cent of them were not going to school.
Usually, every winter, the shortage of food and fodder leads to a mass migration of the residents of Thar. Thousands of families, mainly the Dalits belonging to the Bheel and Kohli castes, make their way to the barrage areas where they work on farms. Most of the migrant workers, however, are paid poorly by the landlords. According to the International Labour Organisation, about 1.8 million labourers in Pakistan are subject to debt bondage, a majority of whom work on farms or in brick kilns. Thousands of previously bonded Dalit labourers, now freed, are living in camps established by human rights organisations in Hyderabad. But it is estimated that thousands of these bonded families continue to work in inhuman conditions in lower Sindh.
The literacy rate among the children of the Dalits is negligible. "How can I enrol my children in any school when we are migrating, every year, from Thar to the barrage area and vice versa in search of work?" says Majno Bheel, a resident of a remote village in Diplo Taluka.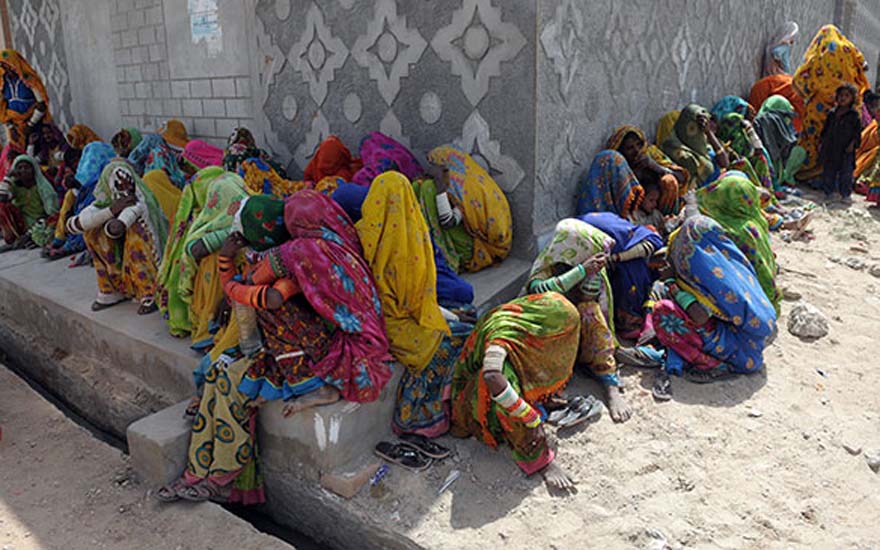 District Tharparkar is known to rank the lowest on the Human Development Index of all 23 districts of Sindh. About 47 per cent of the families here live below the poverty line, with one-third living below the caloric poverty line, which means that they are not in a position to procure the required calorie intake essential for human survival and healthy living, according to the World Food Programme. HANDS reports that it is mostly women and children who suffer from this malnutrition. The practice of breast-feeding among nursing mothers has also declined, falling from 39 per cent to only 28 per cent after the current drought.
The lack of clean drinking water is also stated to be one of the major causes of disease and health problems in Thar. The underground water is simply not fit for human consumption. According to Ali Akbar Rahimoo, head of the Association for Water, Applied Education and Renewable Energy (AWARE), "The normal fluoride level in water is supposed to be 1 part per million (ppm), but in many locations in Tharparkar it is as high as 13ppm. The underground water here not only contains fluoride, which causes dental and skeletal fluorosis, osteosclerosis, thyroid and kidney problems, all of which are common in Thar, but also has lead and arsenic."
Thar also lags far behind in educational facilities. According to official records, there are a total of 4,153 operational schools in the 2,484 villages of Tharparkar district, which amounts to two schools per village. But, more than 50 per cent of these schools exist only on paper and are non-functional. Recently, a survey conducted in Thar by AWARE revealed that out of 15,790 students attending primary schools, only 3,573 students complete matriculation, 374 students complete their intermediate and two per cent of the total enrolled students obtain their graduate degrees.
The National Nutrition Survey 2011 indicates that Sindh is also the most food-deprived province of Pakistan, with only 28 per cent of food-secure households while 16.8 per cent of the households, face severe hunger. The Sindh government claims to have spent millions of rupees on health and nutrition over the last decade, but the number of malnourished children is rising: in 2001, 44 per cent of the children were reportedly malnourished, and in 2011 the figure rose to 49.8 per cent. The UN claims that this is the primary reason for the death of children in Tharparkar. HANDS recently revealed that 32 per cent of the health units in Tharparkar were not functional and, astonishingly, 26 per cent of the population did not even know about the health facilities available in the area.
Though the government has started relief services in the area by providing wheat and fodder packages to drought-affected communities, these packages may not be sufficient for the many dry months preceding the rains. Moreover, most of the vulnerable communities, who used to migrate to the barrage areas to work on the farms, are staying back in the vain hope of securing relief packages. But once the emergency relief operation is over, a severe food crisis is expected to hit the area, yet again.
"I have been given 100 kg of wheat to feed seven members of my family. Is there any chance of receiving more?" An elderly man posed the question to a cameraman, as he photographed him with his relief package.
This article was originally published in Newsline's April 2014 issue under the headline, "Living a Nightmare."
Next