Karachi, the economic hub of Pakistan, home to almost 18 million people, is one of the largest cities in the world. But it is also a city plagued by violence and crime. Incidents of terrorism have kept travellers away, which in turn has wreaked havoc on the hotel industry, as occupancy rates have fallen and expenditure on security has risen.
Following the attack on the Marriott Hotel in the country's capital, Islamabad, in 2008, security systems at hotels in Karachi, too, underwent an overhaul. A guest is now subjected to a number of security checks at the entrance of hotels, which earlier merely had an attendant with a welcoming smile.
To make both local and international travellers feel comfortable and safe, as well as satisfy the security departments of the corporate sector, hotels have been converted into high security zones with armed guards, barricades, surveillance cameras, anti-blast walls and sniffer dogs.
Mahnoor Zaidi, Public Relations Manager at the Pearl Continental, Karachi, says that because of the security threat and the hotel being in the Red Zone, the number of security guards has climbed to more than 200.
"They have three shifts during the day," she says. "Our own security company [Hashoo Group] takes all the necessary measures which includes the use of technology and planning required to keep the customers safe."
Although the hoteliers were reluctant to share the exact figures on security spending, there's little doubt that these arrangements take away a significant amount from their annual budgets: "The expenses incurred on security take away a major chunk of their profits. The payments for the purchase of the latest equipment, maintenance, licences, arms and ammunition, as well as the payments to the security agencies/staff, cost a hefty amount every month," says a Pakistan Hotels Association (PHA) representative, who wished not to be named.
Zaidi says that their USP is security. "Bhai [Altaf Hussain] ki book launching ceremony bhi yaheen hui thi. Aur kya chahiye," says Zaidi with a laugh.
Security has, in fact, become one of the selling points nowadays. "A major part of our business is because of our fool-proof security systems, in which we've invested heavily," says Bushra Fazli, Corporate Manager for Marketing and Social Media at the Avari Towers Karachi. "All entry and exit points, including the lower and upper ramp, are checked with blockers, scanners and explosive detectors."
International cricket staying away from Pakistan and the negative travel advisories issued to foreigners have not helped either. The number of international travellers to Pakistan has fallen, and hotels, for their survival, depend upon holding conferences, seminars, weddings and international examinations at their premises.
"Mostly local businessmen, tourists and other types of visitors are catered to. Accordingly, the rates have gone down, which ultimately affects the bottom line," says the PHA representative.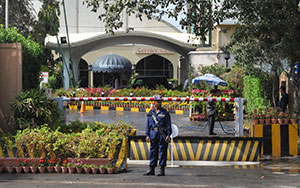 Along with the security expense, he adds, because of a levy of a 10 per cent advance tax by the government according to Amendment No. 236D in the Finance Bill 2013 on wedding/wedding-related banquet business in hotels, those hotels which are compliant, are losing out on wedding functions when the clients do not wish to provide the NTN or CNIC.
Although provision 236D is applicable to other commercial lawns, marriage halls and caterers as well, there is no strict compliance. "This way, more than 80 per cent of the business is being diverted to other venues," he complains.
To keep their operations running, hotels are exploring alternative sources of income, such as summer camps for children, cooking classes, along with special weekend, summer and winter packages, etc.
Moreover, because of an economic slowdown and lack of business travellers, hotels find their occupancy on the lower side. According to a 2010 report by Pak Tribune, the average room occupancy in that year "dropped to 40 per cent on average, much below the numbers needed to break even."
Payroll is one of the major expenses in running a good quality hotel. Although hoteliers deny any downsizing, some of them have been forced to cut down their manpower. "Every year, they combine the job tasks and release some of the staff to curtail their expenses," says the Association's representative.
The exit of the Sheraton Hotel has also been seen as a major setback to the efforts of the government to restore investor confidence in the country's financial capital. However, the industry, though in crisis, is showing signs of slow improvement. With a steady increase in the value of the rupee against the US dollar, and a five per cent growth in the current fiscal year (as reported by The State Bank of Pakistan), Pakistan's economy is picking up. Or so it seems.
"Karachi has always been a business destination," says Fazli. "Times have been tough but since the new government has taken charge, investment is taking place and business is improving."
The occupancy rates of hotels have not improved much, but in comparison to the last five years, the average Year-to-Date (YTD) occupancy is now faring well. "The YTD occupancy of small hotels has reached up to 60-65 per cent, whereas for larger hotels the occupancy rates are about 55-60 per cent," reveals the PHA representative.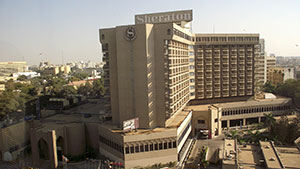 Mövenpick Hotels & Resorts, which took over the Sheraton Hotel Karachi in January, 2014, plan to invest significantly to renovate their Karachi property over the next two-and-a-half years.
"We have a plan of investing $US30 million for renovation of the hotel building," says Mirza Mansoor Ahmed, General Manager, Mövenpick Hotel Karachi.
Like others, even Mövenpick has made a special effort to ensure a security set-up of international standards. "Just about seven months ago, an anti-blast wall was constructed around the building to enhance and fortify the hotel's security," says Ahmed. "We are adding security personnel as well as surveillance cameras, and in the first week of our operations, the United Nations Department for Safety and Security surveyed our premises and certified us as one of the most preferred hotels of Pakistan."
Keeping in mind the law and order situation, he says, "Of course there are challenges to peace and security, but life goes on. The hotel industry, as any other business, has its ups and downs. But if you're providing good standards and up-to-the-mark quality services, one can make business sense out of the hotel operations."
The 407-room building located in the city's pricey business district is owned by the Kuwait Investment Authority (KIA) and its Pakistani subsidiary, Arabian Sea Enterprises Limited (ASE). "They have been owners of this building right from the beginning but have now changed the operator," explains Ahmed. "At first it was managed by Starwood Hotel and Resorts Worldwide Inc., an American company, with the brand of Sheraton, but now it's under Mövenpick Hotels and Resorts, which has signed a 15-year contract with the ASE. It is a Swiss-based, upscale hotel management company represented in 24 countries with 80 hotels, resorts, as well as the Nile cruisers in operation."
Ahmed sees enormous economic potential in Karachi and invites other investors to come and explore its business opportunities.
"There is high economic activity in the city," he says. "The way the economy is taking shape, Karachi is facing a construction boom with a number of big projects ranging from malls and cinema houses to apartment and business complexes. This city has power and is bound to grow, and investment from any sector should be welcomed."
This article was originally published in Newsline's April 2014 issue.
Waleed Tariq is journalist. He can be interacted on Twitter @WaleedTariq89
Next