It has been nine months since the September 11 attack on New York's World Trade Centre and the Pentagon — and the US bombing raids on Afghanistan to flush out the Al-Qaeda and Taliban operatives and dismantle their infrastructure.
However, despite their best efforts, the US forces have not succeeded in capturing some of the key Al-Qaeda and Taliban leaders. The search for the following is still on…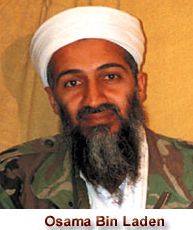 Osama bin Laden:
He has issued no statement since December last year. This has led to speculation as regards whether he is alive or dead. Only recently, one of his spokesmen, Sulaiman al-Gaith, appeared on the Qatar-based Al-Jazeera television to declare that bin Laden was alive and would soon give a videotaped speech. The need to issue a statement to announce that bin Laden is alive could be an attempt to keep the spirits of his supporters high and put to rest rumours that he is dead.
Chances are that bin Laden is still alive, because his death could not have been kept a secret for long. When his right-hand man Shaikh Taseer Abdullah, known as Mohammad Atef to the Americans, was killed in the US bombing in Afghanistan, his death was announced by his family in Egypt and his fateha prayers were held there. The deaths of the wife and daughters of Dr Ayman al-Zawahiri, also a close aide of bin Laden, in another US bombing raid near Kandahar, were made public by his family in Egypt. Hence it is likely that bin Laden's death would be announced by his family in Saudi Arabia once it is confirmed that he is indeed dead.
Bin Laden could be anywhere in the border areas of Afghanistan and Pakistan, but he hasn't been sighted after the Tora Bora military campaign late last year. There are also unconfirmed reports that he has gone to Iran, Yemen and Saudi Arabia. It is said he moves in a small group to avoid attention. Rumours abound that he has disguised himself and recruited look-alikes to hoodwink "the enemy."
Dr Ayman al-Zawahiri:
After the death of Mohammad Atef, he became the number two man in Al-Qaeda. A physician, Dr al-Zawahiri is often described as the brain behind Al-Qaeda. His al-Jihad (Islamic Jihad) group in Egypt has formed alliances with Al-Qaeda and other radical Islamic groups. Always seen by bin Laden's side, it is possible that the two are together if they are still alive.
Sons of Shaikh Omar Abdul Rahman:
The blind Egyptian preacher, Shaikh Omar Abdul Rehman, is in a US prison after being convicted for his role in the 1993 bombing of the US Trade Centre in New York. His party, Gama'at-i-Islami, is fairly strong in Egypt. Two of his sons, Mohammad and Abu Asim, were with bin Laden in Afghanistan, and had vowed revenge against the US if something happened to their jailed father. In an interview with me in May 1998, Mohammad said the US would suffer for inflicting injustices against Muslims. It is possible that these two brothers are still alive. They too could be hiding somewhere in the border areas of Afghanistan and Pakistan.
Mustafa Hamza:
Another important Egyptian, known to keep the company of Shaikh Omar Abdul Rehman's sons, Hamza may well be with them.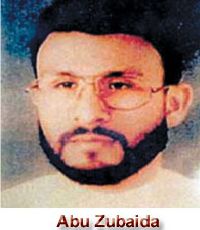 Abu Zubaida:
He was captured in Faisalabad, after a joint raid by Pakistan's law-enforcement agencies and the FBI in April. The US described him as a very important Al-Qaeda leader. He was said to be the one who recruited operatives for Al-Qaeda and assigned duties to them, in addition to arranging funds for the organisation. Initially, the US media and officials said he was not providing much information. Now Abu Zubaida is reportedly helping the US by supplying intelligence information. The recent security alert in the US was said to be based on information provided by him. Certain low-ranking Taliban claim the real Abu Zubaida hasn't been captured. The Americans, however, insist they have got the right man.
Shaikh Ibn al-Shaikh al-Libi:
Originally from Libya, US intelligence believe him to be the man who ran Al-Qaeda's military camps. He was not on the original US list of 22 most wanted Al-Qaeda men. After his capture, US military authorities claimed he was one of the most wanted Al-Qaeda operatives. He has apparently been shifted to the notorious US prison in Guantanamo Bay in Cuba.
Besides the above-mentioned Al-Qaeda leaders, a number of low-ranked officials of the organisation have been captured and are now at Guantanamo Bay. Most were arrested by Pakistani authorities and handed over to the US. The families of the Arab members of Al-Qaeda took refuge in Afghanistan and Pakistan and most were spared. Some of the women reported harassment at the hands of anti-Taliban Afghan fighters and some alleged they were looted. Many women and children who crossed over to Pakistan were sent back to their respective Arab countries.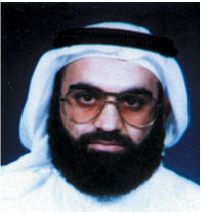 A new name on the wanted list of Al-Qaeda men is Khalid Mohammad Shaikh, said to be a Kuwaiti with a Pakistani passport. A reward of 25 million US dollars has been announced for his capture. This reward, equalling that offered for bin Laden's capture, shows his importance. The US authorities claim he is the mastermind of the suicide attacks on the World Trade Centre and the Pentagon last year.
There were, reportedly, 29 Taliban leaders and military commanders on the US wanted list. It is interesting to note that no charges have been brought up against any Taliban leader. In fact, the Hamid Karzai-led Afghan interim government and its governors in Pashtun-populated southern and eastern Afghanistan have granted amnesty to all Taliban leaders except Mulla Mohammad Omar. Below is a list of Taliban leaders who have been able to evade arrest or were captured. Most are still at large.
Mulla Mohammad Omar:
The founder of the Taliban Islamic Movement is still at large. He has been sighted in south western Afghanistan, mostly in the Helmand province. All efforts to capture him have failed. Interviews attributed to him and carried on the internet appear to have been given by someone else. Mulla Omar is media-shy and it is unlikely that he would start granting interviews, that too on the internet, now that he is in hiding. He is most likely still in Afghanistan. In fact, he refrained from migrating to Pakistan even during the Soviet occupation of his homeland, and is unlikely to do so now.
There are unconfirmed reports that he is under the protection of his tribe. In fact, three Taliban leaders — Justice minister Mulla Nooruddin Turabi, defence minister Mulla Ubaidullah and mines and industries minister Mulla Saaduddin — were given amnesty by the interim government because, like Hamid Karzai, they happened to be Popalzai Durranis. Certain other Taliban ministers and commanders also got amnesty because their tribes in Kandahar and other provinces gave them protection. Khalid Pashtoon, a spokesman for the Kandahar Governor, Gul Agha Sherzoi, said the three former Taliban ministers were given amnesty under government directives. Apparently the Americans were angry. According to General Richard Myers, the US wasn't consulted before the ministers were given amnesty. He said the US would have liked to interrogate them. The US military authorities made their intentions pretty clear when they rearrested Mulla Abdul Salam Rocketi, a former Taliban military commander, even though he had been given amnesty by the anti-Taliban administration. Rocketi had surrendered his arms to a spiritual figure, Pir Ismail Gillani, and was living peacefully in Kandahar when he was apprehended. The Americans are now trying to capture all those who have been given amnesty.
Abdul Salam Zaeef:
One of the highest ranking Taliban leaders is in US custody. He was arrested by Pakistani authorities and handed over to the Americans, who kept him on a ship in the Arabian Sea, before shifting him to the Bagram airbase. He is now being held at the Kandahar airbase. He recently wrote to his family from his prison cell in Kandahar to inform them of his whereabouts. As former Taliban ambassador to Pakistan, Zaeef was the public face of the Taliban and their main spokesperson.
Mulla Wakil Ahmad Mutawwakil:
The Taliban's erstwhile foreign minister, Mutawwakil is being held at the Kandahar airbase. Using the good offices of the Kandahar administration he surrendered to the US authorities and is said to be cooperating with them. Mutawwakil developed differences with Mulla Omar last year and was ready to abandon the Taliban. He hasn't been shifted to Guantanamo Bay. Kandahar Governor, Gul Agha Sherzoi, said recently that Mutawwakil would be freed soon, but he is still behind bars. Former Afghan National Bank President, Mulla Mohammad Ahmadi, had also surrendered at the Kandahar airbase and is still being held there.
Mulla Khairullah Khairkhwa:
Former interior minister and governor of Herat, Khairkhwa was captured by Pakistani law-enforcement agencies in Chaman (on the border with Afghanistan) in Balochistan, a couple of months ago. The government never announced his arrest. He is reportedly being held in Guantanamo Bay. Khairkhwa is the highest ranking Taliban leader now in US custody
Mulla Mohammad Hasan Akhund:
A former Taliban foreign minister and head of the Kabul ruling council, Akhund has eluded arrest. He was often mentioned as number two in the Taliban movement after the death of Mulla Mohammad Rabbani. He remained unknown despite his status as a top Taliban leader, because he never gave any interview or allowed himself to be photographed. There are no charges against him.
Mulla Mohammad Hasan Rehmani:
Former Taliban Governor of Kandahar, Rehmani is also at large. The Taliban denied that he was killed in the US bombing. There are reports that his whereabouts are known to the authorities in Kandahar but there are no charge against him. His moderate policies and accessibility made him the gentle face of the Taliban.
Mulla Abdul Razzaq:
Former Taliban interior minister, Razzaq is in hiding and said to be moving between Balochistan and Karachi in Pakistan and Kandahar in Afghanistan. He was an important Taliban military commander and has threatened to wage a guerilla war against the western troops in Afghanistan.
Qari Ahmadullah:
The former Taliban intelligence chief belonged to Ghazni. It was reported that he was killed in the US bombing in Paktia province. However, some low-ranked Taliban officials claimed recently that he was alive and that he had feigned his death to confuse the Americans. If still alive, he most likely would be in Ghazni, Khost, Paktia or Pakistan's tribal areas.
Mulla Amir Khan Mutaqqi:
The former Taliban information minister was a hardliner considered very close and loyal to Mulla Omar. He is said to be hiding somewhere in Pakistan.
Mulla Jalaluddin Haqqani:
He is probably the third most wanted man after bin Laden and Mulla Omar. Haqqani has survived several US bombing raids on his homes in Kabul and Gardez and his madrassa in Khost. Pakistani authorities have also been trying to nab him in the North Waziristan tribal agency, where his family has been living for over two decades. He is believed to be always on the move in the border areas of Afghanistan and Pakistan. An experienced guerilla commander against the Soviet occupation in Afghanistan, the Americans fear him the most and are desperate to get him.
Mohammad Tayyab Agha:
A former spokesman of Mulla Omar and related to him by marriage, Tayyab Agha has also survived attempts to kill or capture him. His family lives in Pakistan but he is constantly on the move. He could be with Mulla Omar but nobody knows their whereabouts.
Mulla Abdul Jalil:
A former Taliban deputy foreign minister, Jalil was the link between Mulla Omar and the Arabs, especially bin Laden, because he spoke Arabic. He tops the US 'Wanted List' because the Americans believe he knows a lot about bin Laden.
Mulla Mohammad Abbas:
Nobody has heard of the former Taliban health minister, Abbas, after the collapse of the Taliban government. He may be in his native Kandahar or in Pakistan's Balochistan province.
Mulla Abdul Kabir:
Former Governor of Nangarhar, head of the three eastern provinces (Nangarhar, Laghman and Kunar) and former Taliban deputy prime minister, Kabir is also one of the most wanted Taliban leaders because of his links with bin Laden. He is said to be moving near Jalalabad and Tora Bora, in the Nangarhar province. Kabir is believed to have shifted to Tora Bora in mid-November with bin Laden, and then crossed over to Pakistan. His whereabouts are now unknown but he could be somewhere in the North or South Waziristan tribal areas or in his native Paktia province.
Other Taliban leaders still at large include Mulla Ahmad Jan, Mulla Biradar, Mulla Abdul Mannan Niazi and Mulla Abdul Rahman Zahid.
Three important Taliban leaders now being held in Guantanamo Bay are former defence minister Mulla Mohammad Fazil Mazloom, former Mazar-i-Sharif (Balkh) Governor Mulla Noorullah Noori, and former Taliban intelligence chief for Kandahar, Mulla Abdul Haq Waseeq. Mazloom and Noori surrendered to Uzbek warlord General Abdul Rasheed Dostum in Kunduz after being promised amnesty. Dostum, however, handed them and many other Taliban fighters to the US. Waseeq was captured in his village near Ghazni, after being trapped by a former mujahideen commander, Ghulam Mohammmad, who was paid by the US for the job.
Tajmir Jawad, the Taliban intelligence chief for the three eastern provinces (Nangarhar, Kumar and Laghman), is also at large. He was based in Jalalabad. The present Governor of Nangarhar, Haji Abdul Qadeer, is trying to capture him because he believes him to be his brother Abdul Haq's assassin. If Abdul Haq were alive today, he would have been Hamid Karzai's main contender to head the interim Afghan government. Jawad is said to be hiding somewhere in Pakistan, probably in North Waziristan tribal agency bordering his native Khost province.
Rahimullah Yusufzai is a Peshawar-based senior journalist who covers events in the NWFP, FATA, Balochistan and Afghanistan. His work appears in the Pakistani and international media. He has also contributed chapters to books on the region.
Next