Afsana, a slight eight-year-old girl, was not really sure what she was doing at Lal Chowk in the midst of an angry demonstration on a sultry day in May. One hand was clutched tightly by a burqa-clad woman shouting slogans against the Indian state and the other was holding onto a thin, long piece of wood, more like a ruler, which she waved around in defiance. Milling around her was an eddy of about 50 other agitated women: all wearing burqas, with slits for their eyes to peep through; some were clutching on to other baffled looking young girls.
The screaming demonstrators, all part of the Dukhtaran-e-Millat, (Daughters of the Faith), had gathered to protest against the state government's apparent apathy in investigating a Srinagar-based prostitution ring that was unearthed recently. The racket used a network of young Kashmiri women to service high-powered officials. An agitated demonstrator explained that the presence of the young schoolgirls in the rally was an attempt to publicise that Kashmir's innocent daughters would be doomed to the flesh trade if the state government did not take prompt action.
Over the past 17 years, the Kashmir Valley, snuggled in the foothills of the Himalayas, has borne the brunt of many wounds: militancy, the death of thousands of people and economic, political and social deprivation have traumatised generations of Kashmiris. But perhaps nothing has caused a greater sense of collective outrage and grievance than this sex scandal. Everyone is talking about it; each unsavoury detail is being embellished and passed on. CDs and MMS clips of young Kashmiri schoolgoing girls are being circulated, available to anyone who wants to indulge in voyeurism. In fact, the issue had the potential to derail Prime Minister Manmohan Singh's Roundtable Conference. Kashmir, which seemed to be achieving some semblance of stability, has once again slumped into a vortex of anguish.
The scandal had been brewing for a long time. Yasin Malik of the Jammu and Kashmir Liberation Front (JKLF) said that he had raised the issue four years ago, but was criticised so strongly by the local media that he backed off.Then in March, a pornographic CD of a naked eighth standard school dropout was being circulated widely and slowly, public resentment built up. The CD was handed over to the police. Questioned, the 16-year-old in the CD, Yasmeena, revealed that she was part of a well established sex web whose patrons included 57 highly placed politicians, police officers, bureaucrats and businessmen. She said girls from poor backgrounds, like hers, were earmarked and then lured into exposing themselves, sometimes by being drugged. Then they were blackmailed. Armed with information, the police detained Sabeena Hamid Bulla, originally from Uri, identifying her as the ringleader of the business. A divorcee, she now lived in a well appointed house in the crowded Habba Kadal area.
Eventually, the police zeroed in on 43 other women who admitted that it was the promise of government jobs that ensnared them into prostitution. And it was possible that the network operated in other parts of the state as well. Last year, a pornographic CD of a girl had also made the rounds in Jammu.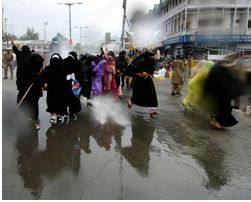 Public outrage spread rapidly, fanned by many disparate elements. It's not as if prostitution was unknown in the Valley. But this intense public reaction was triggered by the repugnant element of official patronage. As the number of officials involved in the racket ballooned — from nine to over 30 — the scandal developed a life of its own. A call to strike over this issue in early May was hugely successful. Students from Kashmir University took part in protest rallies and the Kashmir Bar Association filed a Public Interest Litigation, insisting that an immediate inquiry be instituted to reveal the names of those responsible for the sexual abuse.
Against the shouts of "Jeeve, Jeeve, Pakistan," an irate crowd ravaged Sabeena's plush, four-storey brick house in Habba Kadal, set close to the Jhelum. The mob ransacked the house and waved photographs of former chief ministers Farooq Abdullah and Mufti Mohammed Sayeed, which were supposedly found inside, for willing TV cameras. The frenzied media lapped up shots of a police badge and an officer's epaulettes apparently left behind in Sabeena's house and brandished gleefully by the pillagers. In the absence of any police action against the rampaging crowd, it was alleged that incriminating evidence from the house was deliberately burnt to protect high-powered officials.
Already reeling with charges of a massive security failure on the eve of the Prime Minister's talks in Srinagar, Chief Minister Ghulam Nabi Azad, in a somewhat belated damage-control exercise, announced a Central Bureau of Investigation inquiry assuring the public of a "time-bound, transparent" exercise. By the third week of May, Yasmeena had, in an identification parade, pointed out five clients, including two former ministers Ghulam Ahmed Mir and Raan Mattoo, who were both part of Mufti's government in 2004. (Mir is presently a Congress MLA from Doru.) If proven guilty, the men will be charged with rape as Yasmeena is a minor.
The scandal also provided a suitable platform for various political groups to push through their own agendas. It was an opportunity for the state's two coalition partners, the Congress and the People's Democratic Party (PDP), to settle scores. Both parties, who had been sniping privately for months, were now publicly brawling. The Congress questioned why the PDP did not carry out an investigation when Sabeena had been first arrested in 2004. It was implied that she was let off after only six weeks in jail because of her powerful contacts in Mufti's cabinet. On its part, the PDP was accusing the Congress of not initiating an immediate investigation because some highly placed Congress politicians also figured on the list.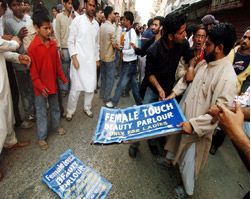 Timed for the eve of Singh's roundtable conference, the scandal was also a potent issue for the separatist factions in the Valley to exploit. Sitting in her home on the outskirts of Srinagar, Asiya Andrabi, founder of the 15-year-old Dukhtaran-e-Millat said, "This sex scandal is just another example of Hindu cultural aggression to marginalise Kashmiri Muslim society and subvert our local culture." To ensure that her two sons are not culturally perverted, Andrabi disconnects the internet from the computer when she leaves her house. She also sees to it that her children's eyes are covered when offending advertisements run on TV. Syed Ali Shah Geelani, leader of the hardline Hurriyat faction, stressed that the scandal was "worthy of being taken to the War Crimes tribunal."
Whatever the subtext of the various political reactions, it was clear that Kashmiri society, by and large conservative and modest, and already battered for so many years, felt that it was now being assaulted by promiscuity. "Corruption nobody likes, but everybody accepts; militancy everybody has got used to, but moral vandalism is what upsets people the most," says Saima Farahad, co-editor of the Valley's very first magazine for women, She. In his Friday sermon, religious leader Mirwaiz Umer Farooq thundered, "Honour and self-respect are the only defence unarmed people have against a powerful state. They want to crush that also."
Providing another dimension to the scandal and its aftermath is the changing contours of Kashmir's social landscape, a landscape in which many women have been left bereft after the death of thousands of young men (estimated by Srinagar-based human rights groups at 75,000). Dispossessed of fathers, husbands and brothers, many Kashmiri women today plough lonely furrows. In spite of the deaths, or perhaps because of them, Kashmiri women have become more forthcoming. Andrabi might prefer that all Kashmir women don burqas as a sign of chastity, but in reality few do. Most prefer covering their heads with duppattas. Nearly all educated women work and, according to one estimate, enrolment of women in institutions of higher education has risen by 30 per cent.
There are other visible signs that times are changing, some say for the better. Intelligence officials in the Valley trot out figures illustrating a decrease in violence. In the recently held by-elections, voter turnout was reported to be an unprecedented 65 per cent. Overall business is slowly inching forward, cyber cafés are full of young men and women hunting for jobs on the Internet and the state has one of the highest growth rates in mobile phones sales. Liquor vendors have opened, as has a cinema, something that was unheard of five years ago. After years of drought, tourists are flocking to the Valley.
Within society, previously underground topics are being ventilated. "Talking about sex has long been a taboo," said Dr Farah Yousuf of Better World, an NGO that focuses on issues of HIV and AIDS prevention. In its very first issue, She talks about the prevalence of dating in the Valley. "It's there, aided and abetted by mobile phones and SMSs, but nobody wants to talk about it," affirmed Farahad, sitting in the Kashmir University's bustling cafeteria. There is evidence, too, of a new generation of youngsters wanting to get on with their lives, like Qazi Touqeer, one of the finalists in the Fame Gurukul contest seen on Sony TV last year.
But a vocal section believes that such changes have only helped to derail Kashmiri's traditional ethos. "Seeing a man drunk on the road at ten in the night is not a sign of normalcy," underscored Andrabi, "it's a perversion of our culture." For her, a strict moral code needs to be enforced to not only counteract the impact of the sex scandal but also these changing times. "Don't be surprised if the scandal unleashes a slow Talibanisation of Kashmiri society," warns Yasin Malik.
Knee-jerkish, conservative reactions have already started. Beauty parlours are being forced to close down and video and DVD rental stores have been raided. When four militant groups issued directives, all the Valley's cable operators blanked out their entertainment channels for a week. Worse, the scooter of a boy perceived to be teasing a woman in downtown Srinagar was burnt. Homes of other suspected sex workers have been raided by Andrabi; she has kept telltale condoms as evidence. She and her followers have also been busy barging into restaurants and dismantling them if they have suspicious-looking cabins. "Very soon we will have morality committees in every mohalla," says Mian Abdul Qayoom, president of the influential Bar Association.
It's a chilling thought. But it's also a powerful warning: if the state does not follow up with a genuine probe, quickly, then the chances of the scandal snowballing into something even more fearsome than insurgency are very real.
Next