Interview: Naseeruddin Shah
"Every actor cannot play every part"
– Naseeruddin Shah
Tumhari Amrita was a hard act to follow. But The Citizen's Foundation made sure that Shabana Azmi's act was followed by an equally powerful one. They flew in Naseeruddin Shah, Azmi's colleague from her parallel cinema days, to help raise funds for the 1000 schools they plan to set up throughout Pakistan. Shah, who heads the theatre group Motley, was accompanied by his wife, Ratna Pathak, and his daughter, Heeba Shah. The family narrated three short stories by Ismat Chughtai.

Although strapped for time, Naseeruddin Shah gave an interview — albeit with the condition that there be no questions about Hollywood or Bollywood — and remained good-humoured and gracious throughout.
Q: It seems to be a natural progression for popular actors to enter politics. Do you harbour any such intentions?
A:I am neither an activist nor a politically astute person. I'm just an actor and I feel that if one is dissatisfied with one's own work then, rather than moving on to another field, one should try and discover the root of the dissatisfaction and remedy it. There is a great deal that can be done within one's own field and that's what I have set out to do. I have no intention of turning to politics. Our coming here is part of our own search for improvement in our work and we feel more than privileged that we can be of some use to someone.
Q: Local languages, whether Urdu or Hindi, are becoming increasingly unfashionable among the elite circles in our respective countries, who show a marked preference for English. Why have you chosen Urdu as your medium for theatre performances?
A: We formed our group in 1975 and initially only performed English plays, although they were not originally written in English. Most of them were translations of French, German and Italian plays. After a few years of performing these plays, we realised our limitations and began to wonder why we were trying to project a culture and people that were alien to us. That's when it struck me that we should do plays in our own language, Hindustani — I don't think there is any difference in our two languages but I prefer to call it that.
However, I discovered that there are very few original plays in Hindustani — they stopped being written once the playwrights made their way to the newly introduced talkie films and ignored theatre. There was no tradition left of Urdu drama and there is no existing written work that we can perform. This was when I started reading Urdu literature, which I was not familiar with as my education had been entirely in English and I had only read English literature till then.
By coincidence, Ismat apa was the first writer I read in an English translation. When I read the original, I realised how poor the translations were and that they just did not do justice to the original. She had written in her book that when she writes she feels she is conversing with the reader, and I found that her style of writing was very conversational, which gave me the idea of reading out her stories. Everyone was very skeptical that people would not be interested in such a play, but the amazing part is that in 27 years this has been our most popular play.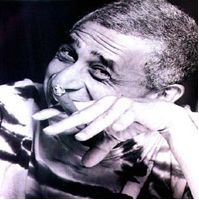 Q: Art movies are a dying concept in India. Is it because of lack of financing or are people just not interested any more?
A: I don't think the big, bad Bollywood extravaganzas replaced art cinema to begin with. They were always there. Art cinema appeared in the seventies and petered out soon after and, although there may be many reasons for that, I think the best answer lies in discovering what kind of art cinema those art film directors of the seventies are now making. Also, people lament the demise of art films but no one is really interested in watching them.
Q: Is commercial theatre proliferating in India?
A: Oh yes, in many languages — in Bombay alone there are Gujarati, Marathi, Hindi and English plays running simultaneously. Every night you have a choice of 25 different plays — that most of them are not worth watching is a different story. The fact is that they are flourishing. There is a small pocket of people who are attempting the experimental kind of theatre, and that is the theatre we are trying to promote — a theatre that is shorn of all superfluities. The essential thing in theatre is the human being on stage, and it is the contact that they can make with the listeners that is of importance. That's the true magic of theatre: arousing the audience's imagination.
Even in a bad play, there are moments in which you feel a complete connection with the performer and vice versa. In a wonderful play you feel that more often and in a truly great work you feel it constantly, but that's very rare. I feel too many props, costumes and sets intrude and distract from the text. The encouraging sign is that young playwrights are also beginning to convert in India. I am not aware if this is happening in Pakistan — if not, then this is what needs to be done. It's not an easy job — it may take a whole generation to nurture playwrights.
Q: Do you feel co-productions will help bridge relations between our two countries?
A: The more important question is: will it ever happen? I would love to sound like a politician and say, "What we need is joint ventures!" It's all very well to say that, but who's doing anything about it? Big filmmakers from Bombay come here and make these grandiose announcements which are forgotten the next day. This is not like the Berlin Wall that can be knocked down overnight. This is a slow integration that has to happen over time and the trust has to grow gradually in order to exorcise the demons birthed by years of stories that we have heard about each other. There can be nothing better than what is happening right now — this person-to-person contact that is growing and the fact that a few people are coming across the border quietly and doing whatever good work they can without making front page news. This is a very healthy sign and this is what we will need for a major collaboration, if at all, maybe 20 years from now.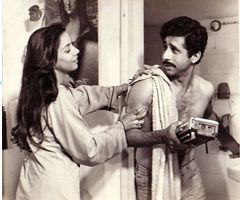 Q: But it is front page news here. Are the visits to Pakistan by Indian celebrities downplayed in India? What is the reaction of the general public to Indian stars coming to Pakistan?
A: Their reaction is positive and we are the objects of a lot of envy. They envy us the wonderful food and the display of emotion that we are showered with. I feel it is more important for people to come here and work rather than make high profile visits. The reason I am here this time is to raise funds and get the attention of everybody, so this visit has been in the limelight. When I was here last time to shoot for Shoaib Mansoor, I did not meet a single journalist, and the press in Lahore was very upset about it. But I felt it was more important to work than give interviews.
Q: How did you agree to act in Shoaib Mansoor's film, 'Khuda Kay Liyay'?
A: When Shoaib first asked me, I said no instantly at the mere mention of a "Pakistani film" — they aren't the best films in the world — but Shoaib asked me to at least listen to what he had to say. I agreed and he sent me the one scene he wanted me to enact, which is the last scene of the film, where I have to play the character of a maulana who is brought to testify against a girl accused of unIslamic behaviour. When I read the script, it sent a shiver down my spine. I did not have a second thought after that. I didn't read the rest of the script — I just read this scene and felt these are things that need to be said.
This is a film that has to be made and deserves all the support it can get because I think it is a very brave film and what it is saying is of tremendous importance. I am not at all aware of Shoaib Mansoor's abilities as a film-maker — I have only seen one of his music videos called Anarkali, which I thought was very nice — but I did not feel the need to be [aware]. I am not here to judge filmmakers, I am here to participate in a project that needed my help and which needed to be seen. The film has recently been completed and, hopefully, it should be released later in the year.
Q: The language you hear on television and in films these days is really a hodge-podge of Hindi, Urdu, Sanskrit and Arabic. What is your opinion?
A: What can be better than that? An artificial distinction was created after Partition between Hindi and Urdu. Not a word of the news we used to get then from All India Radio and Radio Pakistan could be understood. What's more, if film scripts were written in pure Urdu 20-25 years ago, it was because writers used to write in Urdu. Many playwrights entered the film industry and, because they wrote in Urdu, Urdu theatre was transplanted onto the screen. Not only the language but also the talent — of acting, dancing and poetry — was theatre-inspired.
Q: For the most part in your career, you have either acted or directed. Seldom have you done both in a project. Is it because you don't like to wear two hats simultaneously?
A:Frankly, I don't. I have directed and acted simultaneously on stage on a number of occasions and I think I have fallen short when I did that. This play was somewhat easier because of its nature — it's three separate stories — so I was able to be objective. Ratna and Heeba both helped me with my work and I could be a guide for them. But I prefer not to do both.
Q: How challenging is it to be directing your wife and daughter on stage? Do you pull them up if they perform below expectations?
A:I crack the whip! They know who's boss! Actually, the reason I cast them in this production is not because they are both available but because I needed two actors who would apply themselves and master the language. Urdu is not Ratna's mother tongue and Heeba has had a very varied childhood spent partly in England, partly in Iran and partly in India and Pakistan. So she is familiar with a lot of languages, but not particularly so with Urdu. I needed two actors whose commitment I could not doubt and whom I could call upon at any time. That is why I cast them and the results are there for all to see.
Q: How do you approach theatre — do you have a cause and use theatre as your medium?
A:When I started working in theatre, I did not know why I was doing it. I did it only because I wanted to become an actor and that's all I wanted to be after my graduation. Back then, it was merely fun. As the years went by, I realised what theatre had become for me — a medium of communication and getting across to people. So I decided to hone my skills as a theatre worker in that area — to learn the craft of how to retain audience interest, how to get across what I want to. I don't think the impelling force is a commitment to a cause — you discover the cause as you go along — and the cause could even be mindless entertainment, which it is not in our case. In our case, at the moment, it is theatre geared towards communicating the text — that is the essence of our work.
Q: As an actor, do you consciously strive to make every character you portray appear different or do you feel there is enough variety in the work that something different comes forth each time?
A: A lot of actors labour under the delusion that it is necessary for an actor to be different each time. It is not. Every actor cannot play every part. When I was younger, I thought I could. I realised later that I can't and that there are several limitations. I realised that the prime job of an actor is not to be different from his last role but as truthful as possible to his current one. To communicate the text is the sacred duty of the actor.
Q: Which play have you personally enjoyed the most?
A: It's a Marathi play called 'Ghashi Ram Kotwal.' It's the greatest theatre experience I've ever had, and I've seen theatre practically all over the world. What distinguishes this play from others is that it has great strength of content, using the form of traditional Marathi theatre, called the 'tamasha.' It is a very vibrant, down-to-earth musical form, with lots of song and dance in which the actors ad lib. The playwright has used the folk form of Maharashtra to make an extremely strong statement about public life and about the corruption that seeps into every aspect of it. There are only humans on the stage — no sets. The actors become thunder, lightning, river and so on. It's totally amazing and beyond anything I've seen on Broadway.
Q: You were very keen on playing Gandhi but the role for the movie went to Ben Kingsley. Did you feel, after seeing his performance, that you could have done it better?
A: No, I thought he was wonderful. In fact, the moment I saw him I knew I had lost the role. I had been pretty confident till then that there was no way they were going to find an angrez that looked like Gandhi ji — but they found one. It was the only part in my life that I tried to get and didn't. I must admit that I was thoroughly disappointed, but I realise now that I wasn't ready for it then. Ben was better qualified at that time to do the part and I don't think I could have done it as well as he did. I subsequently did play Gandhi on the stage so that fulfilled my desire.
The writer is a freelance journalist based in Karachi. She also works at Hum television.
Next