Newsnight on PTV, DoToak, Such Kya Hai and Khuli Baat on Indus Vision, P.J.Mir's interviews with political personalities on ARY Digital — and Question Time Pakistan on BBC World…. TV audiences have never had it so good! All channels have hopped on to the talk-show bandwagon, and politicians are enjoying the luxury of being allowed to express their views loud and clear. Hallelujah, the electronic media is finally liberated. Well, almost…
The desire to become the 'best and the boldest' has led to the discovery of hidden talent. Be it QTP's Mahreen Khan, with her clipped British accent, or Do Toak's Mujahid Barelvi, the outspoken and gutsy anchor most politicians are wary of, the new crop has been amazing. Attention has been diverted from entertainment to politics. Politics is no longer being treated like a sacred cow on TV and every week the hitherto tightly controlled TV channels are airing scathingly critical shows. It is difficult to say who was the first to create this political niche but channels such as ARY Digital, Indus Vision and PTV are concentrating all their efforts on this hitherto neglected game.
PTV started a programme, Newsnight, hosted by print media journalist, Talat Hussain. The show, with its lively discussions on current events, achieved instant recognition and popularity with its viewers. Telecast seven days a week, Newsnight showcased the high and mighty of the political world. Every programme was related to an issue making waves at the time. Prominent political personalities such as Imran Khan, Haleem Siddiqui, Gohar Ayub, Raza Rabbani and General Mehmood were cross-questioned by Talat, whose ready wit and political savvy made him a perfect compere.
One of the best episodes featured Sushma Swaraj around the carnage in Gujarat. As expected, Sushma defended India, saying that the situation in Gujarat was controlled in a time span of only 24 hours. Talat brought to light the issues which had initially led to the carnage in Gujarat and spoke openly about the Indian government's involvement. This led to a heated debate between the host and guest, with both refusing to concede defeat. Talat Hussain is no longer on the show, he has been replaced by the glib Naeem Bukhari. Hussain is focusing on his new project: recasting news on PTV World. When asked about the show, Talat said, "I was able to be as fair as I could as a journalist on Newsnight. I thoroughly enjoyed presenting the show." He goes on to say, "compared to similar shows on other channels, I didn't find Newsnight to be lacking in any way, but the general perception always remained that no matter how good a show it was, it was still on PTV. That perception has to change. We are going to continue to do well as long as debate is allowed to flow freely. In a matter of a few years, we will have a very powerful electronic media. Until then, there are bound to be goof-ups, but as Newsnight shows, practice and freedom of press makes perfect!"
Jamaat-e-Islami's Professor Ghafoor was invited to speak on the referendum in one of the episodes. When Professor Ghafoor droned on about the referendum being an unjust, politically incorrect option, Talat immediately drew Ghafoor's attention to Zia's referendum, which was supported by the Jamaat-e-Islami and by Ghafoor himself. Ghafoor was stumped.
Indus Vision, meanwhile, is churning out one talk show after another, focusing on current affairs. Do Toak , a purely political show, began to air post September 11 — as there was more to talk about then. Hosted by Mujahid Barelvi, it is a one-on-one discussion programme with renowned political personalities. Ghinwa Bhutto, Asfandyar Wali Khan, Omar Asghar Khan and others have been seen arguing their way through the programme, and trying to get their message across. The episodes which created a great deal of hype amongst viewers were the ones featuring Ghinwa Bhutto and Nawabzada Nasrullah Khan. It was almost comical to see Nasrullah Khan demanding he be allowed to speak without any interruptions. In another show, Ghinwa Bhutto attacked the PPP vociferously and Mujahid defended it. Mujahid's style of interrupting, cutting his guests short, and generally trying to catch them off-guard generates great interest among his viewers. His questions are the ones troubling the mind of any common man and his manner of presenting the programme has viewers addicted to the show.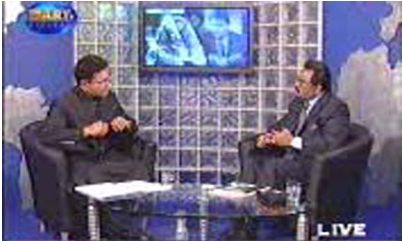 Another popular programme, Such Kya Hai, features two guests on the panel, who discuss what really went wrong in the country's political arena. It attempts to unravel the truth. Khuli Baat, on the other hand, is an open forum that includes a panel of three experts interacting with a knowledgable audience. Contemporary topics are discussed, covering both intellectual as well as political concerns.
ARY Digital's talk shows with anchors like P.J. Mir and Shahid Masood Siddiqui, their talk shows have led to some very interesting encounters with the distinguished guests. Although ARY has managed to create a niche for itself, its talk shows lack the spunk and wit of Newsnight and Do Toak. However, P.J. Mir's interviews with Altaf Hussain, Imran Khan, Benazir Bhutto and Mustafa Khar were very widely watched. But viewers feel that Mir needs to be more probing and attacking. Also, as the programme is in English, its viewership is restricted. ARY's News and Views, presented by Shahid Masood Siddiqui, is a programme based on the host's telephone conversations with guests abroad, mostly Pakistan. Though not a unique concept, Shahid handles an impersonal and potentially awkward set-up that allows him to operate from the show's headquarters in London, with ease.
All in all, the sheer numbers and content of talk shows currently being aired on Indus, ARY and PTV have served to bring politics home to the common man. Slowly, they are changing the political culture of a nation that desperately needs to reform and democratise. The October elections will throw up a huge challenge to the networks as they battle to grab the viewership. May the best channel — and the best contestants — win at the hustings.
Next