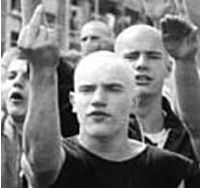 "Pakis Go Home! Pakis Go Home!" chant the motley horde of plastered white supremacists, neo-Nazis and skinheads, seemingly in sync with the lyrics of the 'white-power' music emanating from a boom box, perched atop a red 4×4 pick-up truck. "Now is the time to repent the decisions which allowed these mud-people to enter our country, take over our jobs and spread their backward culture!" shouts the shaven-headed speaker into the battered megaphone, sending the mob of multitudes into a frenzy and causing the pack of South Asian teens, standing across the street, to huddle together and nervously ebb away from the bloodthirsty pack.
Although President Bush and the US State Department have repeatedly assured the world, that the United States has no brief against Islam or the Muslim community, scenes witnessed at the Aryan Nation rally in Devon, a predominantly South Asian suburb of Chicago, have become a common occurrence throughout America since the September 11 terrorist strikes on the World Trade Center and the Pentagon.
Even though it has been almost a year since the terrorist strikes, the United States is still embroiled in a post-strike crisis. The crisis is not simply economic or political, it's a crisis of the whole culture, of the society's entire sense of itself, of which racism is only the most clearly visible part.
The tri-state area of New York, New Jersey and Connecticut, home to approximately 200,000 Pakistanis, has been the hardest hit region in the racist onslaught. Ikram Khan, a Pakistani businessman, whose family owns several fast food franchises in Connecticut, spent eight weeks in custody and was grilled repeatedly by the INS (Immigration and Naturalisation Services), the IRS, the FBI and the US Customs Services. His crime: being of Pakistani origin and the fact that he had transferred several hundred thousand dollars to a bank account in Peshawar.
Stories of victimisation abound, the most ludicrous perhaps involving a Pakistani doctor in Boston, who was manhandled, body-searched, handcuffed and kept in custody for a day because he committed the 'heinous' crime of making a wrong U-turn — a violation that would normally result in a 40 dollar fine.
The grievances of these individuals, however, pale in contrast to the case of a Pakistani doctor in Pennsylvania's Chester County, who is awaiting trial on suspicion of producing anthrax. In a country steeped in paranoia and on high alert against those forming a 'workable racial profile,' the doctor came under suspicion when his neighbours reported him to the authorities for throwing soapy water in his own backyard. The FBI, on the basis of this information, carried out a sting operation, broke into his house and hauled him away. A search of the house revealed that his wife had a prescription for Cipro, a multi-purpose antibiotic. This 'circumstantial evidence' along with the good doctor's Muslim name and Pakistani origins provided the FBI with cause enough to charge him.
The FBI has also focused on foreign students at college campuses around the US, post 9/11. All Muslim students, including Pakistanis, male or female, now have to go through a background check. It has been estimated that over one hundred students of Pakistani origin have been questioned across America, with a large number being detained at least overnight. According to sources at the Pakistan Embassy, "…these incidents are in isolation…things aren't as bad as all that." However, community activists allege that more than two hundred Pakistanis have been detained on a variety of charges in Northern Virginia alone, the backyard of the Pakistan Embassy.
This growing anti-Muslim/Pakistani sentiment in the west can be attributed in part to a xenophobic western media, which has profiled Muslims in the context of what it labels a 'criminal' culture. 'Jihad' has been distorted by the media, to represent a physical threat to the western way of life by a barbaric civilisation, unappreciative of civilised ideals of democracy, equality of the sexes and freedom of expression. Osama bin Laden, the Taliban and Al -Qaeda have been projected as an integral manifestation of this 'jihadi culture.' Terrorism has been made synonymous with Islam, and the acts of a small band of extremists representative of the whole Muslim world. The condemnation of the extremists — the 'fundamentalists' as they have been termed by the popular press — has thus been liberally superimposed on all Muslims.
America's new xenophobia has resulted in the forced repatriation of a number of Pakistani detainees since early this year, with the US government escorting those deported by representatives of the INS . A Pakistani consular officer, in an interview with The Washington Post, says: "On the human scale, it's a tragedy. But we were given a Hobson's choice: to either grant them freedom or to let them languish in jail." Pakistan's Interior Minister Moinuddin Haider, visited Washington in May to protest against these deportations. "They have not had a fair deal," he says. "These people are not criminals and should be treated with more dignity and respect."
The forced repatriations, however, continued, with 131 Pakistanis deported in mid-July. The Musharraf regime, embarrassed by the number of Pakistanis in US prisons, had initiated high-level diplomatic efforts, spearheaded by Maleeha Lodhi, then the Pakistani ambassador to Washington.
It is reported that INS agents escorted the Pakistani detainees, from 22 cities across the United States, to an airport in Louisiana. The detainees, including one woman, had been held on a variety of charges — some arrested on immigration violations, some on criminal charges, and some for absconding. Many of the absconders had been resident in the US for years and are married with children. Needless to say, these deportations not only disrupted their lives, but those of their families as well. It is also reported that the detainees were 'loosely' handcuffed on board, given 'specially blessed' meals and allowed to watch three in-flight movies.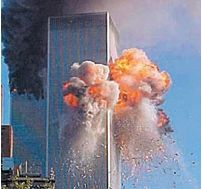 One of the deportees, Mr. Khan, had lived in America for 11 years and ran a small business in Los Angles prior to his detention in February this year. "For me America was a dreamland — the land of the free. I used to think I was lucky to live in a liberal and democratic country. But the dreamland became hell for me after September 11," he says. "Even if I was not carrying valid documents to stay there, I did not deserve such treatment. I was treated badly because I am a Muslim. Being a Muslim should not be a crime. Not every Muslim is an extremist or a terrorist."
Like Mr. Khan, most of the deportees complain of ill treatment by the US authorities. Jahanzeb Zulfikar, 28, detained since April, is one of them. "I went to the US on a student visa when I was 17 years old, and lived in Iowa. I never thought I would be put through such mental torture. My rights were abused, my dignity violated and my self-respect compromised in the detention centre. Pakistan is co-operating with America in its fight against terrorists — and America, in return, is treating all Pakistanis as terrorists. Is this American justice?"
Public resentment against General Musharraf's support to the United States in the latter's 'war against terror' has shifted the focus of attention from neighbouring conflicts to the resultant problem of internal unrest and attacks on foreign interests. As a result, the country's calm has been shattered by incidents such as the kidnapping and murder of Wall Street reporter, Daniel Pearl, grenade attacks on Christian churches and deadly bomb attacks in Karachi.
In a recent incident, residents of the village of Dandey Darpakhel in Miranshah, North Waziristan Agency, were surprised to see a large number of troops surrounding their village. These troops raided an unoccupied building owned by Haji Janan Khan, on a tip that it was housing the Taliban and members of Al-Qaeda. The tip proved to be a hoax but it served to add to the strong resentment in Waziristan against the Musharraf government for initiating repeated raids in the area in search of the elusive Taliban.
Following incidents of violence, law enforcement agencies in all urban centres have been put on high alert and have erected check-posts at various points, conducted raids on 'suspected terrorist hideouts,' in consonance with FBI operatives, and arrested numerous Pakistanis as well as foreign nationals, intensified security checks at airports, and virtually blocked the access of 'unauthorised' vehicles and personnel to areas housing diplomats and foreign missions.
In Islamabad, a special police force, aptly named the 'Diplomat Protection Unit,' has been constituted, which has made it difficult for non-diplomats to enter the city's diplomatic enclave, home to a majority of the foreign embassies and consulates.
"We are being treated like second-rate citizens in our own country," vehemently states Maheen Khan, an aid agency worker in Islamabad, whose job requires regular visits to the diplomatic enclave. "Every time I go to the diplomatic enclave, I have to park way behind the police set parameter and find my way around on foot, which is quite discomforting, given the oppressive summer heat."
In the face of increasing threats of future terrorist strikes inside Pakistan coupled with tensions at the border, many countries have chosen to close down their embassies and recall their staff. Such actions have not only had diplomatic repurcussions but have also created great hurdles for Pakistanis trying to obtain foreign visas. Many diplomatic missions are now no longer entertaining visa applications and Pakistanis are thus being barricaded within the confines of their homeland.
There have also been many instances of students being granted admission at reputable American and British universities, but being denied visas from the concerned embassies. "I got letters of acceptance from Cornell, Brown and Amherst and was extremely keen on joining Cornell, of which my father is an alumnus but my visa application was rejected. This, despite the fact that my documentation was in order and I had a letter from the university," says Kamran Butt, a student from Lahore. "At first I was heartbroken — my dreams shattered. I have now enrolled at a prestigious institution in the city and am enjoying life in my hometown."
There have been numerous reports of students in a similar quandary all over the country. A faculty member of a prestigious business school in Lahore states, "Our applicant pool has increased significantly since 9/11 and is expected to exhibit a continuous upward trend given this prevailing phobia of Pakistanis and Muslims in the West."
Many American and British universities now discourage Pakistani students from applying, due to the "prevailing state of affairs in their home region." A Pakistani applicant was shocked late last year, to receive an e-mail from a Duke University professor, calling him "a potential security risk," telling him that his "kind" were "unwelcome in the United States." Although the professor was reprimanded by the school board and later apologised for his rash comments, this incident is a poignant depiction of the state of mind of the so-called 'liberal and educated' segment of the American society.
It remains to be seen if these restrictions on the lives of Pakistanis and Muslims living in the US and in Pakistan are just the temporary measures of an overanxious and paranoid populace. Given America's future plans in the Gulf, however, it is doubtful if US officials will call off the current state of red alert. Ironically, whilst Pakistan overextends itself in friendship with the US, America is rapidly fortifying herself against her 'profiled' foe.
Next