Is the Pakistan Cricket Team Falling Short?
Imagine, for a moment, the consequences of a Pakistan defeat against Bangladesh at the Asia Cup final in Dhaka on March 22. Critics were already calling for heads to roll in Pakistan's one-day set-up after their series whitewash against England in the UAE — and the defeat against old rivals, India, in a league match of the Asia Cup where Misbah and co lost brutally after piling up 329 runs.
Had Pakistan succumbed to minnows Bangladesh in the finale, there was a big possibility that the country's cricket chiefs would have seriously considered the idea of bringing in a younger captain for the one-day and Twenty20 teams, since Misbah-ul-Haq — a success story in Tests — has most certainly flopped in limited-overs cricket in recent times.
Such a dismal result would have also given a false start to Dav Whatmore, Pakistan's new coach. Whatmore took over from Mohsin Khan, who was the interim coach when the Pakistanis stunned world number one England 3-0 in a Test series in UAE earlier this year. Some tough questions would have certainly been fired at the Pakistan Cricket Board (PCB) for bringing in an expensive foreign coach when a local guy was doing just fine.
However, Pakistan prevailed in the tense title clash. Though they beat Bangladesh by just two runs, the win was enough to avert any sweeping changes in Pakistan's game plan for limited-overs cricket.
But is that a good thing? The problem with success is that it often hides your weaknesses, at least to the untrained eye.
Pakistan may be the new Asian champions but they hardly come across as a champion team. Even in the Asia Cup, their performance was patchy. They played a close first match against Bangladesh, and after beating a jaded Sri Lankan team lost to India in a high-scoring match. They were almost shot down to earth by the Tigers in the final.
With a few months to go before the Green Shirts launch their title campaign at the ICC World Twenty20 Championship, Pakistan's cricketing think-tank has to find answers to a number of questions.
Is Misbah good enough to lead Pakistan in the World Twenty20 Championship? At almost 38, is he even good enough to be in the T20 team? Can Pakistan raise a strong enough T20 team to regain the world title in Sri Lanka this September?
A decision on Misbah is bound to be a tricky one. The seasoned batsman has earned a place in history by leading a previously under-achieving Pakistani team to a historic Test whitewash against England. But he still isn't the most popular person in the country thanks to his below-par performance in major limited-over matches like the World Cup semi-final against India at Mohali last year.
It's quite obvious that Misbah is over the hill as far as his one-day career is concerned. His reflexes are getting slower and the timing is far from perfect. The days when he could easily clear the boundary with some delightfully clean hitting have become few and far between.
They say that a leader can only get respect if he is better than his troops. Misbah may have already lost that edge when it comes to one-day cricket. It's only a matter of time before we start hearing news of dressing-room revolts. It's time that Pakistan's cricket chiefs make a call on Misbah's future as a Twenty20 cricketer.
As for Whatmore, the former Australia Test cricketer couldn't have asked for a better start to his tenure as Pakistan coach. In his first assignment, the Pakistanis won their first Asia Cup crown in 12 years.
It's hardly surprising that the seasoned coach is already receiving words of praise from both players and officials.
"For a team, it can be really beneficial if your coach is a confident man," Shahid Afridi told Newsline just days after Pakistan lifted the Asia Cup in Dhaka.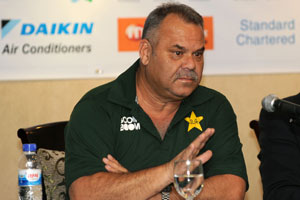 "He (Whatmore) has impressed all of us with his confidence and the fact that he has a very positive approach towards everything," added the former Pakistan captain, who endured a lean patch before playing a pivotal role in Pakistan's title-winning triumph against Bangladesh.
According to Afridi, Whatmore devised a comprehensive plan for the team during the Asia Cup. "I really like the way he comes out with a simple and effective strategy. Whatmore is certainly a good influence in our dressing room," said the flamboyant all-rounder.
Afridi believes that Pakistani players can gain a lot from Whatmore's experience. "I think all of us should make good use of his experience and expertise as an international coach."
Whatmore was preferred by Pakistan over a host of other contenders, including Mohsin Khan, primarily because of his vast experience. He was Sri Lanka's coach when Arjuna Ranatunga's men made history by winning the World Cup in 1996. He also had an impressive stint as Bangladesh's coach.
Intikhab Alam, the former Pakistan captain who was instrumental in roping in the Colombo-born coach, hailed Whatmore for being really "focused."
"The best part about Whatmore is that he is a very focused man with loads of experience," Intikhab told Newsline. "We are really happy that he has quickly developed a good rapport with the players, who are giving us some good feedback about him," said Intikhab, who headed a coach-finding committee appointed by the Pakistan Cricket Board after Waqar Younis stepped down as national coach because of health problems last year.
In terms of limited-overs cricket, Pakistan's most important assignment is the World Twenty20 Championship in Sri Lanka this September. In the longer run, they have to prepare a worthy team for the 2015 World Cup Down Under. Three years may sound like a long time, but it's not that long when you are planning to rebuild your team. Pakistan will have to begin right away to make it sure that they feature in the World Cup as one of the title favourites.
This article was originally published in the April 2012 issue under the headline "Falling Short." Look out for the latest issue of Newsline at newsstands across Pakistan.
The writer is ranked among the battle-hardened journalists covering sports. As sports editor for The News, he covers sporting action extensively in Pakistan and abroad.
Next