150 Years of St Joseph's Convent School
Among the oldest educational institutions in the Sindh province, St Joseph's Convent School — originally known as the Roman Catholic Convent — is celebrating its 150th anniversary this year. Since then it has witnessed thousands of students pass through its portals.
Few are aware that the school's history can be traced to five nuns who left Europe for the first time in their lives to offer their services in an unknown country — India. They came to an alien land with no understanding of its language or culture and which had never seen nuns before. Reaching Karachi on March 13, 1862, the sisters started the school not long after, with an initial enrolment of 40 boys and 48 girls. In 1863, the ground floor of the magnificent building that remains to this day, was constructed. In December 1876, St Joseph's Convent School for Girls came into being — although it did not take the name until 23rd January 1871 — while the already existing St Patrick's School became a boys-only institution.
In its 150 years of existence the school has been served by a large number of nuns, many of whom came from Europe and never returned home. Upon passing, after years of selfless service, they were buried in their adopted homeland, Karachi. Over the years the school grew exponentially — both in terms of its physical dimensions and in enrolment numbers — today it has a student body of 2000. The school also steadily expanded its curriculum to meet the demands of the times, and its uniform underwent various transformations — from pinafores to skirts, to short dresses to shalwar-kameez. An ex-student, Dorothy Simon, who completed her schooling in 1964 remembers wearing bloomers for PT.
Initially, the Convent provided boarding facilities to students in need of rooming. Some may remember that school would last till 4:00 p.m. and there was a shed opposite the large hall where students would partake of their lunch. I remember picking up my older sister — who was a good nine years senior to me — from there, often after school. I recall that the school kitchen was close by from where delicious hot cholay, prepared by the nuns, could be purchased, .
Later, when I joined school, my class was in a building that no longer exists — behind the great hall, where our music classes were also held, conducted by Ms Lobo. We had war drills in the mornings — this was way back in 1964 — and we would be made to lie on our stomachs on the gravel (the school grounds were not paved till much later) in front of Abdullah's canteen with handkerchiefs stuffed in our mouths.
Class three was in the building known as Lourdes House, which still stands today, and I vividly remember my class three teacher, the beautiful and young Miss Mendes who won all our hearts with her genial disposition. The kindergarten section, that occupies the area overlooking Lourdes House, was built while we were still in the junior classes and the low-lying new building became the envy of all, as it sat in the lap of the school garden which students were forbidden from visiting earlier. It was a great treat to be allowed to go to the garden shed tucked at the back of the garden, for games or music practice.
Mr Velloz's canteen was famous for its divine candies and milk toffees, which were also stocked by the much larger canteen run by Abdullah. The latter, a hot-tempered, bearded man was the bane of our lives and we would forever be trying to shame him into giving us water for free, but he would stubbornly insist on selling it to us at the princely sum of five paisas a glass. Speaking to Maharukh Bhiladwala, who was in St Joseph's from the late fifties, one learns that by then school had begun to get off at 3:00 p.m. and lunch would be between noon and 1:00 p.m. Mr Velloz would provide two lunch options — a combination of yellow rice with a vegetable curry or cutlets and fries — both sold at ten annas per plate.
And who can forget the mighty hockey-field where we played all kinds of sports including volley-ball and throw-ball and practiced our March Past and exercises for Sports Day? At the far end of the field was what was ostensibly a grave on which fluttered a green flag, around which numerous ghost stories thrived. Students would challenge one another to walk up to the corner and remain there alone for a few minutes, but to my knowledge no one took the dare.
So many memories… and I am sure every St Josephine has her fair share. But I can vouch with confidence for the fact that each and every one of us has one thing in common — we remember most of our teachers with fond memories. Teachers like the late Miss Shafiqa Fikree, Ms Sabra Siddiqui, and Ms Aileen Soares who have devoted the better part of their lives to teaching the students of St Joseph's Convent will forever remain in the minds of the students taught by them. I know for a fact that I owe whatever I am today to these teachers.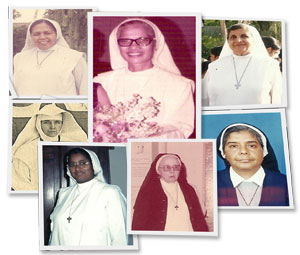 It was a great feeling attending the Mass on the School's Feast Day — March 19 — and meeting ex-students from varying years as well as the faculty and sisters. It was heart-warming indeed to be at the 150 years' celebrations of the school and to be among the 150 ex-students who were honoured with a plaque that read 'Woman of Substance.' To be in the company of the likes of Hameeda Khuhro, Shanaz Wazir Ali, Nafisa Shah, Maheen Khan, Shehnaz Ismail and Zubeida Mustafa, among many others, was a humbling experience. And singing all the old school songs with them was a trip down memory lane.
It was also heartening to learn from the current principal of the Cambridge Section, Mrs Kapadia, that the school has not stagnated, but has in fact continued to move with the times and has introduced subjects like Information Technology in their curriculum. The school has also been securing the Highest Achiever Award, adjudged globally, since it was started by the University of Cambridge about 10 years ago, in many subjects. It was also bestowed a Certificate of Excellence in learning among 1550 schools in 113 countries by a UK-based on-line learning centre — Rafi.ki.
A great institution that has produced some wonderful achievers — those at home and scattered around the globe and still proud ex-alumni, as evidenced by the large and zealous group that congregated in Houston on March 31, to celebrate the school's 150th — one hopes that the school continues to remain an institution of excellence that keeps pace with the times and produces students that value tradition.
This article was originally published in the April 2012 issue of Newsline under the headline "Yesterday, Today, Tomorrow."
The writer is a freelance journalist based in Karachi. She also works at Hum television.
Next