There was palpable, joyful energy at the Koel Gallery on a cool Karachi morning in March when I went to meet Sheherezade Alam, artist, potter and teacher. Titled 207 Vessels, a retrospect of work from 1985-2011, this exhibit encapsulates 26 years of Sheherezade's life, as she moved from Lahore to Toronto and then back again. I had first seen her work in Toronto in 2005 after having heard much about this celebrity from Pakistan's art world who had also relocated to Canada. In the cold climes of North America, Sheherezade's urns, plates and pots were a warm reminder of our indigenous ceramic traditions, especially the terracotta hues reminiscent of our Harappan legacy where one can imagine a potter putting a chunk of wet clay on the potter's wheel, shaping the utensil with both hands, then firing it in a wood oven to get an even-textured sheen. Sheherezade adds to such traditional forms with innovative glazing techniques that add a glowing lustre to her pottery.
Sheherezade Alam has exhibited formally in Karachi after nearly two decades. The expansive scope of her repertoire was clearly evident in this spectacular display. Her smaller pots were arranged on grid-like shelves — the aesthetic concept of the grid is an element from her husband, the late Zahoor ul Akhlaq's painting technique — and her larger platters, plates, bowls, glasses, cups and urns were displayed on tables across the gallery. "This is a spiritual show," says Sheherezade, "You'll see several pieces that denote rebirth; look at these eggs and these plates in a flowering shape. A lot of pottery that was lying in boxes for the past 15 to 20 years is on display and has come together in grids, as if the pieces are all sisters," she smiles.
Sheherzade returned home, 90, The Upper Mall, Lahore, in 2006, and has since then been searching, she says, for a calling. Besides the joy of practicing her craft, her immediate concern, upon her return from Canada, was the search for a cause she could devote the rest of her life to. With no opportunities coming her way from NCA or Beaconhouse National University (BNU), Sheherezade explored the pottery tradition at the Saidpur village in Islamabad, keen to further represent the cultural heritage of the area. She worked closely with Saidpur potters, who have been practicing this ancient craft for centuries in that area alone, but found that a strange commercial ambition in the village — even its new architecture — developed to present the village as a heritage site, was not really authentic. Sheherezade also spent time at the Indus Valley School of Art and Architecture in 2008 and taught pottery to young children of the TCF and mainstream schools on a voluntary basis. She then travelled to India, took part in group shows in Delhi and was deeply inspired by the Sanskriti Foundation, which aims to protect Indian arts, culture and heritage and is arranged like an arts village, with three museums and artists studios and residences.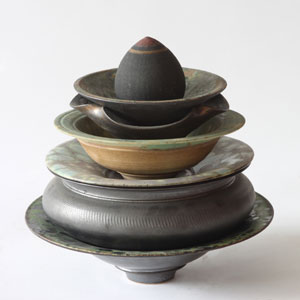 All of it came together in her fourth year back and her search came to fruition at her own home, in the same compound where, 60 years ago her mother, the pioneering Mrs Surayya Alam of Toddler's Academy fame, established a modern, first-of-a kind nursery school in Lahore in 1953. Sheherezade, with the help of Lahore-based architect Kamil Khan Mumtaz, conceived and established a Cultural Centre for Traditional Arts for Children aged 8 to 12 years. Sheherezade has also created a museum of everyday utensils, a museum of textiles, using her family's collection of phulkaris and upgraded her family's garden with pebble landscaping, dotted with pots and urns.
"I had a yearning to teach children," she says, "Having lost a child, the only way back is to be close to children." Sheherezade named her project Jahan e Jahanara, (literally translated as the universe of beauty) after her daughter Jahanara, who was senselessly murdered in 1999. She teaches a 30-hour course, including graduation, at the centre five weekends in October and five in spring. The curriculum includes dastaan goee (storytelling), puppetry, singing and music, calligraphy and creating Harrapan shapes and terracotta figurines with clay.
"I am back home, full circle," says Sheherzade, "here in the Courtyard of the Fire," which is her name for her pottery studio, located under the trees in her family home. Sheherezade's joy is evident. She has found her utopia under the mango trees and created a symphony of nature and art similar to her pottery collection at the Koel Gallery that morning.
This art review was originally published in the April issue of Newsline.
The writer is a former assistant editor at Newsline
Next