"Today, every artist believes he is a superstar"
– Moeen Akhtar
As a youngster, Moeen Akhtar had dreams of becoming a hotshot barrister, but circumstances stood in the way of his dreams. "I didn't want to sell my parents to pursue my ambition," says Akhtar. In fact, destiny had other things in store for him: TV and the stage beckoned, and today, he ranks among the country's top anchor persons and comedians. His career, spanning 35 years, constitutes a major chapter in Pakistan's television history. And recently, he landed the coveted assignment of anchor person on the Pakistani version of the much talked about show, Who wants to be a Millionaire.

Interestingly, Akhtar the showman, appears totally different to his private persona. Offstage, there is an air of despondency about him. From playing the entire spectrum of the Pakistani identity — politician, street activist, bureaucrat, shopkeeper, woman and eunuch — to playing a real life anchor person, Moeen Akhtar has had a long, eventful innings. Not unnaturally then, one would expect the actor to have endless anecdotes to share. But Akhtar is a man of few words. And they are strictly to the point. A far cry from the garrulous on-screen master of disguise.

Will the real Moeen Akhtar please stand up?
Q: How did you manage to wrest the Crorepati show away from all the other high profile showbiz personalities in the running?
A: I was in London when I received a call from Salman, the CEO of ARY, informing me that he had managed to obtain the license for Pakistan for the popular international quiz show. I suggested a few names like Rahat Kazmi, Zia Mohyeddin and Naeem Bukhari as potential anchors, but he said that I was his choice for host. Initially I laughed, and then asked if he really thought I would be able to deliver.
When the news broke in Pakistan, a virtual war was waged against me. A large group of journalists wrote critical articles in the local press. In my 34-year-long showbiz career, nobody had used such base language against me as was contained in an article printed in a morninger. The author of that piece wrote about standards, but his own article lacked exactly that.
Salman phoned me about that particular article as he was equally disgusted by it. I asked him to reconsider his decision before signing me on as there would inevitably be even more criticism, but he maintained that criticism would merely ensure a wider viewership for the show. People here were backing Zia Moheyddin as host, but he is currently hosting a copy of the original programme for PTV.
Q: How do you feel about the comparisons being drawn between you and Amitabh Bachchan, who conducts the Indian version of the show?
A: I do not understand why I am being compared to Amitabh Bachchan. If I were an actor like Mr. Bachchan, the comparisons would have been valid. But there is no comparison — he and I are two different people. In fact, we are poles apart. Undoubtedly Mr. Bachchan is an extremly talented man with a great voice and personality, and he enjoys immense popularity. But just as I cannot be Mr. Bachchan, he cannot be Moeen Akhtar. And I have to do the show my way — with humour and grace.
What people in this country unfortunately do not know is that Who wants to be a Millionaire is running simultaneously in many different countries of the world and in each it is being anchored by a top comedian. Except in India, nowhere is a serious actor hosting the show. Mr. Bachchan is an entertainer, but he is not a comedian. Admittedly, however, the format of the programme requires a lot of seriousness and brilliance from the anchor, because you have to work on the psychology of the contestant sitting in the hot seat before you. But please do not judge me by the same yardstick as Mr. Bachchan.
Q: Aspiring youngsters have accused you and your group of monopolising the hosting of major shows on television. They maintain that you feel threatened by the arrival of new anchor persons on TV.
A: Television meray baap ka idara nahin jo mein kissi ko chance nahin deta. Moreover, I am neither a writer nor a producer. The youngsters need to be better than us [in order to create a niche for themselves].
Q: But it takes time to get to your position.
A: No, that is rubbish. Lehri sahib did a two-bit role in his first movie — he had to play the tabla in Anokhi. However, his mannerisms, the flourish with which he did it, changed everything. You can recommend people, as I have done, but they have to have something in them. I think Faisal Qazi, who played my servant Bashir in Such Much, is very good. Initially he was very much in awe of me, but gradually he found himself.
People don't work hard but expect dividends. I still shiver before going on stage. I used to have cramps in my stomach, though I have managed to overcome that now. One is performing before a 1500-strong audience that one does not know at all. One has no idea of their likes, dislikes, temperament, yet is expected to make them laugh, keep them entertained. That is a tall order for a lowly mortal like me.
Q: Personally, how do you feel about your performance in the show so far?
A: It is too early too say anything. The initial shows are always very difficult because one is in the process of getting into the mould of the character and thus has to divorce oneself from one's own personality to get into it. I don't claim to be an extraordinarily talented man. But by the grace of God, I have been working for the past 34 years, and entertaining people. I will try doing the same here, but with a little more care because this is different.
Q: Apparently in the last few years, you have undergone a religious reawakening. Is there any truth in the rumours that you now maintain that according to Islamic tenets, earnings from the field of showbiz are haram?
A: I clearly stated that we entertain people, but obscenity should not form a part of our work because it is not part of our religion. When we add obscenity to our work, it becomes haram. What is the big deal about that?
Q: There have also been reports that you have bad-mouthed your long-term associate Anwar Maqsood…
A: I have never said anything against Anwar bhai. We have been good friends for the past 24 years, and he has continued writing for me. How could I say anything against him? Besides if I had to say anything about him, we have the kind of relationship which would allow me to say it to his face.
I was in Islamabad when this was reported and clarified the matter with Anwar over the phone. [Reports like this] are yellow journalism — words are twisted, changing the context of entire sentences.
Q: A lot of dust was raised a few years ago about your relationship with an actress..
A: It was only written about and could not be not proven.
Q: How private a person are you?
A: I hardly give interviews, don't go anywhere unless I have to, and don't talk to people or attend any social gatherings — merely because of the gossip that prevails. The general impression is that I am arrogant, but I am not. There is a difference between being a private person, being careful, and being arrogant. I do not get newspapers and magazines in my house. I hardly read anything other than what is printed about me. I do not even know any journalists. In fact, I have always been very unpopular with them.
Q: Are you, as has been reported, writing your autobiography?
A: I was, but have had to slow down because of my other commitments. I have written 270 pages, but now hardly find the time to do more. I've also become a little lethargic. It contains all my memories — the moments of pain and of joy.
Q: Do you have any regrets about your career or your life?
A: Nothing except one — people blaming me for things that I never did. But one always has regrets. Life is a check and balance of blacks and whites.
Q: And do you have any dreams?
A: I want to host something like the Oscars. The standard of the shows in our country is very poor. In this country people are masters of jobs they do not know anything about. We do not have good sets, music or presentation. At times, just before the announcements during shows, we are told that guests are not available and the entire script has to be revised immediately.
A good show can only be done with rehearsals, which these superstars are too egotistical to do. Today, every artist believes he is a superstar. Even if somebody does come up with an extraordinary idea, these stars do not give him/her time for rehearsals.
Then abroad technicalities, like the changing of the sets and lights, are now computerised. They do not do their shows in bits and pieces like us. That is why I hardly do shows any more.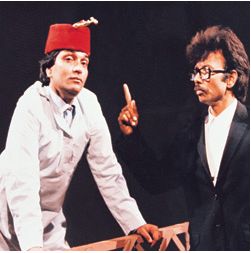 Q: Has the television scene changed over the years since you have been associated with it?
A: Other than the fact that the censors are a bit relaxed now because of the arrival of private channels, I hardly see any change. The new talent is not up to the mark; most actors would rate as just average. In comedy you need to work on many things like tonal variations, expressions, timing — it's a very delicate and difficult job. You disguise yourself in someone else's character. There has to be synchronisation between the tone, tempo and physical gestures of the character — it is a blend of many things. The new breed of comedy actors are not doing anything extraordinary. They don't make me laugh.
Q: Aren't you in a position to make a change now? You have clout because of your seniority…
A: I am not. Who said so? If everybody roams around without clothes and I am dressed up in a suit, I would be the odd one out. I can't change anything. If a person is popular and regards himself as a great actor, how can I reason with him that he needs to rehearse?
These are the days of "instant fame." A serial is launched one day, is aired the second day and becomes a hit the third day. We worked 24 hours a day before people started to recognise us. It was only after a 100 shows that 1000 people came to know us. Today, after just one programme, a person is seen at the other corner of the world. Fame travels very fast these days, it was never like this. Today simply with publicity, you can sell garbage.
Q: What would you include among your most memorable performances?
A: I did a show for the Gambian President, which was attended by King Hussein of Jordan, and Zia-ul-Haq and Junejo. I was given a written text, to which I added a lead that said: 'When I was a child, I used to read books which started off with 'Once upon a time there was a king' and today that fantasy has become reality as I come face to face with one. King Hussein was delighted with my opening statement, and complimented me after the show, to which then President, General Zia said, 'Your majesty he is an asset to our country." "I can see that," said the king.
Amongst the hundreds of interviews I have conducted, I'm happiest with the Imran Khan interview that I did for Yes Sir, No Sir. His image was that of a very arrogant man and he was extremely reluctant to do the interview, saying we relished the idea of cornering our guests. Before going on air, we went through the questionnaire and I asked him to eliminate the questions he didn't like. When the show went on air, he was out on a hunting trip with then President, Farooq Leghari, but called me up specifically to compliment me on how well it had turned out.
Nowadays, the censors are very liberal but 10 years ago that was not the case. When the IG Police, Sindh, appeared in Yes Sir Sir No Sir, orders were issued subsequently that no government officer could appear in my shows without permission from the chief secretary. But times have changed now. In our days, by doing attacking interviews one could be putting one's neck on the line. For instance, if one were to say anything against a party leader, or ask him provocative questions, one could incite the hatred of his followers.
Q: What has been the highest point of your career so far?
A: It is yet to come, but had I compiled a record of my work, I think I would have made it to the Guinness Book of World Records because I am the only man to have done so many impersonations. I do not know of any other actor who has equalled my record.
Q: Some people are rather sensitive to your impersonations. Has anybody raised objections to them?
A: I do impersonations with grace, and do not insult other people on issues of cast and creed. I believe in self-censorship, and do not wish to hurt anybody's feelings. Some of my sketches are masterpieces and can be shown in academies.
Q: What has the low point of your career been?
A: Many. Accepting substandard projects because of my relationship with the people involved… there are so many things that you do not want to do, but are forced to — that is how society operates.
Q: Why didn't you do any more films after Mr. K-2?
A: Because it flopped. Simple. I did it with inexperienced people, because of friendship and as a favour, but it did not work out. When I tried to advise them, they would take it as interference. But I have not backed out of doing films and am in the process of doing another one. I want to produce a very healthy, entertaining film that people enjoy — and it's not to prove that I am a good film actor but to provide quality entertainment.
Q: How do view the theatre scene in Pakistan?
A: It's sheer torture, people who are doing it should be punished.
Q: But you, too, are guilty of doing commercial theatre..
A: What I did was different. Bakra Qiston Pe had no vulgarity and my character was extremely sober. When I work in a play, I don't let them hit below the belt or indulge in cheap humour. But I have seen videos of plays that I have acted in, in which dances have been added after I did the recording.
Q: But you do anchor many live shows which have dance numbers.
A: I don't do the announcements for dance performances anymore and avoid them as far as possible.
Q: Do you think dance is vulgar?
A: I am not a historian to delve into the history of dance just for [the sake of providing] a justification. Certain things are not permissible in our religion and there are no two opinions on it. This statement is bound to become controversial, but so be it. If you are dancing in a decent manner, and with proper clothes on, like Sheema Kirmani, Nighat Chaudhry or Naheed Siddiqui, it is a piece of art. However, if you put on obscene clothes and expose your entire body in order to create a sensation, it is not acceptable to me. Nonetheless, I must confess that if I refused all shows with dance performances, I would have to sit at home and starve. There are things that one does wholeheartedly and many that one does not want to do but has to. I am not so powerful as to be able to fight society all on my own. So I generally avoid such shows. My problem is, I cannot watch a woman dance. If I happen to be in the audience, I just look down.
Q: And what, or who makes Moeen Akhtar laugh?
A: There are some very talented and seasoned actors. It is difficult to name my favourites, because favourites keep changing. However, I am a great admirer of Lehri sahib; I double up with laughter whenever I watch his films. Bushra is equally good, and so is Omer Sharif — he is very spontaneous.
Next