"There is no possibility of my not pursuing this to the very end"
-Imran Khan
Three parties, one case. Hot on the heels of the May 12 carnage in Karachi that left 47 people dead, Imran Khan, chairman of Pakistan Tehreek-i-Insaaf (PTI), pronounced that Altaf Hussain, chairman of the Muttahida Quami Movement (MQM), was responsible for the bloodbath and the breakdown of law and order in Karachi. Imran Khan also announced that he would file a case in a UK court, calling for the extradition of the MQM chief. Former federal interior minister General (r) Naseerullah Babar, who led the operation against the MQM in Karachi, stepped in with evidence to bolster Imran Khan's case.

The MQM took to the streets of Karachi with anti-Khan placards and certain MQM-dominated areas were plastered with what Imran Khan terms as "obscene wall chalkings" that played up Imran Khan's alleged playboy past. A reference seeking Imran Khan's disqualification from the National Assembly on moral grounds has also been filed with the speaker, who has promptly forwarded it to the Election Commission of Pakistan. Amidst all this, President General Pervez Musharraf has called for "moving forward" and has ruled out an inquiry into the May 12 killings in Karachi.

Newsline caught up with Imran Khan and General Babar to get their perspectives on the possibility of securing MQM supremo Altaf Hussain's conviction in a London court. We also approached Dr Imran Farooq for his reaction to the allegations levelled against the MQM by the two, but despite our repeated reminders, he had failed to respond till our going to press.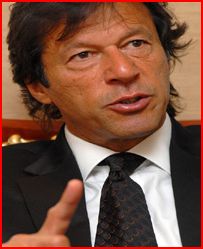 Q: What are the details of the case?
A: I can't divulge too much as my legal counsel has advised me not to. But broadly speaking, the case is based on four categories of charges: torture, incitement of violence, money laundering and terrorism.
Q: Speaking of divulging too much, General Babar has termed your decision of sharing the evidence with the media as 'amateurish.' How would you respond to that?
A: Yes, that was a mistake which should not have been made. Actually, there were one or two people acting as liaisons between General Babar and myself, and the news got leaked.
Q: Do you have evidence other than that from General Babar?
A: We have evidence provided by General Babar, and it all adds up.
Q: But isn't that evidence 12 years old?
A: Yes, but it is still valid. Like I said, it all adds up.
Q: Will any other evidence be used to prove the alleged involvement of the MQM in the May 12 incident? For instance, the footage from TV networks showing MQM activists marauding on streets.
A:It is something that our legal team has to decide, and then we will decide on how to proceed further.
Q: We? Who are 'we'? Is there any other party or individual involved in this?
A: No. By 'we', I mean our legal team. Our party is the only one, and as the chairman of my party, I am filing the case. Rumours that the intelligence agencies are involved in the filing of the case are incorrect.
Q: What is the progress on the filing of the case?
A: The legal team, led by a renowned human rights lawyer and my namesake, Imran Khan, has presented all the evidence to Scotland Yard. This is the procedure that one has to follow for registering a case against a British citizen. It is like our FIR here. Scotland Yard determines if there are sufficient grounds for a court case or not. However, let me be very clear in saying that there is no possibility of my not pursuing this to the very end. If Scotland Yard finds that sufficient grounds to file a case do not exist, I will, nevertheless, go to court directly. Let there be no doubt about this.
Q: Your determination indicates that there has been a lot of planning behind it all.
A:Not at all. It was not planned at all. It is the direct result of May 12. Ten of my party workers sustained bullet wounds, and one was in critical condition. Fortunately, he survived. In such a scenario, I couldn't say, 'Well, tough luck boys.' I had to do something, and this is what needed to be done because in Pakistan the judiciary is petrified of the MQM. The MQM is a one-man party led by Altaf Hussain, who controls his workers through terrorist tactics. They carry out targeted killings. Who will take any action against him in Pakistan? In addition, he is fully supported by General Musharraf.
If you look at my 11-year political career, I have criticised everyone, from Benazir and Nawaz Sharif to Farooq Leghari and Musharraf. There was only one man against whom I did not speak out, and that was Altaf Hussain. For he is the mafia, and who speaks out against Al Pacino? They have such a hold in Karachi that my workers would have been sitting ducks.
Q: So are you saying that the party for justice speaks out selectively for who is right and who is wrong?
A: You see, we are talking about system changes and the independence of the judiciary so that people are able to express their opinion freely and get justice.
In this intimidating environment, no one can afford to be in the opposition. Anyone who has skeletons in their closets is with the government.
Q:Are you saying that the honourable members of the opposition do not have skeletons in their closets?
A: I am saying that justice has to prevail, and those answerable to the people have to be brought to the book.
Q: There are other Pakistanis living in the UK who, allegedly, have a lot to answer for on counts of justice. Will you be pursuing them too?
A: That is not my responsibility. That is why the judiciary of Pakistan needs to be fully independent so that people can be brought to the book.
Q: If your party workers had not sustained bullet wounds on May 12, would you have filed the case?
A: No. I would have issued statements condemning the incident, but I would not have filed a case.
Q: Will the reference filed against you by the MQM have any bearing on your decision to go ahead with the case?
A: No. That has no standing and will be soon resolved, as you will see. However, in case I am awarded 20 years rigorous imprisonment, I would still go ahead with the case. It is no use blaming Babar Ghauri, etc. There are only two people to blame for May 12: Musharraf and Altaf Hussain.
Next