"You shouldn't bring politics, religion or colour into sports"
– Aisam-ul-Haq
Borrowing an idea once used by Martina Navratilova (at the encouragement of another tennis legend Billie Jean King), Aisam-ul-Haq Qureshi wrote his major goal in a diary on January 1, this year: "I want to qualify for Wimbledon," and continued to write it every day for six months.

It worked. After four years of unsuccessful attempts, Aisam finally became the first Pakistani player, since Haroon Rahim in 1976, to qualify for the world's most prestigious tennis event.

The Lahore boy went on to feature in a memorable second round clash against Russia's former world number one, Marat Safin. And in spite of the fact that he lost the match, he was painted as a hero, not just in Pakistan but in places like the United States, Canada and Britain — the home of Wimbledon itself.

Aisam had his chances against the temperamental Safin, but he was unable to convert any of the eight break points, and in the end, the Russian walked away with a 6-4, 6-2, 7-6 (7-4) victory.

During the match, Aisam was showered with shouts of encouragement from his parents, siblings, other family members, several Pakistanis he didn't even know and tennis fans who had been smitten by this latest Wimbledon underdog tale.

At 279, Aisam was the lowest-ranked player in the second round, but the manner in which he exhibited his attractive serve-and-volley game — something he learnt by growing up watching the likes of Stefan Edberg and Boris Becker — offered a refreshing change for the tennis fans, who are currently bombarded with clinical displays by baseline robots of the 21st century.

Aisam lost in straight sets against Safin, but he played really well against a man who has won the Australian and US Open titles and is still feared by top players like Federer and Andy Roddick.
Even Safin had a word of praise for his opponent. "A lot of people said that he's pretty tough — serves well, good volleys, good hands, very dangerous player. I saw they were right," Safin said after the match.

Just before Wimbledon, Aisam made headlines by stunning French number one Richard Gasquet, the world number 11, at Halle. And later, his Wimbledon exploits finally showed his compatriots that there is life beyond cricket.

Newsline conducted an e-mail interview with tennis's wonder boy, who is now almost as famous in Pakistan as the country's cricketers.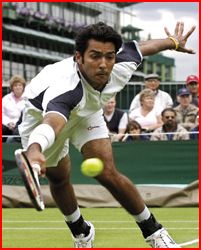 Q: How important a part does tennis play in your life?
A: Tennis is a very important part of my life. It has given me a way to make my parents proud, and that's a really big thing for me. It feels really good when your parents are proud of you. That's why it feels good.
Q: Do you think your recent exploits at Halle and, more importantly, at Wimbledon would be good for Pakistan tennis?
A: It's my job to give my best on the tennis court. But now that I've achieved something on it, maybe the government will think there's another sport besides cricket that can earn laurels for the country. Hopefully, I've achieved something good for other players.
Q: The Pakistan Tennis Federation (PTF) is currently working on setting up a comprehensive tennis complex in Islamabad. Do you think it would provide a boost to the sport in Pakistan?
A: By the time it's going to be complete, I'm probably going to retire. But seriously, we need such facilities in all major cities of Pakistan, so that talented boys and girls can get the opportunity to play and train there.
Q: Were you happy with the media frenzy and public interest your performance at Wimbledon generated in Pakistan?
A: Of course, it's a great feeling. I mean, in Pakistan most people don't know much about tennis, but everybody knows about Wimbledon. I've heard that in the past few days nobody was talking about cricket, and tennis had suddenly got the spotlight. It is really satisfying for me.
Q: You have been trying for several years to qualify for the Wimbledon singles without much luck in the past. But this year you didn't just qualify for it but also became the second Pakistani in 31 years to reach the event's second round. What was different this time?
A:I personally believe that all the hard work of the last 12 years or so has started to pay off. I'm probably playing the best tennis of my career and that certainly helped. Also I went into the Wimbledon qualifying rounds after beating Richard Gasquet, who is one of the best players in the world, at Halle. It certainly gave a major boost to my confidence ahead of Wimbledon.
Q: Qualifying for Wimbledon was also your New Year's resolution, wasn't it?
A: Yes, this year I had told myself that I have to qualify for Wimbledon, and I forced myself to write the line, 'I want to qualify for Wimbledon' everyday, no matter what.
Q: How difficult was it to reach the main rounds at Wimbledon?
A: It was quite tough. I was up against some very good players but, thankfully, I managed to get past them in the qualifiers.
Q: Weren't you sort of lucky when the draw placed you against a player (Lee Childs of Great Britain) ranked lower than you in the opening round?
A:In a way I was, because it could have been anybody. It could have been Roger Federer. But Lee Childs was not an easy opponent and I had to work hard against him.
Q: Did you think you had any chance of beating Marat Safin in the second round?
A: I always go into the court with complete belief in myself, and the match against Safin was no exception. I told myself that if I give my best, anything can happen.
Q:Had Safin gone into a self-destructive mode, would it have helped your cause?
A: Actually, I was hoping that Safin would break a racket here or there, but he didn't. He played coolly and won the match.
Q: Some years back, you created quite a storm by pairing up with an Israeli player, Amir Haddad, for the Wimbledon doubles event. Do you regret making that decision?
A: I don't think they should have made such a big deal about it. We were just two tennis players taking part in a competition. But there were some extremists and sports officials back home who started talking negatively about it all. I really believe that you shouldn't bring politics, religion or colour into sports.
Q: Do you think you can go further next year at Wimbledon?
A: My results in June this year have added to my confidence, and it is my firm belief that hard work always pays. I will continue with all the hard work, and let's see what happens.
The writer is ranked among the battle-hardened journalists covering sports. As sports editor for The News, he covers sporting action extensively in Pakistan and abroad.
Next