"Musharraf is directly responsible for our present state"
– Afaq Ahmed, Chairman, MQM-Haqiqi
This interview with Afaq Ahmed, who is presently in hiding, was conducted over the telephone, from an undisclosed destination.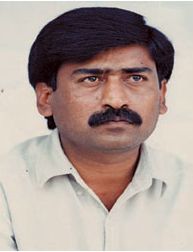 Q: Who is responsible for Haqiqi's present predicament?
A: In a nutshell, Pervez Musharraf. He needed the support of the Muttahida Qaumi Movement (MQM), particularly on the issue of the Legal Framework Order (LFO), and bargained with Altaf Hussain. In return, Altaf demanded action against my party, a takeover of our holdings, complete closure of our offices and demolition of our party headquarters, Bait-ul-Hamza.
Q: When did you begin to feel your days were numbered?
A: When Musharraf announced the end of the no-go areas. In his three-year term before the October elections, his closest aide, former Interior Minister Moinuddin Haider, had stated on record that there were no such areas. His statement was published in all the newspapers. But after the elections, Altaf added more pressure and was successful. So, in a sense, Musharraf is responsible for our present state. Altaf is now operating through Governor Ishratul Ibad, who has turned the Governor's House into MQM's headquarters.
Q: Were you approached by any government agencies before the operation?
A:Yes, several times.
Q: What happened?
A: They said Musharraf needed Altaf's support, and for this reason certain Haqiqi members would have to go, as this was Altaf's main condition. They gave me a list of 13 people, reportedly prepared by Altaf, and demanded their expulsion from Pakistan. Surprisingly, the list included the name of Badar Iqbal, who had joined the PML (Q) a few years back. I told them that he was no longer in our party, but they insisted on his expulsion. In return, they assured safe passage — and a package worth millions of rupees. I and Secretary General, Aamir Khan, refused the offer.
Q: Do you think the army is involved this time round, as they were in the operation against Altaf and his men in 1992?
A: I do not blame the army, but certainly Musharraf. What I am really concerned about is my people, as Altaf's men, the rangers and the police have unleashed terror on our supporters and workers.
Q: But hasn't Altaf declared general amnesty?
A: The word "amnesty" does not exist in his dictionary. The way Bait-ul Hamza was demolished, our offices captured, raids conducted, hundreds of our workers arrested, many of whom were tortured, negate these claims. Today, there are no male members in our workers' houses. Even our supporters and sympathisers were not spared. In fact, I told my workers that I would understand if they wished to change their loyalties because of this terrorisation.
Q: Is it not a fact that, despite contesting for the last 10 to 11 years, your party has failed to muster the kind of support Altaf enjoys among the mohajirs?
A:Yes, in terms of seats his party still enjoys support. But we started from zero, and in the last election managed to gain one national and one provincial assembly seat. In terms of votes, Altaf's popularity is declining. In the October elections, he lost some of his prestigious seats. Even some of his stalwarts lost, whereas our voters percentage has risen.
Q: But many believe that the Haqiqi was a creation of the intelligence agencies, to counter Altaf in 1992…
A:We were accused of rolling in on army tanks in June 1992. But what about those who came on ranger and police mobiles in June 2003?
Q: So what choice do you have before you now?
A: We will wait. We have joined the Alliance for the Restoration of Democracy (ARD) and will struggle from that platform. We could have responded violently, but that would have created a volatile situation, and no one knows where it might have led. Those supporting Altaf will soon realise that his agenda is harmful.
Q:Why don't you surrender to the police?
A: I am not afraid, but had I surrendered, they would have forced me to leave the country, and I don't want to go. I will stay here with my family. Bait-ul Hamza will be constructed again. I can't say how long this operation will continue, but we will be back.
Next