Intelligence investigations have revealed that an obscure North African is believed to have taken over command of Al-Qaeda's operational wing and is coordinating Al-Qaeda's cells world-wide to carry out terrorist activities, especially in the US and the UK.
The debriefing of several dozen militants captured in Pakistan has resulted in identifying Abu Faraj Al-Libby, allegedly the man currently calling the shots for bin Laden's terror network. "Every time we interrogate a militant linked to Al-Qaeda, Al-Libby's name comes up," says a Pakistani security agency source.
According to intelligence sources, not only did Al-Libby orchestrate major terrorist acts on Pakistani soil, including the suicide attack on Prime Minister Shaukat Aziz, he is also the man behind sending coded messages to Al-Qaeda's sleeper cells in the US and the UK, through computer whiz, Mohammed Naeem Noor Khan, who was arrested in July. "The coded messages deciphered recently have revealed that not only was Al-Libby coordinating pre-election terrorist acts in the US, but he had also sent messages to several militants in the UK in the last eight to 10 months sharing notes about future terror attacks in the UK," says an official privy to these secret communications. At least two or three UK-based militants are believed to have travelled to Pakistan and held meetings with Al-Libby to finalize these attacks.
Agency officials maintain that Al-Libby is believed to have worked under Khalid Sheikh Mohammed, Al-Qaeda's operational head for the 9/11 attack, as his deputy, as well as heading Al-Qaeda's North African operations. Al-Libby took over after Mohammed was captured from Rawalpindi in March 2003. "Al-Libby was immediately elevated to the terror network's top position because he was Mohammed's righthand man and trusted by bin Laden," says an agency source. Even today, Al-Libby is one of the few top Al-Qaeda militants who could possibly have knowledge of bin Laden's or Al-Zawahiri's whereabouts. Security officials contend that given Al-Qaeda still maintains terrorist cells from Indonesia to the Philippines and from New York to London, there is a need for a central coordinater. "Since many Al-Qaeda cadres were familiar with Al-Libby, he automatically qualified to replace Mohammed," says another official. Drawing parallels between him and his predecessor, counterterrorism experts say Al-Libby is less dangerous than Khalid Sheikh Mohammed, but is more dangerous than bin Laden or Al-Zawahiri. "He is less dangerous than Mohammed because the latter had lived in the west and was familiar with the chemistry of these regions, while Al-Libby has no exposure to the western world," explains a Pakistani official dealing with international terrorism. However, according to him, Al-Libby is more dangerous than bin Laden or Al-Zawahiri because both of them are confined underground concentrating only on ensuring the secrecy of their whereabouts, while Al-Libby is constantly in touch with Al-Qaeda's sleeper cells, providing them with back-up and financial assistance to carry out their missions. Officials feel that since Al-Libby had worked as Mohammed's deputy, he is obviously aware of the tricks-of-the-trade and has the potential to become equally dangerous. "He is actively engaged in planning these missions, selecting targets and arranging and transferring funds to the militants," says an agency official.
Counterterrorism experts maintain that although after the global manhunt launched against bin Laden's network in the wake of 9/11, many of their offshore accounts were frozen, these funds continue to flow to Al-Qaeda networks through the unregularised hundi or hawala systems of money transaction.
As recently as September 15, Pakistani officials arrested two employees of a local money exchange company, H. H Exchange, when they were about to board a Dubai-bound flight from Karachi. They were carrying US dollars, ruros and riyals worth 3.8 million USD. They are presently being grilled by intelligence agencies, but it is still not clear for whom they were smuggling these funds. "It was one of our biggest ever catches," say Pakistan security officials. Dubai has fast become the new hub from where non-regulated funds are transferred through non-banking channels to the rest of the world.
According to officials, like his predecessor, Al-Libby is now trying to use local cadres instead of foreign agents sneaking into countries to carry out militant activities. "He is coordinating terror attacks with Pakistani militants to carry out attacks within Pakistan, while using the services of locals in the UK who are affiliated with these networks," says an intelligence source.
According to Al-Qaeda experts, Al-Libby was initially operating from Karachi, but has now moved to the tribal areas, where the Pakistan army is presently engaged in a fierce battle against foreign militants holed up in the area. "Al-Libby is presently communicating with his cadres through a Pakistani militant who makes and receives calls on his behalf, gets his instructions and passes them on," says an official. "But the two men are very smart. Every time we arrest any of the militants linked to them and get access to these numbers, they switch to a new cell or satellite phone."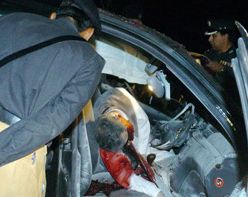 So far, however, the elusive Al-Libby has managed to retain his anonymity. Like most of his fellow militants, he operates under a pseudonym and security officials disclose they know neither his real name nor any details about his origins and family background. Abu Faraj Al-Libby literally means "Father of Faraj from Libya." At times, Al-Libby also operates under the names of Dr. Ibrahim or Dr. Taufeeq. Agency officials say that they only know that Al Libby is an Afghan war veteran and was a close confidante of Khalid Sheikh Mohammed.
Pakistani security officials have managed to retrieve a passport-size photograph of him from captured militants, in which, Al-Libby is wearing western clothes. "He might have taken this picture to make a forged passport for himself so that he could escape Pakistan, by changing his identity," says an official.
His picture was recently released by the Pakistan government along with five other militants after the local authorities found that Al-Libby had masterminded, coordinated and financed the simultaneous assassination attacks against General Pervez Musharraf in December last year. The Pakistan interior ministry has announced a reward of 20 million rupees for information leading to his capture. Apparently Al-Libby stayed on in Pakistan after the war in Afghanistan and married a Pakistani girl. Senior investigators say that Al-Libby is believed to be 5.6" tall with a muscular body and suffers from the skin disease, vitiligo or lucoderma.
"He can speak Arabic and is fluent in Urdu which was one reason why he had no problem remaining undetected in Pakistan," says an official. The 40-year-old Al-Libby is an expert in maps and diagrams. "He used to train Arab militants at Al-Badar Maskar — a militant training camp in the Khost province in Afghanistan," says an official.
He was later assigned the role of assisting Al-Qaeda's cadres and transporting them from one country to another. "When bin Laden moved his base from Sudan to Afghanistan during the Taliban regime, Al-Libby forged documents for the new Arab recruits, sent them to Afghanistan and arranged travel documents for them to travel between different countries after the completion of their training," says a source.
According to agency sources when the Taliban regime ended, Al-Libby played a major role in transporting hundreds of militants out of Afghanistan through forged documents. "Since he was known to the Al-Qaeda militants and he knew the whereabouts of the militants, Al-Libby was assigned to take over Al-Qaeda's operational wing after Mohammed's capture," says another official.
Counterterrorism experts believe that Al-Qaeda has become a hydra-headed monster. "You cut their head from one place and it appears from another," says an official. "The kind of information we have extracted from captured militants in the last few months confirms that this is going to be a never ending war."
Next