In a bloody "encounter" in Karachi, police have killed one of Pakistan's most wanted militants — Amjad Hussain Farooqui — the mastermind behind the assassination attempts on General Musharraf and Daniel Pearl's murder. With a bounty of 20 million rupees on his head, his death is a major victory in the war on terror.
Police in Rawalpindi also finally arrested Mufti Eid Mohammed — one of Pakistan's most dare-devil militants, believed to have taken over as chief of the defunct Lashkar-e-Jhangvi.
Mohammed allegedly orchestrated several suicide bombings in the country, including two deadly attacks on Shiite mosques in May in Karachi. At least 47 people were killed and several dozens injured when suicide bombers blew themselves up in capacity-packed mosques in Karachi. He was also involved in the firing on the SUPARCO van in Karachi, in which nearly a dozen Shias were killed.
According to inside sources, Mohammed's arrest has been kept under wraps while he is being jointly interrogated by local as well as FBI sleuths. "They are not announcing his arrest because they want to squeeze information and leads to bust other terror cells associated with his group," says an official privy to these interrogations.
Mufti Eid Mohammed, belongs to Chakwal in the Punjab, but settled in Karachi several years ago. He was believed to have been recruiting volunteers for suicide bombings in the country. "Lashkar-e-Jhangvi has been involved in many bombing incidents, as well as the killing of Shias, but it was Mohammed who actually introduced the trend of suicide bombings in the organisation after he took over last year," says a police official.
Mohammed was a pesh imam in a mosque in Malir district for three years, but went underground after being accused of being involved in several sectarian killings. He was also the right- hand man of notorious sectarian terrorists, Akram Lahori and Riaz Basra, who were responsible for hundreds of sectarian murders across the country. The three of them founded the Lashkar-e-Jhangvi, a virulently anti-Shia organisation, which had a one-point agenda — to kill all Shias.
With Lahori on death row in a Karachi prison, and Basra killed in a "police encounter" three years ago, Eid Mohammed took over the outlawed Lashkar-e-Jhangvi. "He was not only behind dozens of sectarian killings, but was also involved in planning suicide missions, selecting targets and arranging funds for these deadly missions," says a police official. Muhammed's area of operation was concentrated in the Punjab and Sindh, and his main hunting ground to recruit suicide bombers, were the numerous religious seminaries in the country. The police had been trying to nab Mohammed and had posted a reward of one million rupees, but he always managed to slip through their net, mainly because the police had no way of identifying him. "No police official had his photograph or any information about his family, all they knew from his comrades-in-arms was that he looked like a Pathan and could speak fluent Urdu and Punjabi," says a police officer. Mohammed was finally arrested after police were tipped off about his presence in a house in Rawalpindi.
Police officials allege that Mohammed had been involved in almost every suicide bombing that has taken place in the recent past. Currently he is being grilled jointly by local as well as the US officials in a safe house in Rawalpindi. Police sources say that US officials had tried to give him a 'truth serum' but it didn't work. "US officials are trying everything they know to get him to talk, but nothing so far has worked," says a source privy to these interrogations. He, however, maintains that Mohammed can only be broken using "traditional" methods of interrogations. According to police officials, Mohammed has admitted to his role in the suicide bombings in Karachi and has also talked about the existence of dozens of militants committed to carry out more suicide attacks.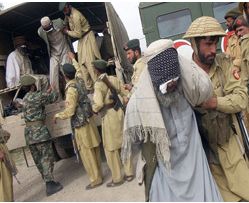 Agency officials say Mohammed was not directly involved in the assassination attempt on Prime Minister Shaukat Aziz, but has admitted to his interrogators that he knew the people who had orchestrated the attack. "I knew all the details about the planning and had even attended some of the meetings where the attack on Shaukat Aziz was planned," Mohammed said, according to a source. He is also believed to have contributed funding needed to carry out this assassination attack.
Despite the secrecy surrounding his arrest, officials maintain that Mohammed's comrades are aware his arrest and have already replaced him with Saifullah, who comes from Peshawar. Saifullah has been an active member of Lashkar-e-Jhangvi and has also been associated with Maulana Masood Azhar's Jaish-e-Mohammed. "In the recent past, dozens of young men have joined these organisations and the majority of them belong to the North West Frontier Province or the tribal areas," says an official. One reason young men from the Frontier Province are joining up is because they have been associated with Jihadi organisations in the past and have recently been motivated to join these militant cadres because of the situation in Afghanistan and the way the government is handling the volatile situation in the tribal areas.
According to intelligence sources, the police have prepared and updated three lists: one comprising the most wanted terrorists, another for middle-tier terrorists and thirdly a list of low-key operatives involved in high-profile cases across the country. It contains the names of the terrorists, the religious parties they belong to, their pictures and other background details. The first list contains the names of six militants, with Abu Faraj Al-Libby and Amjad Hussain Farooqi topping the list with a reward of 20 million rupees each for information leading to their arrest. The second list names 21 militants belonging to both Sunni and Shia militant wings, while the third one lists over 200 young men believed to have been involved with militant networks. Of these, around 134 belong to Karachi alone.
Officials maintain that although they have been trying to smash these networks, there seems to be no end in sight. "More and more young boys are signing up with these militant organizations," says a senior police official.
He cited an example of two young boys, who were arrested by the police in Karachi. "Both of them are US nationals, but they have a house in Karachi," he said. According to him, both came to Pakistan last year and managed to go to the tribal areas where they got training in guerrilla warfare. It seems that despite the government's efforts to track and arrest militant elements, there is no shortage of new recruits.
Next