Muzaffar Ali has no documents that prove he is a Pakistani citizen.The only document he has is a ticket for the passenger ship he travelled on from Dhaka to Karachi in 1966. "I left my home and relatives in search of a livelihood. Once I reached Pakistan, I never got the opportunity to go back to Dhaka. Even though my third generation was born here and has grown up in Karachi, I still don't have a national identity card. I don't go out of Machar Colony in fear of the police who are always on the lookout for Bengalis," says the 65-year-old.
It is this predicament of the Bengali community in Pakistan that led me to visit Machar Colony. I was looking for a way to enter the place, also known as Muhammadi Colony, one of the most thickly populated slums of Karachi, which hosts a population of over 200,000 Bengali-speaking people and is one of the 116 locations in Karachi that houses the Bengali community. Finding no way in, I rushed to a small paan shop, where an old man stood eyeing the camera and bag slung over my shoulder suspiciously. Everyone around was hesitant to help me get to my destination. It was only after I stated the purpose of my visit that the panic-stricken faces of a group of young Bengalis relaxed and they led me to the colony.
The narrow crowded streets were full of half-naked children eating homemade chutney that was being sold by very young girls in front of single-room houses. It was difficult to walk through the streets filled with sewage water flowing out of the gutters. However, basic amenities such as water, gas and drainage are not what the residents prioritise. "We do not demand development; just give us the right to live here," say Bengali residents in this katchi abadi.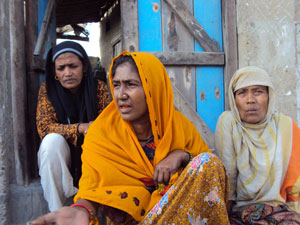 To deal with immigrants and their citizenship status, the federal government set up the National Alien Registration Authority (NARA), under the Foreigners (Amendment) Ordinance 2000, in January 2001, to record the influx of illegal migrants, register foreigners and issue permits to those who want to work or run businesses in the country. In the last 10 years, only 117, 800 aliens have been registered while NARA statistics reveal that currently 3.5 million illegal immigrants belonging to 78 countries are residing in Pakistan. "We are facing a number of challenges in registering aliens. Voluntary registration is no longer workable, we need the support of the police to force aliens to register themselves," says Mohammad Ali Lodhi, assistant director NARA.
Out of these 3.5 million, 2.2 million are living in Karachi; 90% of them belong to the Bengali-speaking community. "Why should I register myself as an alien? I was born in Karachi," asks 25-year-old Noor-ul-Hassan. "I was arrested because I speak Bengali," says Shamsudin, now 40. Displaying an old identity card as proof, he says, "Despite having an identity card, I was picked up by the police and put behind bars for two months under the Foreigners Act."
The government of Pakistan has declared general amnesty for Bengalis who migrated to Pakistan before 1974, and they were granted permission to seek citizenship through proof of residence in the country. Those immigrants who entered the country after 1974 till June 2000 are not entitled to citizenship, but they can seek rough registration and permission to work. According to the rules of NARA, all those illegal immigrants who entered the country after July 10, 2000, have no right to work or do business and are, in fact, supposed to be deported.
Furthermore, post-9/11, the government of Pakistan took special measures to control illegal immigration. Under the Foreigners Act, a special branch of the police was set up to arrest illegal immigrants in Pakistan. Keeping in view that the majority are Bengali immigrants, the Bangladesh Cell has been given orders to arrest Bengalis living illegally in Karachi. "We have to ensure national security; consequently, those immigrants who are living in the city without any proper documentation can be a potential threat to the lives and property of our citizens. To ensure security, we are obligated to seek out illegal immigrants for interrogation," says a police official.
On the other hand, "The Bengali community is living in a state of constant fear and insecurity. The police are roaming the city and picking up Bengalis from each and every corner of the city," says Dr Aladdin, the former union council nazim of Machar Colony.
And their tactics can be crooked. "I cannot recount how many times the police have arrested me. Once we come out of the colony, policemen dressed in plain clothes pick us up and take us away in their jeeps. They take our money, and in case they don't find any, they detain us without charges and release us only after getting five to 10 thousand rupees," says Ajmal Noor, a resident of Machar Colony.
NARA officials have confirmed charges of corruption on the special branch police. "Our institutions have become corrupt; the police often arrest Bengalis for money. Also, the police are supposed to inform us about these arrests but they don't," says Mohammad Ali Lodhi from NARA.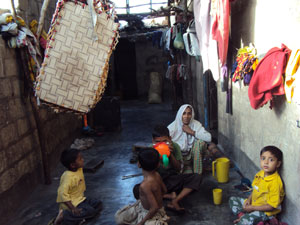 Some Bengalis argue that it is simply unfair to try to chase out families who have planted roots here. "Even as third-generation immigrants, we are not recognised as citizens of Pakistan. Bengalis are just as patriotic as people of other nationalities in this country. Why are we being forced to register ourselves as aliens? Why do law-enforcement agencies not accept the evidence of our citizenship? More than 70% of Bengalis have national identity cards, and the remaining 30% retain evidence required for the issuance of identity cards, but every Bengali is considered an illegal immigrant," says Dr Saleh Zahoor, the chairman of the Pakistan Muslim League (Sher Bangal) faction. "There is apartheid in Pakistan against the Bengalis. We do not trust the political leadership and law-enforcement agencies in Pakistan. Not a single political party or civil society organisation has raised its voice for the political and civil rights of the Bengali community in Pakistan. Even the media is not highlighting the atrocities being committed against us. We are being forced to leave. The government is trying to evacuate millions of Bengalis from the country. Where will we go? Bangladesh will not accept Bengalis of Pakistani origin. We are living without a land, identity and rights," says Dr Zahoor.
Even the dead have no rights. "Din Mohammad died at the age of 60. He left his family and migrated from Chittagong to Karachi in the late '80s. After his death, community members wanted to send his dead body to Bangladesh, but Bangladesh's consulate in Karachi did not grant permission to move the coffin of a person who has no evidence of Bengali citizenship," recalls an inspector of the special branch who requested anonymity. "He was laid to rest at the Meva Shah Graveyard. Sadly, Din Mohammad had no legal documents of Pakistani citizenship either. He lived and died an alien."
To unite the Bengali community, Dr Zahoor has started a political movement under the banner of the Pakistan Muslim League (Sher Bangal). He estimates that more than two million Bengalis are living in Karachi — 90% of them are of Pakistani origin and retain identity cards. More than 500 Bengalis are members of the PML (Sher Bengal), claims Dr Zahoor.
During the last local government elections, 38 union councillors and a single union council nazim were elected in the city council of Karachi. "In the political administration, we have no say. Look at all the Bengali areas; you will not find any development work. Despite having a population of more than 200,000, the people of Machar Colony are living without water supply, gas and drainage," says Dr Aladdin, the former nazim of Machar Colony.
It was discovered by Newsline that the majority of Bengalis involved in the fisheries sector have a low-profile business in the city. The women of the community are often engaged in domestic work in houses or as low-paid factory workers in industrial areas of Korangi and S.I.T.E. It has been noticed that in nearly all Bengali areas, civic amenities are almost non-existent. Having an accelerated birth rate, a lack of resources and inadequate education facilities, the literacy rate is very low among Bengalis. A majority of youngsters are engaged in low-paid employment in the textile and leather industries, or run their own low-profile businesses. Employment in government institutions is negligible.
Bengali workers are deprived of labour rights. In most factories, employers exploit the Bengali workers. "I have been working in a textile factory for the last three years but still haven't been given a letter of employment and registration in social safety nets. The employer can fire me at will and I can't challenge the order in court without evidence of employment," says Waqar, a textile worker, who has been fired many times by respective employers throughout his 10-year career as a stitching master. Similarly, trade unions have turned a blind eye to the plight of Bengali workers. The majority of Bengalis are working in the fisheries sector, but not a single Bengali is a member of the Pakistan Fisher Folk Forum, the single largest trade union of fishermen in Pakistan.
It has been observed that most Bengali-speaking people have retained national identity cards. After the census held in 1998, it has become easy to register as citizens and apply for these identity cards. In this regard, the National Database and Registration Authority was established to issue computerised national identity cards (CNIC). Consequently, most Bengalis are entitled to hold the CNIC. "More than 60% Bengalis living in Karachi have acquired CNICs through fake documents and bribing NADRA," admits Sayed Nayab Hussain Zaidi, assistant director NARA.
Keeping in view illegal means used for acquiring citizenship, NARA is trying to get all illegal immigrants registered. "We believe that all Bengalis are illegal immigrants until and unless they produce genuine documents of citizenship. Therefore, we have provided them an opportunity to voluntarily register with NARA and seek permission to work. Those who hold NARA cards can live without fear. Otherwise, the police hold the power to arrest all those who are living here illegally," says Zaidi.
But the plight of the Bengali community continues. "We are sick of police atrocities. For five years, I have been living in a temporary shelter because the police do not allow construction without a bribe. I can't afford it anymore. I have given up on the idea of a house," says Tajamul Hassan, a 60-year-old Bengali, who is living with seven family members in Machar Colony.
Talking about the political rights of the Bengali-speaking community, Nisar Khuhro, the speaker of the Sindh Assembly, said he was shocked to learn that millions of illegal immigrants are living in the city. He questioned intelligence agencies in Pakistan since every year more than 20,000 people use Pakistan as a transit route and thousands of illegal immigrants take refuge in Karachi. "Why should Sindh bear the burden of refugees?" He also questioned how national institutions could provide citizenship rights to immigrants. "We do not support any immigrants in this country who don't have permission." He encouraged the interior ministry to take concrete actions against illegal immigrants in Karachi.
Clearly, the representatives of the people of Sindh do not want Bengalis living here illegally; however, they are able to do so because of the deeply entrenched corruption in government organisations themselves. The Bengali community has become a victim of this as extortion and persecution continues. At 65, Muzaffar Ali — somebody who arrived pre-1974 and should receive citizenship — is a prisoner in his own 'home': one without freedom, rights and most importantly an identity. This cul-de-sac the Bengali community has found themselves in not only looks dispiriting but impassable without some serious political will by the nation's leaders.
Next