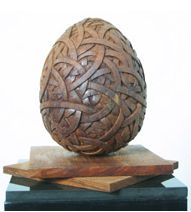 If we follow the premise that each generation has to discover its own formula of expression, then young sculptor Humaira Abid has certainly struck some new chords.
Her recent exhibition titled "Inner Concerto", on show at Canvas last month, had all the lilt and exuberance of a lively, inventive young mind. She sculpts in a static, dense material like wood but has the rare ability to accord the medium a pliancy and finesse that translates her whims and fancies, and fears and perceptions into eloquent statements. Age-old sentiments interpreted through a fresh vocabulary of simplistic forms bring an appealing naturalness to her repertoire.
An NCA graduate of the year 2000, Humaira Abid's creative and technical potential became evident in her very first solo when she exploited the egg-shaped ovoid to portray a gamut of moods. Subsequent shows brought new twists to a host of other commonplace objects but the egg continues to appear in all her exhibitions in some form or the other.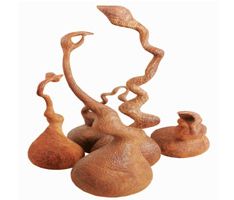 In the Canvas show it appears whole, cut horizontally from the centre, as well as sawn vertically. A piece titled "Mind Flux" is one-half of an egg sliced vertically and its interior is covered with a jigsaw pattern carved in low relief. Bullets pushed through the surface of a single puzzle piece disturb the (dis)jointed harmony and spell inner pain and confusion. Likewise "Clew in Wood," a ball of thread with labyrinthine turns, is a puzzler too but well crafted and attractive nonetheless.
The artist explores gender equation with humour and affection and without recourse to extremism. Two halves of an ovoid are juxtaposed against each other but remain joined in spirit as one is affixed with a key and the other with a lock. Michaelangelo's hand of God reaching out to Adam in the Sistine Chapel ceiling inspired Abid to craft her own meeting of the souls. A male and female hand, cast in bronze and mounted on two flat halves of a wooden egg, are shown engaging with each other as gracefully as her portrayal of togetherness in "Cosmic Dance." A wooden corset with bronze wire titled "Perfect Figure" is a light-hearted jab at frivolous notions of beauty. And "My Secret World" speaks of personal belongings stashed in a pair of wooden purses, which also double as interesting pieces of woodwork.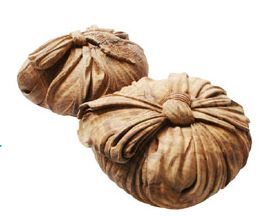 The anchor piece of the show, however, was a group of large sprawling organic shapes called "Emerging Brio." Slender embryonic seedlings sprouting rhythmically from rotund womb-like masses impacted the eye and the mind with their huge scale and intricate workmanship. Time-consuming and technically challenging, the seedlings with thin undulating stems were crafted, as most of Abid's other objects, from single logs of wood. The challenge lay in fine chiselling the spiraling columns and delicate stems from a bulbous base without injuring the individual pieces.
Unlike many sculpting techniques where wood is fired, smoked, burnt and polished, Humaira's pieces spoke of the love and care she lavishes on them. She uses the natural grain of wood to advantage, opts for a matt finish instead of smothering it with polish or lacquer, and has now begun to season her own wood to avoid warps and tears. Her textural marks may have conceptual connotations but they also enhance the beauty and tactility of the piece. Objects like a "dhobi iron" and an electric iron with miniature paintings pasted on their flat surface were intended to give a humorous twist to the term "istree" which means iron in Urdu but wife in Hindi. Such works enabled the artist to synthesise her miniature-making skills with her wooden sculptures. The intricate detailing of the iron pieces is an act of patience which is also a pre-requisite for the art of creating miniatures. Humaira Abid's training in Mughal painting is largely responsible for the 'finish' she accords her work but it is the direct relationship between her ideas and the forms she crafts that personalise the work. The presence of a cluster of birds in the gallery accompanied by music and birdsong, a sound installation, was a direct manifestation of an inner musical score.
The genre of sculpture has only lately begun to regain visibility courtesy of talented young sculptors, but being a female in a largely male-dominated fraternity can pose problems. Regarding selection and purchase of wood, tools, workmanship, exhibitions and promotion of work, Abid admits that it is arduous but contends, "I have never encountered problems that could not be resolved." At the same time she hastens to add" I know that some of my contemporaries have not been able to survive."
Next