A delightful new assortment of miniatures went up at Chawkandi Art recently. The genre is under fire currently for not upholding its essential essence and regressing towards the bizarre and the tawdry. Excessive mutilation and grotesqueness have disenchanted viewers, and the Chawkandi collection stood out on account of its fresh approaches and delicate workmanship. Personally selected by gallery owner Zohra Hussain, the works have been executed by students of Ustad Bashir. Recent 2002-04 graduates of NCA, these young miniature artists are exploring subjects relevant to their immediate personal lives and their musings, sentimental gestures, awkward and naïve outpourings endowed the paintings with a fetchingly innocent appeal.
The only male artist in the show, Asif Ahmed, has already created a positive impression with his thesis project "Banjaranama," which was exhibited in 2005. Thematically and technically sound, the work gave tidings of an artist with potential, and in the current miniatures on display at Chawkandi he has maintained that certain finesse peculiar to his drawing and painting skills. The young artist's feel for the lyrical and the poetic is visible in his lines, colour harmonies and compositions. Borrowing from the Persian miniature, he maintains a healthy respect for the traditional mannerism of miniature painting, but his personal expression is a synthesis of the old and the new. Mixing experimental forms with typical miniature vocabulary, he tries to achieve a contemporaniety that is oriental yet modern. Painted in a romantic strain, his current works are an ode to love.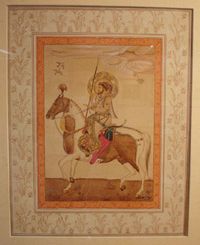 When Attiya Shaukat fell from a great height, her accident provided her with a theme she could express with personal conviction. The gauze bandages on the feet, splintered bones, surgical incisions and back injury have been expressed almost literally by specific imagery and by dividing her paper surface into two separate halves and clamping or stitching them together with a string to simulate a grafting process. Meticulously painted, this ventilation has been therapeutic for the artist and has not only given an unusual twist to the picture content but has also made the work much too individual and subjective. Moreover, in her eagerness to say it all, she has cluttered her compositions with symbolic references not all of which are coherent.
Recall and recount defines the content of Kiran Saeed's nostalgic musings. She indulges in childhood reveries through a series of windows, reliving her haunts, dreams and aspirations. Similarly, Sobia Ahmed locates herself in imaginary and introspective compositions related to growing up in a tradition-bound society. Both works are figurative but Kiran opts for a pictorial narrative while Sobia divides her surface into abstruse planes and rectangles interspersed with circular patches.
The lotus flower and wave-like patterns typical to miniature vocabulary are common to Farwa Hussain Naqvi's oeuvre. She uses them to express a mood as an atmospheric element or to bring movement to a static format. In her work on display at Chawkandi, lotus buds adrift in a torrid sea evoke a diaspora situation as the painting is also affixed with stamps, as on a postcard.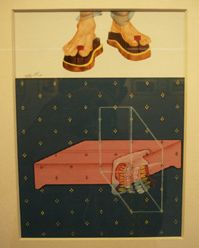 Traditional dancing figures by Farah Jabeen, presented in compositions of geometrically divided vertical and horizontal spaces, is a lukewarm attempt at mixing the traditional with the modern. Her previous studies of traditional Mughal miniatures reveal her considerable working skills, but it is the strong, meaningful content in her contemporary compositions that makes the new miniatures engaging.
Group exhibitions of miniatures are common fare these days, which should augur well for the genre, but sadly, quantity is overshadowing quality. There is prolific production but no stringent scrutiny to ensure quality control. Often, these exhibitions are an uneven mix of the good, the bad and the ugly. Surprisingly the current show at Chawkandi was not bumpy and the viewing experience was pleasant.
Next