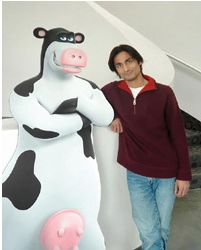 Asim Fida Khan is a rare find: a Pakistani success story in Hollywood. He may not be a big-screen leading man, but he may be on his way to becoming one of its leading animators.
In just five short years, Khan hopped continents, earned his Master's in Computer Animation and bagged gigs on two major Hollywood productions: last year's effects-loaded thrill-ride, Stealth, and Will Smith's 2003 summer blockbuster, I, Robot. And now he has made the move to animated features, landing a job with Omation Studios, which has partnered up with Paramount Pictures and Nickelodeon Movies to produce the upcoming film Barnyard.
"With two live action films under my belt, I was interested in working on an animated feature," says Khan. "I wasn't aware of Omation Studios at that time," he continues, but he had heard about Steve Oedekerk's newest talking-animal flick. He did a little legwork, discovered an open spot on the production team and, as he says, "the rest is history."
Not bad for a boy from Lahore who initially had less glitzy dreams of being an architect. In fact, it was while pursuing his BA in Architecture at the National College of Arts, where he was "creating a 3D building walkthrough" for one of his school projects, that computer animation first gripped his imagination. And then Hollywood's golden glow sealed his fate. After the animation gurus, Pixar Studios, produced several box-office hits, says Khan, "I became convinced to take this up as a career." So just like an artist at his drafting table, he took out a fresh sheet of paper and started sketching out new plans for the future.
The transition from storyboard to real life seems picture perfect. Now, his early success has him hoping that other Pakistanis get into the animation game too.
"The percentage of [Pakistani] people involved with this profession is very limited." Unfortunately, Pakistan has a dearth of high-quality educational institutions dedicated to this field of art. As such, Khan offers the following advice to kids trying to teach themselves through books and the Internet: Stay motivated and inspired by watching good movies with great animation and special effects. "3D production can be tedious, laborious and very slow," says Khan. "One can burnout easily."
But Khan is showing no signs of burning out just yet. He wants to get involved in the character-development side and maybe shift back home one day. "I am really looking forward to setting up my own projects back in Pakistan. I can't say exactly when that would be, but it certainly is on my list."
Next