When Pakistani cinema began to lose its hold on the public, one of the gimmicks it adopted to lure audiences back to the silver screen was shooting films in exotic locales. The idea was that the general public would be attracted to the movies for, if nothing else, the picturesque foreign locations they had to offer. Interestingly, in the late nineties, the trend to shoot television plays abroad also caught on, but for vastly different reasons.
Director Zaheer Khan, who claims that the first ever serial to be shot in a foreign country was his Awaazain — shot in England in 1997 — says, "I had been to England many times and had become familiar with the cultural problems that immigrants, particularly girls, from our part of the world face there. So, my motivation for directing the play was the strong storyline I had. I feel there must be a logical reason for doing a play abroad."
According to Khan, shooting a play in a foreign country requires a lot of planning, more so than producing it in Pakistan. "Geography is very important but sometimes people tend to forget that. One should only shoot a play abroad if the story justifies it and, then too, proper research must be put in before the shooting stage. The neighbourhood to be depicted must be checked out, their cultural problems, values and norms understood, and it must be ensured that the characters fit in within the structure of the play and have relevance to our people."
"It is only when one's concepts are clear that the casting can be done, which is an integral aspect of any production. The body language of the actors is crucial. That is why it is essential to take actors from abroad too, to add authenticity to the play. If I am depicting a character which is born and brought up in England, there is no point in casting a complete desi no matter how good an actor he or she may be, as their Urdu will be very good and their English not up to par. That is why both the female protagonists of my play were from England and had to be taught to speak in Urdu. The mother in the play was from there as well, as were a couple of boys and some extras."
Despite the fact that 90 per cent of the play was shot in England, and only the linking scenes were shot locally, Khan says the play did not prove to be too expensive thanks to his having done the drill a month prior to production. "I had scheduled the auditions a month earlier and the cast from England cost me as much as the Pakistani actors as I had worked out a package deal with them. We shot six to eight scenes daily. So the extra expenses I had to incur were those of travel and lodging of the cast and crew I took from Pakistan. I had even taken the cook from here, which proved to be a great boon as he would conjure up fantastic dishes, saving us a lot of unnecessary expenditure on food."
Planning seems to have been Khan's strength, for he adds, "Although I signed 12 people from Pakistan, I didn't take them all together. Initially, I took only those members who were required in the first stint of shooting and when they completed their work I sent them back and got the next batch of people that were required."
Khan claims that he took his cast and crew legally, after completing all the formalities and seeking the relevant permissions. He had even hired an English manager and rented helicopters for the play. However, in spite of all the costs incurred, he managed to make a profit on the production as it was aired in London and in the Middle East besides being shown in Pakistan and is slated to be re-run soon. According to Khan, "Although Moin-ur-Rehman is the producer, I have been doing the marketing of Awaazain myself and continue to get the royalties for it."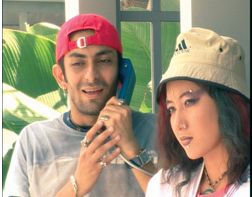 Another play that was being shot abroad (in San Francisco), almost simultaneously, was Sultana Siddiqui's private production Doosri Dunya, produced in collaboration with US-based Omer Dossani. Says Siddiqui, "The play revolved around lottery visas and authenticity demanded that it be shot in the US. I had a son in San Francisco, a city that boasts some very scenic locales, so that was why I chose to make it the backdrop of my play."
While Siddiqui is clear that there must be justification in the storyline for shooting a play abroad, she concedes that the motivation for choosing foreign locales was somewhat different in the nineties. "During those days, viewers were drawn to plays that were shot outside the country, as it was a rarity, and even artistes were fascinated with the idea of travelling and would charge concessional rates if it meant going abroad. Actors, nowadays, if a play is shot outside of Pakistan, it is more to ensure that all the artistes give you their undivided time and attention than for any other reason. Artistes nowadays tend to over-commit themselves and their dates frequently clash, causing delays."
Another distinctive feature marking the plays shot abroad these days, feels Siddiqui, is that since artistes no longer get special visas as easily as they used to, they go as tourists with relatively less time in which to complete their shoots. "So, in order to save time and expense, outdoor shootings are normally done abroad while indoor ones are done here. This detracts from the authenticity of the play. Also, local directors are now becoming more dependent on foreign actors, so that they don't have to get into the hassle of applying for visas and can save on expenses. Expatriate Pakistanis are more familiar with our plays now and it is easier to hire their services. Directors, too, have become savvier regarding where to look for actors for their productions."
Siddiqui feels that although she incurred massive expenses as she wanted to do everything legally and had hired a lawyer for the purpose, it was well worth the expense and time. She says, "I faced no problems regarding logistics, thanks to my partner who had done all the necessary leg-work, and my son. We knew exactly where we were going to shoot. However, by the time we had managed to get our visas and leave for the States, we only had 39 days in hand before the visas expired. Thanks to proper planning though, we managed to complete the shoot in 35 days."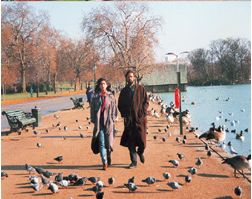 However, Humayun Saeed, who has probably shot the maximum number of plays abroad, feels that shooting at foreign locations is no longer such an attractive proposition. His first play, Tum Hi To Ho, shot in the US in 1999, was produced when he felt unusual locations held a charm for viewers, and it certainly gave the play "a different look." However, after shooting in Malaysia, Dubai and London, he says, "My prime concern in shooting abroad was to get all the actors under one roof. Otherwise, they can keep you hanging for months without committing to any dates. But now, I feel it's just not worth the hassle. In the final analysis, locations don't sell, actors do. If you have a strong cast, the play will do well regardless of the setting. It is too much responsibility taking 15 to 20 people with you and providing for their visas, tickets, stay, food and then also dealing with their mood swings, sickness, and what-have-you. The only reason why I did the second play in the US was because Mehreen Jabbar was there and I wanted to do a play with her. Similarly, the reason for shooting Ana in Dubai was that it was an Indo-Pak production and it was more feasible to do it there."
Unlike Humayan Saeed, Zeba Bakhtiar strongly advocates making plays abroad, although her reasons are very different. She shot Masuri, her first serial as a producer and director, in Malaysia and forwards her reasons for it: "When I visited Langkawi and heard of the legend of Masuri, I felt that it was a story that had to be told, particularly because I could draw a parallel between the Masuri of yore and the kari of Sindh."
"But that was not the only reason for shooting my play in Malaysia. I also had serious issues with the way Pakistanis have been running off to India at the drop of a hat — whether it is to make a movie or launch a video. India has become a kind of a benchmark for us and I feel it is destructive, as far as our media set-up is concerned, to patronise a country that we are competing against. We are losing our own identity. I feel collaborating with Muslim countries is very important. We need to make plays reflecting our culture, spread our values to other parts of the world and project a better image of Pakistan. Instead, we have been concentrating on producing rip-offs of poor Indian productions."
According to Bakhtiar, producing a play in a foreign country did substantially increase her costs, but she feels it is her moral obligation to do such projects. She adds, "In the long run, it proves to be financially feasible because you get paid better for it and you expand your market, particularly if you use actors from the host country as well." She did not feel that hiring foreign stars, especially for the lead roles, increased her expenses. She feels it was well worth the experience of working with them and that the feedback was very positive. The collaboration got a thumbs up from the Malaysian government, and the Malaysian Ministry of Tourism assisted her team with the locations.
Bakhtiar also found that doing the project abroad facilitated her in completing it early as all the actors had nothing else to do and were totally committed to her play. She claims it took her much longer to do her second and shorter play shot in Pakistan. "It was a nerve-wracking experience, given the attitude of the cast and the problem of synchronising dates," she complained.
Another person, who is equally supportive of the idea of shooting plays abroad, is Haseena Moin. She says, "I've done three plays in the UK and enjoyed it immensely. My first, Des Pardes, was shot in Scotland and I found the people there to be very hospitable. My motivation for writing a script based in Scotland was that it would attract a much wider audience, as many of the Pakistanis settled in the UK would also watch it, and I wanted them to become aware of the excellent quality of our plays. And, of course, I love travelling and wanted to see Scotland, so that was an added incentive!"
Moin maintains that the crew faced no problems of logistics as the producer was half-English, half-Pakistani and settled in the UK. In fact, they were treated as honoured guests there and the mayor of Glasgow and the mayor of Dundee even threw receptions in their honour.
The most recent venture to be shot abroad and currently airing on HUM TV is Sard Aag, shot entirely on location in Manchester. Says Yasser Akhtar, the producer/director of the serial, "I had visited Manchester earlier and knew of the very large Asian community settled there. I had a number of relevant themes in mind that I wanted to work on, so when I planned a trip to the UK I went to work on the script of Sard Aag with Peerzadah Salman. A lot of planning and research had to be put in but we saved time later as I had learnt exactly where to get permissions, insurances and equipment from."
According to Akhtar, he over shot the budget of his play, since most of his cast and the entire technical crew were from England and only three actors, including himself, were from Pakistan. "We auditioned for actors in three cities and had to pay the ones selected the equivalent of their salaries, as they were taking time off from their regular jobs to perform for us," explains Akhtar. "Since wages are quite high in England, this made quite a dent in our budget." But expenses aside, Akhtar's experience of shooting abroad has been so positive, that he is now looking forward to doing another serial abroad.
With more directors, producers, writers and actors opting for international locations to get their creative juices flowing, it appears that viewers will continue to get a flavour of Dubai, New York , Kuala Lumpur and other exotic locations in their own drawing rooms. However the question is: Will their forays into international terrain, help raise the quality of Pakistani tele-drama or will the gloss and glitz of foreign locales merely prove to be fancy trimmings to shoddy productions.
The writer is a freelance journalist based in Karachi. She also works at Hum television.
Next