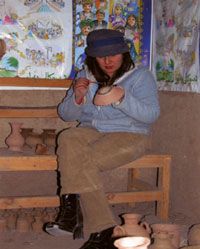 "They would laugh at my suggestions until the Kabul exhibition was all sold out," says a confident Arji, a Kabul-based Pakistani ceramist, of her proteges.
Arjumand Karim, popularly known as Arji,did her foundation programme in ceramics from St.Martins College of Art in London and went on to graduate from Hunerkada, Islamabad, with a major in ceramics. Since the late '90s she has actively worked in the field and contributed to shows in Karachi and other cities.
Presently Arji lives and works in Kabul from where she drives for an hour, three times a week, into the mountains to Kulalan, an ancient potters' village to help reinvigorate ancestral crafts in war-torn Afghanistan.
At our meeting in Karachi's Zenaini Galley, where she had brought an exhibition of Istalif pottery, Arji disclosed, "It took me a year to bring them to this level." Not only had kilns been destroyed during the prolonged war, but many potters had abandoned their homes to find refuge in safer parts of Afghanistan and Pakistan. Today as the potters return to their homes, Arji has been commissioned by ACTED, a French NGO, to help them upgrade their work for sustainable income generation.
Its was only natural that the potters- men of all ages- would have difficulty accepting a woman in a position of authority, that too a Pakistani and younger than most in age. It was with sheer persistence that she was able to overcome such cultural and social barriers. The technical hurdles came in the form of resistance to change in established techniques as the potters found it difficult to understand the potential reward of standard control.
The potters traditionally focus on mass production, firing up to 1000 pots in one kiln load and then selling them in bulk to local buyers at six Aghanis or 12 cents each. These local buyers are their main customers, who in turn sell the functional wares all over Afghanistan. The years of isolation and the absence of demand for higher quality has made them slip into complacency.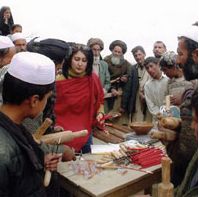 Faced with this situation, Arji's entire thrust has been technical uplift to widen their market base. Through a slow yet persistent endeavour, she began the training by introducing them to basic tools to improve the finishing of the wares. "Since sharp tools are prohibited by law on flights to Kabul , after I got the tools made in Islamabad I had to hire land transport and travel with these tools to Kabul before I could get the potters to start using them," says Arji as she recalls the experience.
Better firing techniques come in the form of a new kiln built at the head potter's house. This kiln, which is installed with shelves, ensures that pieces are not tightly stacked, a practise that led to ugly marks and damage to the glazed ware. Many potters are apprehensive about the cost effectiveness of this this method but they are gradually coming around.
It is only recently, after a sellout show in Kabul and now in Karachi, that a majority of the 30 potters in the Kulalan Village are beginning to understand the value of quality- control.
Istalif pottery is a regional type also made in north western Pakistan. Its simple functional forms include platters and bowls. Unlike the glazed ware with Naqqashi from Multan and Hala, Istalif pottery does not have a set design template.The colour palette is predominantly turquoise, leaf green and beige. With these colours as the base, motifs are either painted, stamped or engraved on the pot.
As Arji explains, pottery-making is a family enterprise. While men prepare the clay and throw and fire the pottery, their children and womenfolk contribute at the drying stage and embellish them with motifs while glazing. The freehand patterns seem to be a part of their larger visual vocabulary and are also used in other crafts like embroideries and woodwork.
Istalif pottery is glazed earthernware which is fired at low temperatures. The potter does not have to venture far, the clay is obtained free of cost from nearby mountainsides and transported in donkey carts to the village,minerals and plants from which glaze is obtained are also readily available.Its location — close to the original source of the raw material — has probably been the reason for the survival of this ancient village.
Craft revival is not only an economic activity but is deeply linked to a cultural continuum that informs a people's identity. This pottery that traces its roots to Central Asia in the north and Iran in the south occupies a significant historical space for the people of Afghanistan.
As Mannan, Javaid and Sultan Mohammed, the Kulalan potters that accompanied her to this exhibition are introduced as the creators of the exquisite Istalif pottery, Arji elaborates, "I want to make them self- reliant. That's why I travel with the potters — so they can get exposure and take pride in their work ."
This makes clear how the young Pakistani ceramist's commitment goes beyond craft revival; she wants to help revive confidence and self-esteem in a people that have lived in a state of war for over two decades.