Divided by the over 700 kilometer long border known as the Line of Control (LoC), the two halves of Jammu and Kashmir state, one called Azad Kashmir, under the control of Pakistan, and the other known as Jammu and Kashmir, under Indian administration, have a lot in common. In both parts of the state there is an overwhelming desire for azadi and a return to peace.
Muzaffarabad, the capital of Azad Kashmir, is a small place compared to its counterpart on the Indian side, Srinagar. However, what is similar between the two is the lush green landscape, defined by rivers and mountains.
When I reached Muzaffarabad as part of a journalists' delegation from the Indian side of Kashmir on November 22, I virtually forgot that I was in a 'foreign' country and had to undergo the cumbersome process of obtaining a visa and special permission to visit Azad Kashmir. The people, the surroundings, the atmosphere were no different from home.
Had it not been a visit organised by SAFMA, however, I would have had to undergo a long wait before getting clearance to enter 'Azad territory.' There are people on both sides ,who have been waiting for decades to cross the LoC to meet their kith and kin, but their desire remains unfulfilled.
As I was checking into Sangam, said to be the best hotel in Muzaffarabad, someone called out to me "Zafar sahib, remember me, I am Fayaz (name changed), from the old Srinagar locality of Zainakadal. My elder brother was your classfellow and I have met you with him." It took me a moment to recognise Fayaz, who had aged visibly. Fayaz was part of a 20-member group of youth from Srinagar, who crossed the 'khooni lakeer' or LoC in the mid '60s for arms training in Azad Kashmir.
Like the others, Fayaz was inspired by the desire to liberate his homeland from the clutches of the Indian army. However, he seemed disillusioned. "I rue the day I crossed the Line of Control (LoC). I had big dreams of freedom for my motherland, Kashmir. But soon after I landed in Muzaffarabad, after giving the slip to Indian soldiers guarding the LoC, it dawned upon me that I and hundreds like me had fallen victim to the designs of some vested interests. They wanted to ensure every advantage for themselves in the name of jihad and were not interested in the wellbeing of the people at large," said Fayaz, tears welling up in his eyes.
Fayaz complained that he and his colleagues were ill-treated because they believed in Kashmir's freedom from both India and Pakistan and did not support the idea of a merger with Pakistan, as "our masters here wanted." In less than three months they left the camp and have been wandering around Azad Kashmir since.
At the hotel, Fayaz was joined by other young men, all from the Indian side of Kashmir, with a similar story to tell. For them, journalists from Indian Kashmir were something special. "We are meeting someone from there (Kashmir) after many years," they said. Local authorities, on hearing about the presence of the 'rebels,' swung into action and tried to prevent the boys from meeting us as a group. Their repeated requests for a formal meeting with their Kashmiri brothers was turned down. Eventually, the police were called in to prevent them from entering the hotel. Even visiting journalists were asked to verify their identity at the entrance of the hotel all the time we were in Muzaffarabad.
However, the boys somehow managed to meet us in twos and threes to narrate their tale of woe. Dejected by their experience in Azad Kashmir and homesick, they wanted to return as soon as possible. However, they realised that crossing the LoC had become almost impossible. "We are ready to face interrogation if we are allowed to go back," said Idrees Ahmed (name changed). When asked whether he would go as a militant, he shot back, "No, not at all, gone are those days, we want to live a peaceful life." His colleague, Jameel Ahmed, echoed his views and added, "(President) Musharraf is making friends with India to seek a solution to the Kashmir issue, why should we go as militants."
A senior officer of the Azad Kashmir government confirmed that any movement across the LoC was completely forbidden. "We stand committed to put a stop to the cross-border movement and, moreover, we know for sure that if these boys are permitted to go back, they will be shot dead by Indian soldiers."
Azad Kashmir Prime Minister Sikandar Hayat Khan has offered "every possible assistance" to the Kashmiri youth to help them settle down, but the situation on the ground is far from encouraging. Many of these boys are engaged in small time jobs, selling fruit and readymade garments on the roadside to support themselves. The authorities pay them an allowance of just 750 rupees a month. "Giving us 25 rupees a day is a cruel joke," said Mukhtar Ahmad (name changed), an engineer by profession who comes from a village in the south of Kashmir. He too was lured by the slogan of jihad and left his job in 1993 to join the 'mujahideen.' "I was the only person in my village who owned a Maruti car in the early nineties. I come from a well-to-do farmer's family and we have a big orchard that brings in revenue of over four lakh rupees a year," he said. "Here I am living a faqir's life".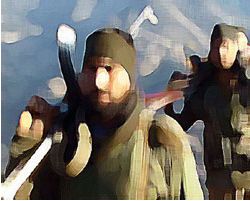 Like Fayaz, Mukhtar too was keen to return to his home to lead a normal life. He was fully aware of the fact that once he crossed the LoC , he would be apprehended by the Indian soldiers. Even if he did not fall victim to their firing, he would definitely land in jail. " I know this well, but I still want to go back to my home and live with my family. At least I will not have to line up every month, like a beggar, to receive 750 rupees."
"I have to pay 3000 rupees rent and another thousand for electricity and other essential services. We are not even registered as refugees. I make ends meet with great difficulty," complains Imtiaz who works as a roadside vendor.
Having left the training camps, these young men are now virtually stranded in Muzaffarabad, living outside the camps set up by the authorities for refugees coming from the Indian side of Kashmir, mostly from the border areas of Karnah, Gurez and Keran.
The refugees have been provided with small hutments in Manakpayeen and some other areas of Muzaffarabad, and are given basic facilities like free rations, free electricity and education. On the other hand, says Shoukat, who hails from Srinagar city. "We are living a miserable life. We have no status at all. We are not mohajirs (refugees) nor can we claim to be citizens of Azad Kashmir. We are suffering from an identity crisis." Khalid Hussain Bukhari, now in his mid-thirties, was too young to know what 'azadi' meant, when he crossed the LoC along with 50 other boys as a JKLF trainee. "I soon gave up and now want to return home," he said. His parents live in Zainakote, a locality on the outskirts of Srinagar. "Meri sarzameen ko salam kehna, (Salute my native land)," he said when we left the Azad Kashmir University campus. Bukhari said that many of his compatriots from the Valley are depressed and homesick.
However, he does not regret joining the militant movement, saying that it was the need of the time. "We had to make India accept that Kashmir is a disputed area and the people of the state have the right to decide their future," he said, adding, "things have changed a lot since then. Today everyone talks about peace and I too want that peace should be given a chance." He was of the view that those who claimed to lead the "freedom movement" were not sincere. "When we arrived here, we were received with open arms. We were provided with good food, comfortable shelter and everything else but then the mood changed and we have been left in the lurch," Bukhari said.
Some of the young men got married in Azad Kashmir but it is difficult for them to provide for their families. "Even our wives are ready to go back to Kashmir with us," said Ali Mohammad, who hails from Patan village in north Kashmir. He wanted us to plead their case with the government in Srinagar to gain permission to return and "live a peaceful life."
The majority of the boys were highly critical of the militant leadership based in Pakistan, saying that the top commanders and senior militants enjoyed all the luxuries of life. "Their children are settled here. They have expensive cars to ride and palatial bungalows to live in," said Hanif Haider of the Refugee Welfare Organisation. Haider, who runs the Jammu and Kashmir Human Rights Movement, said that a few years back the government snapped the power supply to their camps. "When we protested we were lathi-charged," he says
However, a government official dismissed the allegation saying, "there was some internal feud leading to the police action."
Haider said that the NGO Siddique Welfare Trust has helped them from time to time. Surrounded by a dozen frustrated youth, he asked, "Who is responsible for making their lives miserable'? We need to fix the responsibility." He added that the Kashmir problem needs to be resolved in consultation with the people from all the five regions which existed on August 14, 1947. "We will not surrender our right to freedom," he asserted.
Altaf Ahmed, Assistant Relief Commissioner in the Azad Kashmir government, maintains that the Kashmiri youth preferred to live outside the refugee camps. "They don't like to live in these conditions," he said.
During a visit to the Manakpayeen camp set up along the banks of the river Jhelum, refugees told visiting journalists about the "atrocities and brutalities" inflicted on them back in Kashmir that forced them to flee their homes. "It was impossible to live there," claimed Raja Izhar Khan, coming from a border village in Keran sector with a population of six thousand people. "We want to go back but our homes stand destroyed and we may not be able to return till azadi," he said.
Muhammad Ashraf Khan, a police officer at Keran, spent six months in army custody, charged with murder. "Actually, the murder was committed by Indian soldiers and as a policeman I tried to discharge my duty but they held me responsible for the murder," he alleged. According to Altaf, there were as many as 15 refugee camps in 'Azad Kashmir' where 4, 350 families live. Nine of these are at and around Muzaffarabad and every registered refugee is being looked after, he says.
Next