To borrow from Charles Dickens, it has been the best of times for Pakistan's music industry. In just a few years, Pakistan's fledgling music scene has metamorphosed into a veritable industry. Corporate sponsorship of bands has never been higher. In fact, in a country where almost half the demographic is under 20 years of age, and where the mass media has permeated the national psyche, music could very well prove to be the most evolving and fastest growing industry today. Numerous music channels have cropped up capitalising on Pakistan's newfound pop culture.With the advent of independent TV channels and the complete revamp of the media and cultural norms, have come an army of young versatile rockers who like to dish it out harder and faster than ever before. Suddenly, bands number in the hundreds. Old frontrunners and trendsetters have been forced to make way for fresh, vitalised talent. And, perhaps best of all, the industry has finally come into its own, making music a credible career option one can forge a decent living from — a far cry from being just the alternative hobby it was perceived as in the past.
Pakistani music has certainly proved to be the food of love — and so it plays on. And India is now the place to be. Bollywood music apart, the conspicuous lack of an independent music scene across the border has spawned endless possibilities for Pakistani artists. Nearly all Pakistan's major artists have engaged in joint collaborations with India, and toured and signed record deals.
In the last year alone, in fact, there were more musical collaborations with artists and organisations in India than ever before in history, kicking off with Ali Azmat's 'Garaj Baras,' for Pooja Bhatt's movie, Paap.
Director Saquib Malik filmed the video for Junoon's 'Ghoom Tana' in Patiala, and collaborated with Indian director, Pralaad Kakar and filmstar Urmila Matondkar for the video of Fuzon's hit song 'Deewana.' Strings, the Pakistani music industry's second biggest export, basked in the limelight for landing the title track of the Hindi version of Spiderman 2, having previously collaborated on their album Dhaani with Indian artist, Saagarika, and former 'Colonial Cousin,' Hari Haran. Najam Shiraz, pop artiste and naat khawan also sold one of his songs for Murder, Bollywood's remake of Hollywood smash hit, Unfaithful.
But Pakistani musical activity was not confined to across the border. The hills and vales back home were alive with the sound of music, and the quality and quantity of music videos being churned out by aspiring and seasoned music video directors testifies to a mini music revolution. "Unlike India, where videos are mostly based around women, and the west where videos use sophisticated gadgetery, in Pakistan, we have only concepts to rely on," says popular director, Jami. And from among many misses, has emerged some truly stellar stuff. Jami's videos for String's hits, 'Chayee Chayee' and 'Dhaani' were widely acclaimed across the country. Faakhir scored a success with his 'Dil Ruba,' Ali Zafar's 'Channo' video continues to keep kids rocking around the country, and Jawad Bashir alone has directed several videos this year. But it was Saquib Malik's 'Khamaaj,' the Fuzon video starring Shaan and Zara Sheikh, which was touted as one of the best ever Pakistani videos made to date. Also widely acclaimed as a spectacular visual feat, Hadiqa's 'Mahi' video by Asim Raza swept assorted national awards last year. And proving that it doesn't always take big bucks to score a hit was upcoming young director, Amman Ahmed's video for the angry, alternative band, Karavan, with a budget of less than 3000 rupees!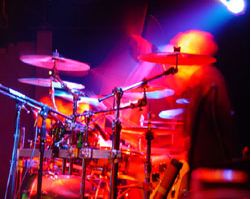 However, although the good definitely outweighed the bad ,for a few die-hard artists, the past few years marked the worst of times in the music industry as well. Despite its phenomenal growth, it remained ravaged by weak institutions, piracy and a dearth of record labels. While artists in the west sign contracts, receive an advance against future sales, and get royalties as per unit sale (the current royalty rates that companies like Sony, Universal and BMG offer are typically 1.20 U.S dollars per tape and 2.40 USD for CDs based on a list price of 10.98 and 18.99 dollars respectively, and artists earn publishing and songwriters' royalties as well as those from Radio and TV networks), in Pakistan, deals were still done without contracts and payments made as one-time upfront sums of money. There was still no concept of royalties or intellectual rights or of radio or TV equity. Some of the existing labels were even fronts to legitimise piracy cartels. (Pakistan is the leading hub of music piracy in the world, with China and Malaysia coming in second and third). Foreign record labels like EMI and HMV were always present in Pakistan, but all exited in 1994 when they could no longer control piracy.
It was, therefore, impossible for most artists to survive on record sales alone. And so was born the concept of sponsorships, where companies paid bands to promote their brands. Thereafter began the process where pop and rock, traditionally considered the ultimate manifestation of youth rebellion, sold its soul to further corporate interests. Perhaps the best example was the 'Tulsi' pan masala campaign, which invested heavily in music videos to sell its carcinogenic product. Given that the collective chalia industry reported a turnover of 200 crores, indigenous pop music can perhaps be viewed as the most successful vehicle for subliminal marketing strategies today.
So, its soullessness aside, corporate sponsorship has managed to do what mom and pop always maintained it never could: put food on the table. Now it has became possible to conceive of music as a viable career, increasingly evidenced by the amount of corporate money bankrolling the industry.
Pakistan's biggest bands, Junoon and Strings, and celebrities like Ali Haider are all presently signed up with record labels in India. Strings, which already has a strong fan following there, signed up with Sony records and earlier this year contributed a song to the Hindi version of the Hollywood blockbuster, Spiderman 2, for an undisclosed sum of money. Sony music in India is the official licensee of Columbia Tristar Records that released the earlier soundtrack of Spiderman. Also this year, Strings collaborated with Euphoria, India's only recognisable band to record a single titled 'Jeet Lo Dil,' which became the official song of the Indo-Pak cricket series. With a hit album under their belt, a mammoth sponsorship deal was signed with Pepsi, a foreign record label, with regularised sales royalty.
But it is still Junoon, Pakistan's biggest rock band, that provides the best case study for the rapid growth of the music industry. Eight years ago the band was registered officially as Junoon Inc., with a paid-up capital of one million rupees. Today the company's assets have burgeoned to cross the million dollar mark. Junoon are currently signed with Snuff records in India while EMI is their distribution arm in the US. The band wants to hold an IPO in the US, where Junoon Inc. is a limited liabilty company with offices in New York. There is even talk of listing the band on the stock exchange in order to generate liquidity and initiate a merchandising onslaught. "Basically we intend to use Junoon's brand name to develop the business into a record label," says the band's business manager, and Salman's brother, Sheryar Ahmed. It is expected that their own label could help them make a headway into foreign markets. Junoon also landed the biggest sponsorship contract ever with Coca Cola, which has reportedly earned the band three crores over the extended period of the deal. Unilever is its associate sponsor, and supports the band at all live concerts and in the making of its music videos. In return the band endorses the Close-up toothpaste brand.
But there are numerous other endorsment deals too, as well as substantial earnings to be made from commerical ventures. Ali Azmat, Junoon's lead singer, for example, was paid 15 lakh rupees for recording the recent Paktel jingle. There are other ambitious plans to consolidate the band in the Indian market as well, with talk of setting up a separate operation in the country.
Shehryar feels that the band has only just touched the tip of the iceberg. "We saw our revenues double when our label brought our albums to India, and once we market ourselves to the subcontinental population in the US, we can easily hit the 10 million dollar mark by 2008," he says.
All is clearly well and good for our golden acts, but what does the future hold for Pakistan's emerging bands? Can they really make a living? Yes, if the success of the Channo factor is anything to go by. Ali Zafar, who became a pop-icon overnight with his runaway hit, 'Channo,' now charges 350,000 rupees for a corporate sponsored show.
Coupled with endorsements, record sales and sponsorship deals, Zafar has become the highest paid entertainer today, a title previously held by Abrar-ul-Haq of 'Billo' fame, who sold more albums than even Junoon. Abrar has also signed endorsement deals with various companies, including Embassy Cigarettes and Coca Cola.
In fact, almost all of Pakistan's talented bands have signed various endorsment deals. Fuzon signed with Mayfair Candy, Jawad Ahmed with Brooke Bond Supreme, and Najam Shiraz with Tapal Tea. Every artist now has a price, an image and a market to focus on.
There is, of course, a downside to corporate sponsorships. Capitalism is about greed. Music is not. But say Pakistan's musicians, it is the only way to make a decent living. And along the way, bands have successfully morphed into brands. Nowhere is this more visible that in the fashion industry. Almost every major band has entered a contract with a designer to sculpt their look. "People want to look like the people on TV, the movie gods and rockstars," says a designer. "That's where the market is." With the creation of our urban heros, arose the need for clothes that made a statement, and the new fashion elite geared up to fill this gaping void. In 1996, when Junoon approached Deepak Perwani, a new, almost symbiotic relationship was born: that between the rockstar and the designer.
The young and talented designer made this venture into uncharted territory with his suitcase of new progreesive fashion ideas and gave Junoon their sufi skin. Ajrak pants, embroidered kurtas and rustic looks constituted Junoon's 'band look' package. The look soon went through the roof, spilling over on to the streets as thousands of junoonis just couldn't get enough! Discarding ordinary western trends, the new generation embraced ethnicity in a funkier, friskier and exciting new way. This spillage was not just confined to elite members of society who could purchase relatively expensive garments from Khaadi and Deepak Perwani retail stores, but filtered down the class strata, with tailors and apparel designers in middle class and lower middle class markets copying Perwani's designs.
Over the past year, pop culture has taken on a life of its own, with economic developers sustaining the young with pop cafés, restaurants, cyber-haunts, sheeshah lounges, and club nights. Event mangement and PR have become the hottest industries to work in and a legion of promoters now coordinate and produce music events and paid- parties. Production houses and private music studios have mushroomed to cater to the demand of the times. A constant need for professionals in the field, meanwhile, is creating much needed jobs for young art school graduates, with Indus Valley and NCA churning out graphic designers, photographers, film makers, video directors, cameramen and a vast array of aspiring musicians faster than you can pluck a string. Even expatriates have started to head back home and join the fray.
The worldwideweb has proved no exception to this revolution. Several full-fledged websites dedicated to music and pop-culture have been launched and there are now thousand of web pages, links, chat rooms and discussions forums (see Electric Vibes). IT experts have been employed by bands to maintain their websites and keep up with trends and feedback.
The proliferation of new generation music, infotainment, fashion design and television has spurred the emergence of more media outlets. FM Radio now has four channels dedicated just to pop. Channels like FM 89 and 96 offer daily, live request and talk shows that have gained a massive following. Former Indus VJ Mani and his former backstreet boy colleague Dino, have become household names and now also host regular radio shows.
"If the music industry is controlled and copyrights are introduced, there is no telling how far it will go," says a producer. "It will increase investor confidence, and foreign record companies will not just invest, but compete for this mammoth market share." While Pakistan's rock and pop success seems misplaced in the land of the pure and fundamentalist trends continue to battle with liberal ones, the music revolution has given the hitherto confused and disoriented local youth a global identity as well as a national one. The evolution of a vernacular pop culture amidst traditional mores is beginning to change the way Pakistanis see themselves and, with a potentially large international market for our creative muse, perhaps even how the world perceives us.
Next