The long wait to see the other side of the Line of Control (LOC) is finally over. The history of Kashmir is ridden with stereotypes on both sides of the divide. If in Pakistani-administered Kashmir, the theory that "India does not even allow Kashmiris to offer namaz in the mosques" is a driving force for many youth to become jihadis, in Indian-administered Kashmir the "underdevelopment and backwardness of Muzaffarabad" is a source of derision. But the ground reality couldn't be further away from these stories which have fuelled tension over the years.
A visit of journalists from India to the so far prohibited areas of Pakistani- administered Kashmir in October 2004 was a real eye opener. Right from Mirpur to Gilgit, there are strong undercurrents for a state independent of India and Pakistan. "Azadi" is the popular slogan, notwithstanding a sizeable pro-Pakistan constituency. What is more surprising is that these "pro-Independence voices" were heard during our visit. At Kohala bridge, where the state of Jammu and Kashmir begins, a small but very enthusiastic group of Jammu and Kashmir Liberation Front (Yasin Malik), activists chanted slogans in favour of "azadi" and welcomed "their brethren from Indian Kashmir."
"We were not allowed to have a meeting with you but we broke the barriers to be the first to meet you", said Saleem Haroon, a JKLF leader. "We had directions from Yasin Sahib to welcome you all," said his colleague, Sirajudin.
Azad Jammu and Kashmir (AJK) is known to be a difficult place for an outsider, especially one from Indian Kashmir, but our stay was relatively comfortable. However, we were told that we were being shadowed by sleuths from the Inter-Services Intelligence (ISI) and our phones might have been tapped. Moving out of the group was certainly not easy and those of us who managed it may have been under surveillance.
For me Muzaffarabad is part of Uri in Baramulla district or Keran in Kupwara district. With its Kashmiri-speaking population at less than two per cent, it is culturally distant from Kashmir. Mirpur is close to Jammu and our colleagues from Jammu intermingled with people in Mirpur and Muzaffarabad with ease.
AJK Prime Minister Sardar Sikander Hayat Khan said that his state was witnessing rapid development, and "it is wrong to compare Muzaffarabad with Srinagar. Muzaffarabad used to be a place during Dogra rule where officials were transferred on punishment," he says.
Boasting about the changed face of AJK, he says, "We have travelled a long way on the road to development. We have everything from tarred roads to uninterrupted power supply." The budget is 14000 crore rupees, with a deficit of 200 crores met by the Pakistani government. He also denies the much talked about interference from the Murree-based headquarters of the Pakistani Army in the affairs of AJK, saying, "Except for defence and foreign affairs, they (Islamabad) have no role to play in our affairs."
The delegation had a consensus on one point: the journey to AJK was historical. For the first time, a delegation of journalists from India, including Jammu and Kashmir, had been formally given access to AJK and the Northern Areas. Mirpur was the first destination. As most of its residents live abroad, it is a prosperous town which earns billions of pounds each year in foreign exchange. The quest for "total freedom" here is palpable. "Why do you talk only about a Srinagar-Muzaffarabad road, why not a Jammu-Sialkot road as well," asked an elderly resident, deeply hurt by the division. "Half of my family is in Poonch, who will bring us together?"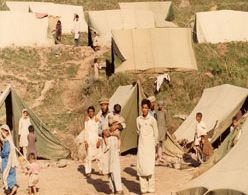 People here acknowledge Pakistan's role in helping Kashmir struggle for self- determination, but the majority believe that an independent Kashmir is the only solution. Mohammad Saeed Assad, a prolific writer, says "we consider both India and Pakistan illegal occupants. We are treated as third-grade citizens, but Pakistan does not shoot bullets at us like India does on the other side of Kashmir."
Nazir Anjum, a professor, said that Kashmiris on all sides have no leadership. He says the Hurriyat Conference "represents the Kashmiri-speaking population of the Valley, not Jammu, Ladakh, Rajouri, Poonch or Doda." Mohammad Shareef Tariq, a prominent lawyer in Mirpur, said that the development of leadership is very important and should precede any solution.
An all-party meet on both sides to decide about the leadership and ask both India and Pakistan to hold negotiations was the refrain of our long meetings with political personalities from JKLF's Amanullah Khan to former AJK Premier Sardar Qayyum Khan and AJK Jamaat-e-Islami chief, Sardar Ejaz Afzal Khan.
Our visit to AJK University proved to be incredible. It was reminiscent of what Pakistani journalists faced in Kashmir University during their visit. Chanting slogans for "azadi" and accession to Pakistan, rival groups clashed and sought an independent audience with us. "The ISI people outnumber students here, how can you expect the real answers to your questions," shouted a student in the University Auditorium. There was virtually no chance to meet the Vice Chancellor and the faculty to discuss educational development and the meeting ended in chaos.
For me the uninterrupted power supply and a better road network came as a surprise. Though there was not much time to go into the development aspect, people had less complaints on that front. Political aspirations, however, are diagonally distant from their satisfaction with economic development, though many have reservations on that score as well. The journey to the LoC near Chakothi was memorable. It was a grim reminder of the cost Kashmiris on both sides were paying on account of hostilities between India and Pakistan. Uri is just 10 kilometres away from here and the journey to my village in Baramulla district would hardly take an hour and a half. The irony is that I had to spend six days to cover the distance, via Wagah.
The sense of relief due to the ceasefire, which completed a year on November 26, is palpable. People want this to be a permanent feature. A completely damaged school at Chakothi, where three children were killed by Indian shelling, conveys the extent of the people's suffering. "This reveals what has been happening here," said Haji Ali Zaman of Chakothi. "We pray to Allah that the ceasefire continues and we live a peaceful life."
Villagers who distributed sweets among the soldiers and journalists said, peace was a priority so that there was no loss of lives. "We have suffered a lot and we believe people on the other side have faced a similar situation," said Mohammad Fayaz, a teacher. Major General Shaukat Sultan, Director-General ISPR, confirmed that the ceasefire was holding.
There seems to be overwhelming support for CBMs like the opening of the Srinagar-Muzaffarabad road, though many (read extremists), believe this is an attempt to neutralise the "struggle for self-determination." The deadlock in talks on road opening must have been a major jolt to the people's expectations, as there could hardly be a voice of dissent over the issue of free movement across the Line of Control (LoC).
"This will be the biggest step towards mitigating the sufferings of the people on both sides," said Commander Abdul Aziz in Mirpur.
In Muzaffarabad, opinion may be divided on what should be the final dispensation on Kashmir, but on the issue of running a bus, there seems to be a consensus. Sikandar Hayat Khan also favours opening of the road. "I do not see any problem in making people's movement easier," he says. The PPP secretary-general in AJK, Chowdhary Mohammad Yasin, also favours such CBMs. "You have seen the plight of the divided families. There will surely be respite for them if they can meet, and that can only happen with the opening of the roads," he said.
Sardar Khalid Ibrahim, head of the Jammu and Kashmir People's Party, is a bit cautious in his response but has no problem if "crossing the LoC does not mean using Indian passports." Then there is no difference between Chakothi (on the Pakistani side) and the Wagah border."
Saleema Atta, a professor born in the Sopore in North Kashmir, has similar views. "Both India and Pakistan have not behaved well with the Kashmiris. So we should be allowed to decide our fate on our own," she said, adding that opening of roads is the first step towards a peaceful resolution.
Kashmiri refugees also have their own story to tell. Whenever and whatever the solution, they want to go back to their homes as early as possible. In makeshift shelters constructed in many parts of AJK, they have woeful tales to narrate. Accusing Indian authorities, particularly the armed forces, of hounding them out of their homes through harassment and intimidation, they say, "We were kings there but here we are dependents".
Izhar Khan belonged to an affluent family and five of his brothers migrated to Muzaffarabad along with their families. A brother left behind is a government official in Srinagar. "In Indian Kashmir there is no peace, it exists only here in Azad Kashmir," he says.
Muzaffarabad's Relief Commissioner Abu Talib, said that the capital city alone has nine such camps, while there are four in Bagh and two in Kotli. "We pay 750 rupees per person for one month, besides free electricity, education and rations," he said. According to him, 4350 families are registered with them and the rest of the migrants live with their relatives
Next