Is press freedom on the retreat in Pakistan? Are these the worst of times for those holding dissenting views in the land of the pure? Are visible and invisible hands out to gag the mainstream media?
Despite all the challenges of Pakistan's struggling and flawed democracy, conservative orientation and deeply religious roots, its media is vibrant, diverse, bold and candid, encouraging those who raise the flag of dissent and non-conformity. It amplifies the voices of rights activists, ethnic groups, the oppressed classes and most religious minorities.
At the same time, however, sensational political statements and conspiracy theories usually take centre-stage on news channels and papers, at the expense of genuine issues faced by people.
This statement-oriented journalism is not the result of state or government pressure. It is, on the contrary, driven by the rat race of ratings, social media hits and a preference for news that sells. Despite these skewed priorities, Pakistan's press, it would appear, is not in chains.     
Yet, of late, politicians, rights activists and media personnel say that there is an unannounced censorship at work and fear grips the media, as the number of 'red lines' continue to increase.
At the other end of the spectrum are those who claim that not only is the Pakistani media enjoying an unprecedented level of freedom, but that it also has a tendency to distort facts and shamelessly push various political agendas, present half-truths and, sometimes, spew lies. According to this school of thought, the media remains overwhelmingly sensational: fake news and toxic arguments on social media are an example of the 'limitless' freedom of expression in the country.
Between these two extremes, lies a middle ground. While problems do exist as far as press freedom is concerned, at the same time, misinformation is disseminated through various media platforms.
Absolute freedom of expression is a concept that is constantly being redefined, depending on the social, economic and political conditions of a country. A single yardstick cannot be applied universally.
Broadly speaking, there are two main yardsticks with which press freedom can be measured: historical and regional. The other, finer details vary from country to country and region to region.    
Historically, press freedom has made huge strides in Pakistan since the country's creation. Long gone are the days of the Press and Publications Ordinance (PPO) of 1962 that empowered the government to seize newspapers, shutdown media organisations and arrest journalists and editors.
The decade of the '70s, which witnessed the dismemberment of Pakistan and the rise and fall of Zulfikar Ali Bhutto – our first and, so far, last civilian martial law administrator – proved far from ideal, despite the presence of a democratically elected government. Bhutto opted for high-handed actions against dissenting voices, from political opponents to poets, writers and journalists. But it was the former military dictator, General Zia-ul-Haq, who added more bite to the PPO in the 1980s, empowering the authorities to prosecute publishers if published news was not to the government's liking. During the Zia era, censorship was tough, brutal and direct. His regime did not hesitate to lash journalists and put them behind bars.
After Zia's sudden death and the return of democracy in 1988, the media started to open up. The notorious PPO was revised, but successive elected governments and various political, ethnic and religious parties continued to target the press and take high-handed action against newspapers and journalists. For instance, in his second stint in power, Nawaz Sharif used the might of state machinery to punish a critical media and arrest journalists.
Surprisingly, it was under General (R) Pervez Musharraf that the Pakistani media saw an unprecedented boom. The electronic media witnessed
 

expansion, as he allowed private news and entertainment channels to open shop, while radio stations were also encouraged. At the insistence of Sheikh Rashid Ahmed, his information minister at the time, the military ruler also allowed cross-media ownership – a controversial decision that lead to the hegemonies of select media tycoons.

Ironically, the media liberalisation and openness eventually contributed to Musharraf's own fall, during his confrontation with the judiciary. His half-hearted attempts to muzzle select media outlets during the peak of the lawyers' movement proved lethal. The media contributed to destabilising his government.

After the 2008 general elections and to date, the media managed to guard its turf despite many ups and downs, taking on successive governments and mighty state institutions Some media organisations took a  critical view of the Pakistan Armed Forces and the Inter-Services Intelligence (ISI).

This resulted in an on- and off- tiff between the state institutions and some media groups, leading to the blocking of the transmission of select news channels and obstacles being placed in the path of newspaper distribution.

This impasse between state institutions and media groups was aggravated due to the non-implementation of libel and defamation laws. In the absence of legal recourse and an established code of conduct within media organisations, there was hardly any independent platform where an aggrieved party could turn for a fair hearing. The regulator proved too weak and politically influenced to carry out this task.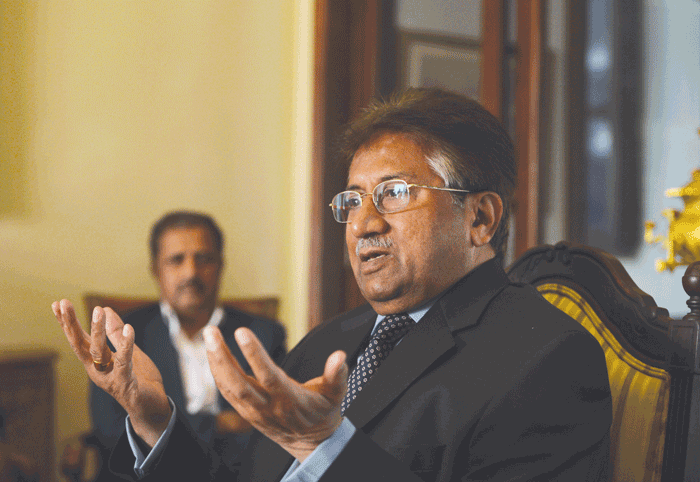 Yet the Pakistani media operates in a freer atmosphere compared to past decades. Yes, there are problems, obstacles and even setbacks, but the media has expanded its boundaries. Many subjects, once taboo, are now openly discussed and debated. There are hardly any holy cows left; be it the government or state institutions, all are under the microscope.
There are, however, cultural and religious sensitivities that have to be taken into account. Pakistani journalists operate in an altogether different world compared to their counterparts in Western Europe or the United States. Several social and religious issues, while kosher in the West, are either discussed in a hushed manner in Pakistan, or seen from a different perspective because of the country's religious moorings and its semi-tribal and semi-feudal roots.    
Similarly, as Pakistan remains engaged in its longest internal war, against terrorism, since 2001, and has hostile eastern and western frontiers, there are conflict areas where the media faces obstacles while reporting. Any state, faced by such internal and external threats, takes measures that may not be the norm in times of peace.
The Pakistani press is less jingoistic, more diverse and aggressive in questioning those in power compared to its counterparts in India – the world's largest democracy. Pakistanis should be proud that while the Indian media overwhelmingly promotes the government and state narrative without questioning, the Pakistani media does the opposite.
Similarly, if the condition of press freedom in Pakistan is compared to its two western neighbours – Iran and Afghanistan – and the one in the north, our friend China, we stand head and shoulders above them all.
Out of more than 50 Muslim countries, including democracies such as Turkey, Bangladesh and Egypt, there is more freedom of expression in Pakistan. Its scorecard is also better than Far Eastern countries such as Malaysia and Indonesia as well as secular countries like Singapore and South Korea.
At the same time, however, the press still has a long way to go. While expanding boundaries of freedom is an endless business, the media should  review itself critically and overcome shortcomings and unprofessionalism in its ranks. Only an objective, fair, balanced and factual media will be able to keep expanding its boundaries.  
Amir Zia is a senior Pakistani journalist, currently working as the Chief Editor of HUM News. He has worked for leading media organisations, including Reuters, AP, Gulf News, The News, Samaa TV and Newsline.
Next