Was it a coincidence? Or a case of action and reaction? To a casual  observer of the scene, there may have been a connection. That is how the scene played itself out. It was a balmy Sunday afternoon two days before Eid, and the occasion was a panel discussion on the economy  at the T2F. Former PTI Finance Minister, Asad Umar, was being grilled rigorously about his government's policy vis-à-vis the IMF.  His interrogators were Pakistan's two top-ranking economists, Kaiser Bengali and Akbar Zaidi.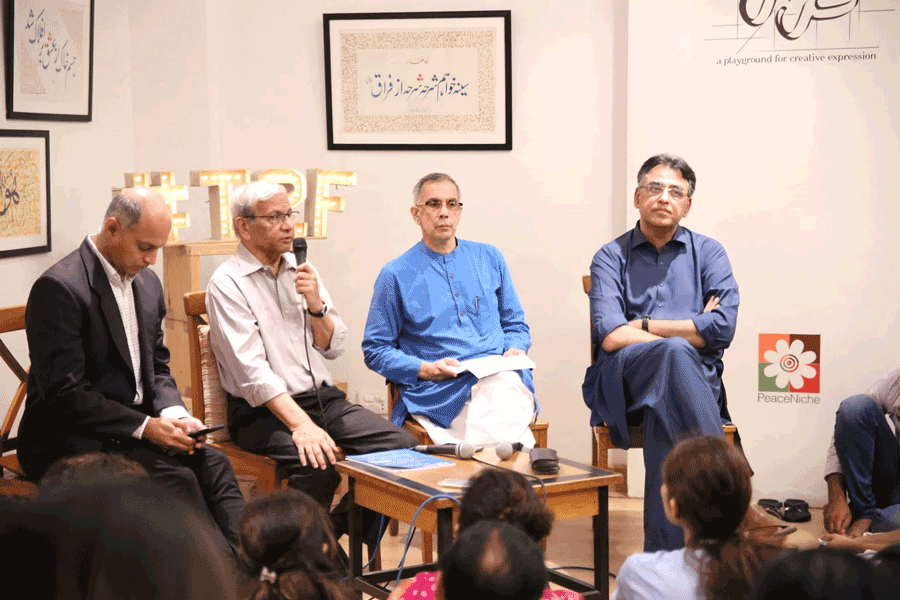 Talking about what needed to be done to fix Pakistan's broken  economy, Kaiser Bengali very clearly spelt out the need to reduce revenue expenditure by at least 20 per cent. "And that includes the defence expenditure," he added without mincing words. Then followed the outspoken Akbar Zaidi. In reply to a question about the reason for the success of Bangladesh's economy,  he categorically stated, "They have succeeded because they managed to get rid of the army [from politics]."
With such plain talk about how the defence expenditure is eating up our economy, it was hardly surprising when Prime Minister Imran Khan took to Twitter on Chand Raat. "I appreciate Pak Mil's unprecedented voluntary initiative of stringent cuts in their defence expenditures for next FY bec of our critical financial situation, despite multiple security challenges. My govt will spend this money saved on dev of merged tribal areas & Balochistan," Imran Khan  tweeted.
In a bid to appease the doves as well as the hawks, the ISPR chief, Major General Asif Ghafoor, tweeted, "Voluntary cut in def budget for a year will not be at the cost of def & security. We shall maint effective response potential to all threats. Three services will manage impact of the cut through appropriate internal measures. It was mp to participate in dev of tribal areas & Bln."
The following day, Army Chief, General Qamar Bajwa, while visiting troops on the LOC, announced that the armed forces are "foregoing the routine increase in the annual defence budget."
What did all this amount to?
To put the record straight, Dawn.com explained that last year the defence budget was Rs 1.137 trillion, which worked out to  3.2 pc of GDP. In the budget for 2019-20, defence has been pegged at Rs1.153  trillion. Yousuf Nazar, former Head of Global Emerging Markets Investments, Citigroup, gave a fuller picture of the defence budget (see table).
The actual picture of defence and security-related expenditure is as follows. The budget is Rs 1.5 trillion, an increase of 5.9 per cent over the previous year. Last year's actual spending was higher than the announced budget. In fact, Rs 36 billion was obtained as a supplementary grant, without parliamentary sanction.
Seven days later, when the budget was presented in the National Assembly, the experts' verdict was that defence spending would increase. And it did.
We have to be reminded again and again that Pakistan is a security state.
I concede that security is the basic entitlement of every citizen in every country of the world. But my perception of national  security is quite different from what we have in Pakistan. There are states which provide security to their citizens by allocating huge amounts from  their budget not to guns and missiles but to education and health services, social welfare and an efficiently-run administration and justice/police system. They focus on a sound foreign policy run by career diplomats who fully understand the demands of their job.
The strength of these countries rests on a strong, educated, healthy and well-integrated citizenry – and not on huge standing armies armed to the hilt, trying to defend weak, impoverished and disgruntled citizens. Security calls for a balance between the two. This balance cannot be achieved if one or other party is given the monopoly of  decision-making. It will obviously protect its own interests. Some checks and balances are essential. If budgetary decisions are taken with the equal participation of all stakeholders, the results would be more sagacious.
Axing huge chunks of the health and education budgets to boost  military strength could undermine the quality of defence manpower.  If a country fails to provide good education to its youth and cannot ensure that they remain healthy,  the candidate pool from which the armed forces recruit their manpower will be of dubious quality. This trend has already set in. Someone who was invited to visit  a cadet college recently, observed that the standard of the students was not what it used to be at one time.  Another girl from a katchi abadi once told me that her neighbour, who is supposedly a matriculate but  cannot read even a line correctly, has managed to get recruited in the army. When the education and health of a nation falls, its army is also affected as a consequence.
Zubeida Mustafa is a senior journalist. She writes on a variety of subjects but her interest has mainly been in the social sector which she has covered extensively. She has investigated in-depth issues such as education, health care, women's empowerment, children's rights and the lives of ordinary people.
Next