Interview: Dr Seemin Jamali
The bedlam inside the Jinnah Postgraduate Medical Centre (JPMC)'s emergency ward is disorienting at first. Row upon row of patients lie on gurneys, each accompanied by three to four family members. In the teeming emergency rooms, doctors and nurses are only distinguishable by their white overalls. Within 30 minutes, a deceased is wheeled out while another dozen patients are brought in, with more arriving at a steady pace through the main gate in ambulances and assorted vehicles. There is, in this chaotic enviroment, a method to the madness, as doctors and nurses go about their business. Despite the heaving crowd, it is surprisingly clean: white-washed walls and no garbage littering the floors.
In the reception area, a dirt-poor family of farmers from interior Sindh await their turn. They have arrived for a follow-up visit of their four-year-old daughter, who is in a cast with fractured thighs. The JPMC is said to receive 75 per cent of Karachi's emergency cases, apart from all those patients arriving from Sindh and Balochistan's far-flung areas, where there is a dearth of emergency health facilities. The garden outside the main emergency has a covered seating area for families visiting their hospitalised family members. Some stay here for weeks to save the daunting travel costs, especially those from interior Sindh. Strategically stationed inside the hospital premises are the Rangers, on a 24-hour vigil.
Up to 1,500 patients arrive daily at the emergency ward of this government sector hospital and almost all are treated free of cost. In crisis situations, the numbers rise exponentially. In 2018, the JPMC attended to 1,519,197 outdoor patients, 481,223 emergency patients, 38,599 Gynae and Obstetrics emergency cases and 7,697 new and old dog-bite cases.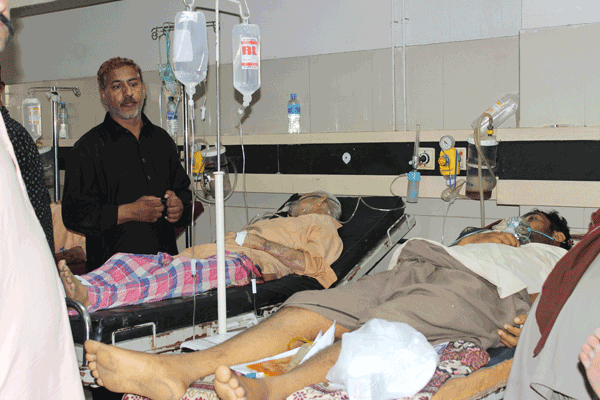 Dealing with all kinds of casualties and traumatised patients in the  emergency is not for the faint-hearted – even if they are doctors. However, Dr Seemin Jamali's name has become synonymous with JPMC's emergency ward – she has worked at the Department of Accident and Emergency, serving and overseeing one of the largest emergency wards in the country, for 30 years. Besides an MBBS degree, she holds an MPHM from Thailand, and a Post-Doctoral Fellowship in Emergency Care from the US.
Jamali sits tranquilly  behind a massive desk in her office. The shelf nearby is brimming with awards and recognitions when I arrive to interview her. She calmly meets a constant stream of visitors and staff, while maintaining constant contact with her emergency staff via phone and keeping a watchful eye on a monitor with live feeds from CCTV cameras installed inside and outside the hospital.
The only hint of urgency is conveyed by her slightly hasty manner of speaking. But that is to be expected from someone multi-tasking on several fronts to accommodate the maximum amount of work within a minimum period of time. "No one is ever turned away from JPMC," she tells Newsline, echoing Quaid-e-Azam's sole condition for graciously lending his name to the institution – that the gates be open to the underprivileged. Thus the Medical Corps Hospital/British General Hospital was renamed the Jinnah Central Hospital.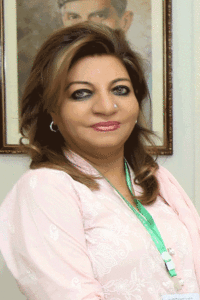 What made you opt for the emergency ward?
My mother had been a medical student herself, but passed away when I was six. It was her wish to see me become a doctor. My heart belonged to the emergency ward from the start. In 1988, I joined the JPMC's emergency as a resident medical officer (RMO). Then it was a dilapidated, dingy quarter of the hospital and invariably the filthiest. It was sad to see the treatment meted out to people arriving there. The staff was self-involved, wasting time laughing and chatting, barely a 100 patients would get attention. The tiles used for the walls of the emergency rooms were the same as those used for the bathrooms; there was no resuscitation bay, no monitors in the emergency – there was nothing actually.
How did you turn things around and what challenges did you face?
As a federal government sector hospital, we face immense challenges but the government can't be blamed for everything. I introduced numerous measures in the emergency, such as disposable syringes. I discarded the use and reuse of glass syringes, which used to be boiled in a boiler room. I applied the formula of beg, borrow – but not steal – to raise money for disposable syringes for the patients.
What irked me the most was the number of dog-bite cases – 115 to 120 – arriving daily in the emergency. I was determined to turn the tables on this very pathetic situation. For several years, the vaccine for dog-bites was administered in the abdominal wall, which was sub-cutaneous (under the skin) and had been rendered obsolete all over the world. One of our security guards, who was immunised with all 14 doses of the vaccine, died of full-blown rabies – that really distressed me. We had the vaccine sent to France for testing and it was found impotent – perhaps the cold chain could not be maintained or it was obsolete. I wanted to learn more about the best practices against dog-bites, so I travelled to Thailand to visit a centre at my own expense. And I am glad I did.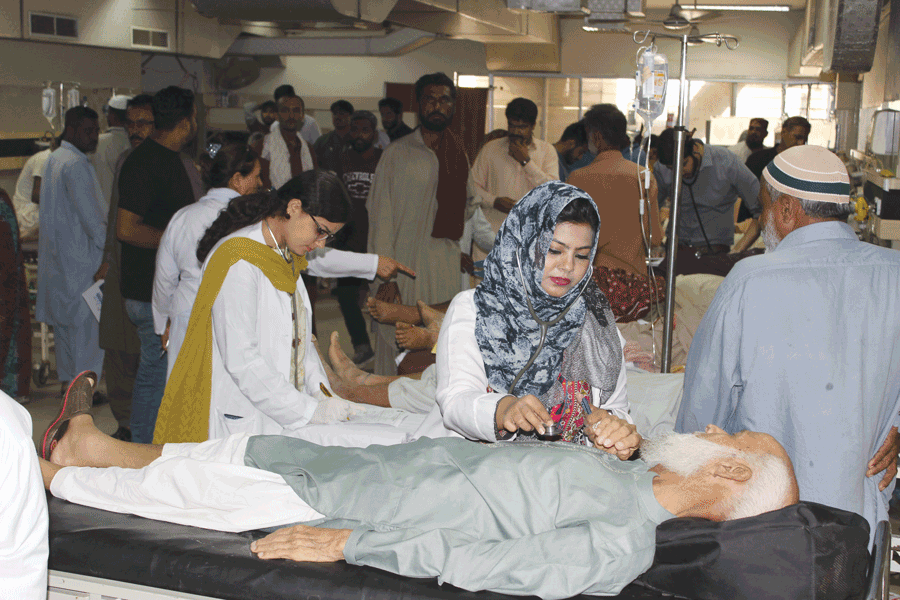 Everywhere else in the world, tissue culture, or human-deployed cell vaccine was being used for dog-bites. I changed the vaccine, as well as the immunoglobulins for dog-bites and had the tissue-culture vaccine imported for our hospital, which was initially very expensive and had to be given intra-muscular. Later, we switched to a low cost method that was not only effective, but up to WHO standards. Now, we administer this state-of-the art immunisation and immunoglobulin free of cost. This year, up to (May 2019), 5,000 patients have been immunised against rabies – mostly from dogs, rarely from cats.
The credit also goes to all the doctors, colleagues and nurses who helped me tremendously in turning the JPMC emergency ward around. I gave the head nurses difficult duty hours and gradually changed their attitude towards work. They are now compassionate and constantly attentive towards the patients, especially in times of crisis, such as when there was a massive province-wide strike during which 1,600-1,700 patients were turning up daily. Credit also goes to the patients because one learnt compassion by observing them.
I like knowing what is happening to the patients in the emergency in real time, which is why I do frequent spot-checks. From the closed circuit cameras installed throughout the hospital, inside and outside, I know what is going on and the staff in the emergency are aware they are being observed.
Is JPMC well-equipped for all kinds of emergencies?
We are fairly well-equipped. We receive a large number of firearm injuries, road traffic accidents, medical emergencies, orthopaedic injuries and neuro trauma. We receive seven to eight cases of poisoning on a daily basis. We do not cater to cardiac-emergencies, but do provide first aid to anybody who comes in. It is a difficult place to work, but it gives you a great sense of accomplishment.
The biggest crisis we faced was at the time of the Karsaz bomb blasts when, on October 18, 2007, Benazir Bhutto's convoy was targeted after midnight. We were cognisant of the fact that with such massive crowds there is always some kind of danger. After the Mohtarma had passed the main area, my boss gave the go-ahead to send the staff home. I followed the procession on TV and remained in the emergency ward till 10 pm. Thinking that the danger had passed, I too went home. Later, a media person called to inform me about the explosions.
I rushed out of the house without informing my family, raced all the way to the hospital [while] simultaneously calling my staff. It was one of the biggest emergency situations I had ever experienced, with about 100 people brought in dead and over 250 injured.
Although we had refurbished the ward, we were totally unprepared and overwhelmed by the scale of the emergency that day. Ashura processions are also similarly vulnerable, and in the past we have had several such emergencies when Shiite processions, or their places of worship, or shrines, were targeted by bomb attacks.
The last thing we expected was being targeted ourselves. It was February 5,  2010 and chehlum is generally a holiday but we were on high alert. We were hoping that the Shiite procession at Shahrah-e-Faisal would pass safely when the first explosion took place, on a minibus. A couple of hours later, while the doctors and staff were attending to the 11 dead and 50 wounded brought in from the first blast, the second massive blast took place in front of the JPMC's emergency ward, killing another 18 people and seriously injuring several others.
It was horrific. The impact had been so intense that initially I thought I was dead because I had been knocked off my feet. Then I moved my hands. Suddenly a stampede ensued, with people rushing over me. Everyone was disoriented, because all one could see was smoke and darkness. Someone hauled me to my feet and got me out of the ward. I recall having no slippers on when I was rescued. I had injuries on my back and head and bruises all over, and I couldn't hear for a long time.
Special security arrangements were made for this facility after the incident and also because it is situated in a cantonment area. The Rangers' presence at the JPMC has been an effective deterrence because there is always some kind of threat.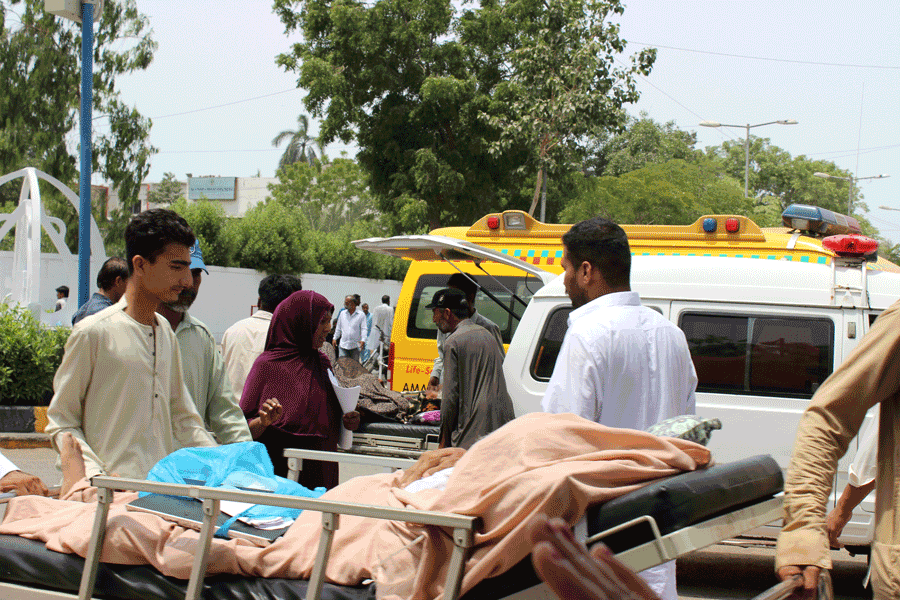 What other threats have you and your medical staff had to face?
Threats come from both, people within, as well as from political and religious spheres. Taking me to be the big fish sitting behind the desk, a large group of people would arrive demanding Eidi or zakat. Then doctors would frequently receive notes demanding money at their private clinics, or in hospitals, even at the JPMC. I have received parchis myself. There have been other kinds of threats that I cannot mention, which is why we now have so much security.
As a public sector hospital, we also have to cater to the prisoner population. In my department, we come across several classes of prisoners, including those who have committed violent crimes, but guards accompany them.   
We have learnt the art of dealing with enraged relatives and attendants who wreak havoc in the hospital. Then there are altercations – such as the one which started outside the hospital and culminated in a shootout inside the entrance of our emergency ward. I was present during the mayhem, when the perpetrators riddled the entrance with bullets to kill their rival. It's like you are wearing a suicide jacket at all times, or sitting on a ticking bomb. The best thing one can do is to be prepared.
You spoke about begging and borrowing to cover certain expenses when there wasn't enough funding for the hospital?
The number of patients has grown exponentially and it is difficult for the funds to catch up. Up to 1,500 patients arrive daily at the JPMC's main emergency. The government has adjusted the budget to quite an extent, but the number of patients only keeps growing. Since we have a no-refusal policy, we may need to think of expansion over the next five-six years to cater to more people.
Our institution has also received new technology from public-private-partnerships that provide treatments to patients free of cost. The government has levied nominal charges for certain things and unless they waive them off, we can't either. But we have waived the slip charges for casualties and there are no registration charges for the patients.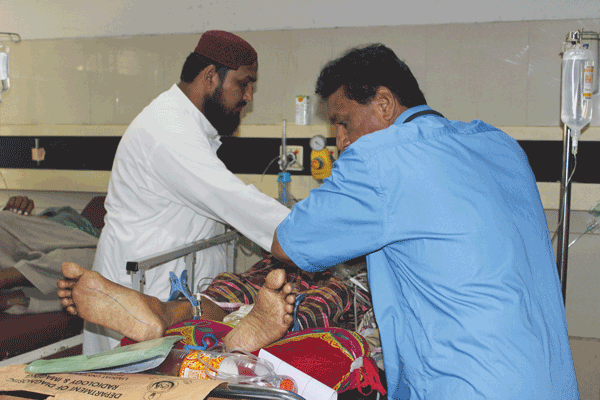 What is the current policy for the emergency ward?
Patients are only required to purchase some medicines in the emergency. With our limited funds, we have to accommodate all the patients who come to the emergency ward. A government central procurement committee decides which medicines are to be purchased for the hospital and we have to comply accordingly. It may not be enough for the number of patients that we have to accommodate.
Several public-private-partnerships have come to our aid and contributed generously towards improving and building new facilities. Private citizens have also channelised donations through NGOs, who monitor the expenditures. That way we keep our hands clean. But this is a government institution; you cannot let outsiders take over.
What are we lacking in our health policies?
There are only three major hospitals in Karachi that cater to emergency cases completely free. Ideally, there should be primary and secondary care centres with a proper referral system so that every emergency case isn't brought to a tertiary care hospital, which should only be for specialised treatment. We don't have a primary health care set-up in any of the provinces. Private health institutions provide emergency care, but not for free and some are very expensive. Our hospital is free, catering to the downtrodden people who live below the poverty line.
The poor are more prone to being brainwashed – for instance, they are told not to give polio drops to their children, which is why new polio cases are emerging among them. Recently, a second case of polio surfaced in Karachi. And now, HIV-AIDS has spread all over Sindh. Half our population is suffering from Hepatitis B and C because of which all Pakistanis found to have these infections in the UAE, are sent back. It has become a kind of stigma. Raising awareness regarding such health issues, is the best way forward. The grants given for country-wide awareness campaigns are not optimally utilised. Short-term, long-term and intermediary health policies need to be devised, keeping our existing socio-economic problems in mind.
In JPMC, we have a fool-proof blood screening system and we are ISO-certified. Every blood bag used in our hospital is screened for HIV, Hepatitis B and C, malarial parasites and syphilis.   
We do not have enough medico-legal officers and their standards are not up to the mark. Just about anybody is posted as a medico-legal officer for this very sensitive job. They need to train and work in special environments, for which they should be sent abroad because there are no proper training facilities in the country. The profession should be made more viable and comfortable for people to work in; presently it is fraught with problems – some visible, others invisible. Sensitisation needs to take place, otherwise people cannot work in the medico-legal section. There is also some truth regarding the corruption in the medico-legal profession.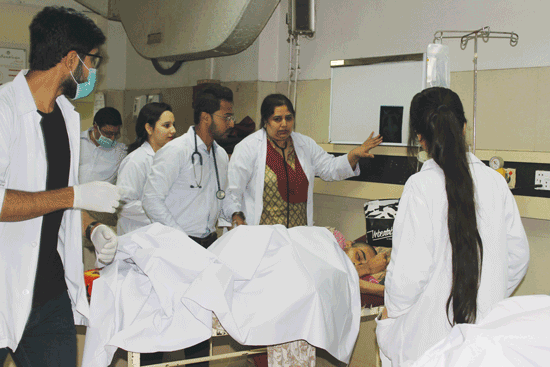 What new training programmes have been introduced in the emergency section? 
This is the first public sector hospital in Pakistan to introduce a four-year training, or specialisation, in Emergency Medicine. Both in our first and second batches, we have four doctors in each, working towards a professional degree in Emergency Medicine. Interestingly, there are more women in these batches than men. Emergency is a very stressful job, but women seem more motivated in this very different sub-specialty. It is very popular in the West, because once home, you don't have any further responsibility which gives you the down time.
Have work pressures impacted you personally?
If I didn't have this work, I would have died long ago. I have suffered from a brain haemorrhage at work and I have survived a bomb blast. The only reason I think I survived, are the prayers of these patients – that is what has kept me going all my life. In the blast, except for some injuries, nothing serious happened to me, but it did not prevent me from returning to the emergency ward. The incident made me realise that soldiers and the police pay with their lives to protect people like us – and they are usually ridiculed.
I feel like that myself sometimes, having been cursed, abused, threatened by several people who are intolerant towards the medical staff. Patients' attendants have assaulted doctors. Despite the innumerable times they have been unkind to the staff in the emergency ward, it has not stopped the latter from doing their work. And although we have zero tolerance towards violations, we never penalise them. We realise it is a stressful time for the attendants as well, which is why they lash out and we try our best to help them.
Most of my 30 years of service at the JPMC has been in administration, working for the emergency services. Although I have had little time for my children, I spend quality time with them. I have looked after my family as best as I could.
The writer is working with the Newsline as Assistant Editor, she is a documentary filmmaker and activist.
Next