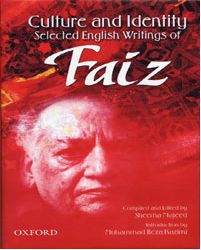 The poet in Faiz Ahmed Faiz outshines and eclipses all the other aspects of his personality: Faiz, the journalist, the teacher, the trade unionist, the left-wing intellectual. However, a glimpse of other dimensions of Faiz leads one to a greater appreciation and understanding of his poetic genius, and his character as a whole.
Culture and Identity — Selected English Writings of Faiz, a recent book published by the Oxford University Press, offers readers a chance to peer into the mind of this great genius of our times through some of his little known and forgotten writings and essays. These works remain as important and relevant to our age as they were when Faiz wrote them. They reveal a part of his personality as well as his views on issues of culture, art, literature, society and politics. An encounter with Faiz's prose can be as fulfilling, and intellectually and emotionally stimulating, as one with his poetry.
Sheema Majeed — a renowned literary researcher of Pakistan — has done a commendable job as the editor of this book by compiling the poet's writings from a range of varied and scattered sources.
The book, which also includes Faiz's only published English-language poem, 'The Unicorn and The Dancing Girl', is certainly not just a gift for Faiz fans, but a great reference for scholars and researchers as well. His lucid style and simplicity of expression hook the reader to his observations on varied topics.
The autobiographical section of the book, which opens with 'Faiz by Faiz,' is a treat to read. It is a slightly edited version of an extempore talk delivered by Faiz to the Asia Study Group in Islamabad just eight months before he died in March 1984.
Here Faiz reveals how he helped the British organise Communist Party-like cells in each unit of the Indian army to bolster war efforts among Indian soldiers against the Japanese and German forces during World War II.
He was awarded the Order of the British Empire for this feat, rising within a short span of three years to the rank of colonel — the highest position an Indian could attain at that time. He ran the propaganda machinery of the entire Indian army on all its fronts until the war ended.
Another interesting account in this section is about the much publicised Rawalpindi Conspiracy Case in which Faiz was arrested along with several military officials and had to spend four years in prison.
"Nothing had happened, you see, nothing was going to be done," said Faiz. In what Faiz called "a very stupid way," he along with two civilian friends went to attend a meeting of 14 to 16 army officers at the invitation of General Akbar Khan to plan a coup. The participants did discuss ways to overthrow the government, but towards the end of the meeting realised that it was impractical and "not on." So the decision was that nothing had to be done, but this "thought-crime," as George Orwell would have termed it, resulted in one of the most famous cases in our history.
Faiz's stint in prison, however, proved productive for his poetry. He came out with two books which turned him into an "even greater celebrity than before."
This section also contains Faiz's account of his father, who rose from the ranks of a landless peasant to serve an Afghan monarch, as his chief secretary and minister, went on to Cambridge University for education and became a barrister before settling for good in his hometown, Sialkot.
"I was born in the house of a gentleman who was a 19th century adventurer, who had a far more colourful life than I have had," Faiz said while giving his family background.
Faiz's eight articles on culture raise many issues and questions, which not only remain relevant to this day, but highlight those anomalies and contradictions that grip Pakistan even now.
He attempted to identify and understand the essence of the culture of peoples living in Pakistan, the impact of imperialism on their lives and the burden imposed on them by primitive tribal and feudal societies.
"Before independence, the only radical change which occurred in our economic and social structure was under the impact of British Imperialism," he wrote in an article — 'The Quest for Identity in Culture' — published in Viewpoint in February 1976.
In his articles on culture, Faiz focused on raising questions rather than providing answers. He pointed out various interpretations on issues such as language and tradition, rather than drawing a definite conclusion. He attempted to understand the basic cultural problems of third world countries by applying the Marxist yardstick for understanding history.
"Very broadly speaking, these problems are primarily the problems of arrested growth; they originate primarily from long years of imperialist-colonialist domination and the remnants of a backward, outmoded social structure," he wrote in the article titled 'Cultural Problems in Underdeveloped Countries.'
He, however, does not shy away from accepting the massive social change the imperialist powers brought into their colonies, nor does he hesitate to point out the flaws and inherent weaknesses of feudal and tribal societies.
"The culture of these ancient feudal societies, in spite of much technical and intellectual excellence, was restricted to a small privileged class and rarely intermingled with the parallel unsophisticated folk culture of the general masses. Primitive tribal culture, in spite of its childlike beauty, had little intellectual content."
The readers get a flavour of Faiz's concept of beauty — both external and internal — and its elusiveness and tangibility in the brief section on art in which there is also an article on "The World of Sadequain."
In the section on literature, containing 16 articles, he provides a bird's eye view of the literary heritage of Pakistan — from the Arab and Persian influences to the contemporary age — and discusses the work and art of our literary giants including Ameer Khusrau, Mirza Asadullah Khan Ghalib and Sir Allama Mohammed Iqbal.
In the three separate articles on Iqbal, Faiz discusses his poetic technique — on which, according to him, "very little analysis has been done"- as well as the four key distinct phases of poetry starting from his youthful days to the final phase of philosophical humanism. Faiz describes Iqbal's final phase as "most mature and most valuable," saying that his approach and exposition of themes was abstract and philosophical which frequently gave rise to contradictory expositions by his followers and admirers.
"To understand Iqbal correctly… it is necessary to keep in mind that his work reflected all the inner intellectual contradictions, all the conflicting impulses, all the confused dreams and aspirations of the middle strata of Indo-Pakistan Muslims during the first three or four decades of this century and it is precisely because of this that his work is popular among progressives and reactionaries alike and make for his title as the national poet of Pakistan."
Faiz's interpretation of Iqbal stands in contrast to the official and widely accepted line in which our philosopher- poet is being read and understood in Pakistan.
The three articles on social issues include a short and very moving piece on Sir Ganga Ram — one of the greatest philanthropists Lahore has produced to date. 'No Holiday From Virtue' was published in the Civil and Military Gazette in March 1961 and tells of how Faiz found Ram's samadhi in an utterly depleted, filthy and neglected state. Yet, it was home to many of the homeless and wretched of the world.
"The needs of the living, I thought to myself, must have precedence over reverence for the dead, even though it comes to this," wrote Faiz as he found a woman's cauldron bubbling over the place where the dead man's ashes lay buried. "They have sheltered here, homeless, nameless, disinherited, dehumanised, because no one else would give them shelter, except this dead philanthropist."
The final section on politics contains nine pieces by Faiz, including a compact, crisp and commanding article titled 'Disgrace.' As with some other pieces, the editor of the book does not mention the source and date of publication of this article. This remains one of the most irritating flaw of this otherwise fine collection.
"We have learnt with horror and surprise that a political detainee, who has recently undergone a serious eye operation, is receiving medical attention in the Mayo Hospital handcuffed to his bed. The detainee in question is Mirza Mohammed Ibrahim, the labour leader," wrote Faiz, questioning the authorities.
"We hold that any police or executive functionary who considers that he is serving Pakistan by aping Hitler's Belsen Guards, anyone who thinks that he is securing the interests of the State by indulging in unnecessary brutalities, is no friend of Pakistan."
The advise proferred by Faiz decades ago remains pertinent and potent even now — and will be in the days to come. This collection of writings is an important one and a must-have for all Faiz lovers — from all the former and serving comrades, to those in a state of political hibernation and, above all, those who simply adore him for his poetry, its romance and its immortal message.
Amir Zia is a senior Pakistani journalist, currently working as the Chief Editor of HUM News. He has worked for leading media organisations, including Reuters, AP, Gulf News, The News, Samaa TV and Newsline.
Next