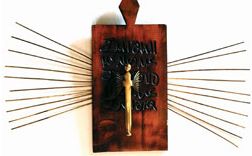 Teaching at an art school might not seem like a worthwhile endeavour to many practitioners of art, design and architecture; the time and effort involved in such an undertaking is immense and it is often difficult for faculty members to devote much time to their own work. However, despite these obstacles, the benefits of being connected to such an institute are also multifold — in addition to the constant intellectual stimuli that is provided via lectures, talks, seminars and workshops, teachers also have access to other facilities such as printing presses, darkrooms, kilns and computer labs.
In January, the Indus Valley School of Art and Architecture, Karachi, held its first faculty art exhibition. Organised by the Department of Fine Arts and curated by the painter and print-maker, Usman Ghouri (who has been teaching at the school for a number of years), the show was intended to provide an opportunity for the faculty to share their creative experience with the public and also to serve as an educational tool for the students.
While some members of the Fine Arts faculty did not participate in the exhibition, most of them were able to submit something. Works from other departments such as architecture, ceramics and graphic design were also included. The participants ranged from renowned artists like Meher Afroze, Rashid Arshed, Noorjehan Bilgrami, and Athar Jamal to young, emerging artists like Iesha Khan, Fizza Saleem, Rabia Shoaib and Amna Mehwish. The other participants were Usman Ghouri, Ayesha Naveed, Arshad Faruqui, Masuma Halai Khawaja, Farah Mahbub, Sumaira Tazeen, Waheeda Mansoor, Saba Iqbal, Momin Zafar, Abdul Jabbar Gull, Raania Durrani, Naiza Khan, Nurayah Sheikh Nabi and Sadia Salim.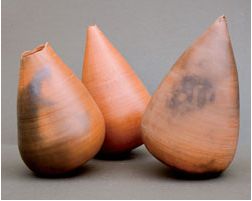 A full-time faculty member at the school for over a decade, painter and print-maker Meher Afroze has been exploring social and spiritual themes in her work. Her latest offering for this show exuded a very modernist sensibility with its waxy, layered surfaces of acrylic paint. On the other hand, painter and current head of the Fine Arts Department, Rashid Arshed submitted two of his calligraphic works and a black and white photograph, whereas painter and former Executive Director, Noorjehan Bilgrami's mixed media painting titled, "Kainat," was loaded with political undertones.
While watercolourist Athar Jamal submitted paintings from his "Katchi Abadi" series, miniaturist Sumaira Tazeen entered works that were recently exhibited in Jordan. Titled, "Wadda II" and "Afaida II," Sumaira's paintings explored androgynous concepts such as Zakara and Unsa and Ying Yang. Inspired by the sunflower, the sensual, organic feel of these works differed greatly from the linear quality of her earlier paintings, which conformed to the Kangra style of miniature painting.
Figurative works were also featured in the show, contributed by Masuma Halai Khawaja, Fizza Saleem, Nurayah Sheikh Nabi and Naiza Khan. While Nurayah's mixed media drawings were mainly centered around the self, Masuma's paintings and Naiza's mixed media drawings also highlighted feminist concerns. Initially working with conventional media, Naiza moved on to mix traditional and non-traditional materials like henna pigment, latex and the use of text with charcoal, paint and silk-screened images.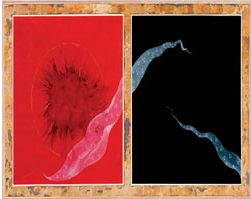 Contributions in the area of sculpture were limited to only two participants, namely Abdul Jabbar Gull and Saba Iqbal. A graduate of the National College of Arts, Jabbar's earlier works were mostly woodcarvings with a predominantly figurative theme. His entries for this show, however, were freestanding metal sculptures, depicting spiritual concerns. Saba Iqbal's sculptural relief titled, "G-Clamp," on the other hand, celebrated technology and industrialisation, recalling the works of the Futurists.
It was heartening to see photography being strongly featured in this show. In addition to Rashid Arshed's black and white print titled, "Man and his Shadow," there were digitally manipulated prints by Farah Mahbub and Ayesha Naveed and colour photographs by Momin Zafar. Farah's prints were from her "Lifelines and Manuscripts" series, which explore the themes of disintegration and resurrection.
The participants from the other departments were Waheeda Mansoor from Graphic Design and Raania Durrani and Sadia Salim from Ceramic Design. There were also mixed media works by Arshad Faruqui, an architect by profession who oversees the dissertations of the final year students. While Sadia submitted conventional ceramic pieces for the show, Raania produced delicate, translucent drawings on rice paper.
The faculty exhibition is planned to be an annual event and a major portion of the funds generated through the sale of artworks will go towards the development of the Fine Arts Department.