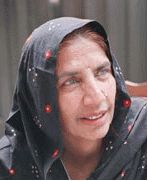 It is almost as if her death is a prophecy foretold, decreed by a fickle world that has all but cancelled out her existence.
Once she blazed a fiery trail in the firmament of Pakistan's music galaxy.  Today she has been reduced to no more than a memory.  Even music aficianados such as Tahira Syed and pop stars Faakhir Mehmood refer to her in the past tense.  But when I stumble across one of her albums at a nondescript general store and hear Allah Oh Allah Kar Bundiya resonating in the shop, she lives, vibrant, passionate, strong.
Her voice possesses that rare quality that is often aspired to, but attained by only a chosen few — what one might almost call the sublime catharsis of the soul.  It has the ability to make listeners believe not only in passion, but experience all its manifestations — the torture of waiting for a beloved, the ecstacy  of union, the sharp pain of betrayal, the sadness of loss.
Her voice was deemed almost as versatile as that of the maestro, Madam  Noorjehan.  It was a versatility that allowed her to sing pakka raags, lok geets and Punjabi folk numbers with equal facility.  But once exalted by a vast and varied fan club, her music is increasingly relegated to the memories of only the most faithful.
But I am moved — inspired to find her, resurrect her.  And as I venture forth in my avowed crusade, more and more I discover that Reshma is truly worth saving.
Locating Reshma was an ordeal.  Every TV producer I contacted in my search turned me away with, "You might try the hospitals; she is probably languishing at one of them, cancer-ridden and battling for life."  Eventually a kindly producer favoured me with the telephone number of a house she had lived in a year earlier.  A barrage of phone calls eventually yielded an address, and the information that Reshma occasionally visited the place.  Frustrated but determined, I trudged along to the anointed location expecting to find a dead end.  Sure enough, the gate was padlocked, and the place deserted.  However, there was light at the end of this seemingly black tunnel:  an inquisitive neighbour, who happened to be an old family friend of Reshma's directed me to her current abode.
Finally face to face with the icon, I was forced to repress a gasp.  Still apparently physically robust, Reshma nonetheless appeared only a shadow of her former self.  Gone was the distinctive and elaborate 'keel' that adorned her nose and was her trademark.  But more significantly, gone was her once regal gait and the sparkle in her ubiquitously kohl-rimmed eyes.  The vivacious gypsy was now a nondescript, middle-aged woman.
She eyed me with visible bemusement as I headed towards her;
"Reshma?" I ventured to ask.  She took in my Gucci sunglasses and my car before responding, anticipation in her voice, "Programme layee ho kya?"  I wished I could answer in the affirmative.  Her anticipation was palpable. "Nahin," I said, "mulaqat kay liye ayee hoon."  Clearly wary, she nevertheless agreed to meet me the following day.  Reclining on a manji against a cupboard stacked with awards, shields and photographs of celebrities ranging from Indira Gandhi and Dharmendra to General Zia-ul-Haq, she began to narrate her life story.
"I was born in a family of saudagars in Rajasthan in a small settlement called Bikaner.  I don't know the year I was born; my family was too masroof to keep records of such trivial matters as dates of birth.  But I do remember being told that I was a month or two old when I was brought to Pakistan in 1947.  Jo ap ka dil chahay likh dain.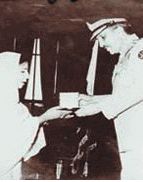 "My family would take camels from Bikaner (humaray wahan kay oont bohat mashoor hain) and sell them in other areas, and bring back goats and cows from elsewhere to sell at home.  I belong to a huge clan of gypsies; (hamarey apas main bohat mohabbat hai).  We were forever travelling around.  Though a lot of us have now settled and taken up permanent residences in Lahore and Karachi, whenever we feel restless we pack our bags and move on."
Throughout the interview, Reshma spoke to me in fluent Urdu, occasionally interspersed with Punjabi and a word or two of Pushto.
"I have been very lucky, by the grace of God," she mused.  "Whilst most of my tribe members have not journeyed beyond Pakistan, various governments have sent me to countries across the world.  I've been to Disneyland in America… bohat barra hai America.  I've been to Hollywood, and even to Canada where I dipped my feet in the Niagara Falls.  In Washington, I saw the badshah ka mahal and in England, the malka ka mahal.  Which one did I like more? Hmmm…obviously the malka ka mahal. It was so clean and white and huge.  I thought to myself when I saw it, wah, no mitti, no gand.
"I have even climbed the Wall of China.  Looking at the mountains around me, I felt so overwhelmed that I began to sing, Hayo Raba Nahin Lagda Dil Mera.  The gora log who were by the wall at that time stopped and began to stare at me.  When I finished, they all clapped and said, 'wah, kya range wali awaz hai.'
"But after seeing the world, I have come to the conclusion that Pakistan ka koi jawab nahin.  Every day I pray to Allah to give peace and stability to my country."
Pausing in her narrative, she took a huge sip from the bowl of milk lying by her side, closed her eyes to savour the taste, and then turning towards me, asked, "Do I look ill to you?"  Taken aback by the question, I shook my head.  "Then why do people keep writing and saying that I am dying?" "Did you not suffer from cancer," I tentatively asked.  She smiled, "Yes, I have had cancer of the nasal bone.  May God give Imran Khan a long life — the good doctors at his hospital completely cured me, I have no illness now.  I don't know what the problem is with these newspaper-wallahs; they continue to write that I am ill, and as a result no one is asking me to do any programmes.  Ub aap batain, bus aiisay guzara hota hai."
Then fixing me with one of her long stares she asked, "Don't you do what all these other media-wallahs do!"  It took some convincing to reassure her that I was seriously interested in setting the record straight, and attempted to get her back to her life story.  But Reshma was only interested in relating anecdotes from her travels.  "I was performing in a village in Canada, near Toronto, and once the function ended, the goras from the audience began to swarm around the stage, wanting to meet me.  Before they could get to me my manager whispered in my ear that if anyone said anything to me, I should merely answer 'yes.'
"So when a huge gora walked up to me and said; 'Reshma, wonderful!' I answered, 'Yes.' He asked, 'From Pakistan?' Again I answered, 'Yes.' He continued, 'How many days are you going to stay here?' I responded, "Yes."  Finally, he queried, "English, no?" And my answer? 'Yes'."
"Another time, I was in London for a show and my son was with me. He fell ill and I had to take him to a doctor.  The nurse at the clinic asked me how old he was.  The question was translated for me.  I shrugged and answered, 'I don't know how old he is.  I just know he was born when watermelons and mangoes were in season.'  The nurse was shocked."
At this Reshma broke into peals of laughter, and I could see her guard was now down.
She continued, "When I was a girl, I was never allowed to wander around alone the way you are doing.  My advise to you is to leave this profession — journalism is not for girls.  Your duty is to sit at home and take care of children.  Beta, mark my words, this world is a very ugly place.  I remember once when I was in Karachi, we had just finished a show and were packing up to go home when I somehow got separated from my entourage.  Deciding that it was wiser to go home than to look for them on the streets, I began walking.  A taxi cab stopped near the pavement and two men in the back seat called out to me.  They said that they would drop me home and thinking that they were my well-wishers, I climbed in.  The minute I sat down, they started behaving indecently.  Realising I had made a big mistake, I jumped out of the speeding car."
Taking a break from her restrospections, Reshma suddenly changed tack.  "I guarantee that I can sing in any language of the world," she continued. "Not that I take any credit for this; God gave me this voice, He trained me and He made me His ambassador.  I am merely His instrument."
As we spoke I learned that Reshma's gift for singing was discovered at a very early age during one of her frequent performances at the shrines of her pirs.  Much of her childhood was spent performing at melas, and at the mazaars of assorted music saints in Sindh.  Her relationship with her pirs continues to be one of complete devotion, and even as we spoke, preparations were underway for her biannual journey to Karachi where she was headed to pay her respects at the shrine of her pir.
"It was at a performance at a relative's wedding that Salim Gilani sahib heard me and asked me to perform on radio."  The wheels of her illustrious career were thus set in motion, and by the tender age of 12 Reshma had become a household name, immortalising songs such as Oh rabba do dinan da meil, thay phir lambhi judai."
In the early '70s Reshma was in her prime, and was in demand at private mehfils, TV shows, stage performances, and even films.  "But apni haya main nai kaim rakhi" Reshma proudly added. "Not like Nasibon Lal who wears such vulgar clothes and has completely discarded her religion and customs in her greed to become someone."
Even in her now rather sorry state, the long-standing rivalry between Reshma and the other gypsy singer, was visible.  However, she refused to elaborate further on the nature of their hostilities, requesting only that I not mention Nasibon in her interview.
She lamented that, with the popularisation of pop music in the late '80s, once ardent folk music devotees began to change their loyalties.  Increasingly Reshma found herself singing to smaller and smaller crowds.  Undeterred, however, she stated, "Even if I lose all my listeners, I will never sing disco numbers and the kind of music the younger generation wants to listen to.  Kya yay bhi koi ganay hain — na koi bunyad, na koi baat."
Ironic, considering her son Sawan is a popular artist often seen on TV, crooning exactly the kind of songs she so berates.
"Bechara Sawan kya karay — he has to earn his keep," she responded, when I asked her about this.  And perhaps it was the wrong question to ask.
Suddenly, Reshma appeared wary, almost hostile.  Saying, "Main daal roti khanay ja rahi hoon.  Agar aap ko bhook hai to aa jayein," she strode out of the room, leaving me thinking, she may be down, but not out.  Even in just her unpredictability, she remains quite the star.
Next