Eighteen-year old Faiz was reluctant to enter the room where I was sitting with two women reporters from the foreign media. "I don't want to shake hands with them because this is not allowed in Shariah," he said bluntly when he was asked by the head of the school to join the group.  "We are here just to ask you a few questions," one of the reporters said, but the student came in only after much persuasion and on the condition that he would not answer questions from the women directly.  On account of their presence he did not once lift his eyes from the ground during the conversation.
Faiz arrived from Los Angeles in Karachi a couple of months ago to study what he calls 'deen' or 'the purest form of religion'. For him, sporting a beard, wearing the traditional mid-calf length jubba and wearing a turban in Arab fashion is all part and parcel of Sunnah.  His eyes are lined with kohl — a tradition of the Prophet Mohammed (PBUH). "I feel really comfortable in this dress.  I wore it even during my college days in the US," he explains.
"Were you afraid to be identified as a Muslim after September 11," I asked.  "Not at all.  There were only a few ignorant people who thought that Muslims were involved in this horrendous act of terrorism.  They were calling us names when the incident happened, but things soon settled down." Although he does not have any argument to absolve his fellow Muslims of the recent acts of terrorism in the US, his strong belief tells him that a Muslim cannot indulge in terrorism. "Even the US government has no convincing evidence against any Muslim and they have been labelled on the basis of mere suspicion," he argues.
His mother is in the teaching profession and father a computer engineer working in a local firm in the US.  They migrated to the US in the late '70s, and Faiz was born there.  "When I entered college two years ago, I had already asked my parents to send me to a religious school in Pakistan, but they opposed the idea. But this time, when I insisted, they allowed me to proceed," he said.
Faiz has been a religious person since the outset, attending classes at the Islamic Center in Los Angeles.  His entire social circle in school and college consisted of Muslim boys. "We even have a Muslim Students' Union at our college in LA," he said proudly.
Faiz came to know about Jamia Binoria at SITE in Karachi through one of his teachers at the Islamic centre who had attended the school.  "I'm planning to stay here for at least a year and will then go back to the US to join my college," he said.
He does not find it difficult to cope with his new surroundings. "It's rather good to be here because not only are you taught about religion, but also how to control your desires," he said, adding that his aim is to dedicate his life to Islam by spreading it in its true spirit.  "I'm sure this one year course will be enough to lay the foundation for me to become a Muslim scholar," he states.
Faiz is not the only young man from the second generation of Pakistanis abroad to end up in a religious school in Pakistan with the desire to become a 'true' Muslim.  He is one among hundreds.  Some, like Faiz, have chosen their fate themselves, while others, like 15-year-old Salman Baiyat from Chicago, were sent here by parents to relocate their 'Muslim origins'.
"My mother brought me here a couple of months ago and left after helping me enrol in the madrassa," says Salman. After Salman completed school in Chicago, his parents wanted him to do at least a two-year course in religion in Pakistan, before entering college. "Alhamdolillah, I'm happy that God has given me the courage to obey my parents and a chance to understand His religion," he said.
There are at least five religious schools in Karachi alone imparting Islamic teachings to foreign students. Some of these students are Muslim converts, while the majority belong to families of expatriate Pakistanis.  The schools include Jamia Binoria in SITE, Dar-ul-Uloom in Korangi, Jamiat-ul-Uloom Islamia in New Town (known as Binori Town), Ashraf-ul-Madaris in Gulshan-e-Iqbal and Jamia Farooqia in Shah Faisal Colony.  Name any place under the sun,  from the US and UK to Australia and the Philippines, even far away places like Fiji or the West Indies, and you will find a student from them in these schools.
The highest number are housed in Jamia Binoria SITE, where according to the head, Mufti Naeem, the number of foreign students is around 400.  He says the events of September 11 have not affected his school which has retained almost all its students. "There are more students who want to come, but we are not giving them admission because of the lack of accommodation," he said.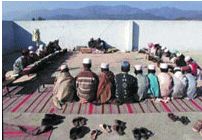 The majority of these students come to Pakistan on visit visas and the school administration helps them obtain a study visa for a year.  The ministry of foreign affairs extends these visas every year on the recommendation of the ministry of education. "We have stopped enrolling students from Afghanistan this year because we are finding it difficult now to complete their documentation," says Maulana Saleemullah Khan, head of Jamia Farooqia in Shah Faisal Colony.  He says only Afghans living in refugee camps over the years are allowed to study in the madrassa, but none of them are boarders. "They come here every morning and go back to their homes in the evening after finishing their classes," he said.
Hundreds of boys in their early teens to early twenties can be seen at the madrassas, learning to read the Quran with the correct pronunciation, memorising it, being taught to understand the nuances of the religion and how to say their prayers correctly.
These boys maintain a tough schedule in these schools, starting at 3 a.m. with the tahajjud prayers, attending classes from morning to night with only short intervals between prayers.  But they say this is not difficult for them to do. "I had been saying all my prayers back home since my childhood and go to school in London early in the morning every day, so it is more or less the same," says 18-year old Aijaz from the UK, who has been at the Jamia Binoria, SITE, with his two brothers for a year.
While many parents in Pakistan aspire to send children abroad to get a western education, those who have settled in the west are showing an increasing interest in sending them back home for religious education.  Observers cite many reasons for this trend.  The older generation, heading for the west due to economic compulsions in the '60s and '70s do not want their children to be completely cut off from their culture, roots and religion.  "Most parents take their children to the mosque regularly, see to it that they learn to read the Quran in the Islamic centres, and try to give them a sense of their own culture and values.  They want their daughters to be modestly dressed, and some encourage them to wear the veil or burqa to cover the body from top to toe," says Ahmed Shah, a Karachi resident, who visits his relatives in the UK quite often.
Sultan Memon, whose sister lives in the US, said that when he visited her last year, he found many of her Pakistani friends telling their children not to adopt western lifestyles, considering that the people of the west are now themselves struggling to take refuge in other cultures. "Most of these parents who are basically conservative believe in an authoritarian family system. They have adopted the economic system of the west, but find it difficult to accept its value system that allows complete independence to a child at puberty," he said.
The trend of Islamisation increased in the western countries in the late '70s after the Russian invasion of Afghanistan.  In the beginning, many of the Muslim 'Tablighees' (missionaries) started visiting various countries to preach Islam.  But the trend received further impetus when organisations like Al-Muhajiroun (literally, the immigrants) and Hizbul Tahreer, formed in the name of 'preaching Islam in its true spirit', focused their activities mainly on the west.
The Al-Muhajiroun was founded in Jeddah in 1983 by Syrian-born Sheikh Omar Bakri Mohammed to re-establish 'true' Islam throughout the world.  The group is alleged recently to have been recruiting and sending young boys for 'jihad' in Chechnya, Kashmir and recently Afghanistan.
Hizbul Tahreer has its base in London and was formed to preach the religion of Islam across the world, on the pattern of Christian missions.  The group now advocates implementation of the Khilafat or caliphate movement, taking its inspiration from the Taliban (Mullah Omar was known as Amir-ul-Momineen or the leader of the pious).  The group sends representatives to various countries to preach its ideology.  Says a local representative, "We met with a young boy from the UK who came to Karachi recently along with some Pakistani boys.  He was advocating the ideology of his group, the Hizbul Tahreer, which propagates a revival of the Islamic Khilafat system."  He adds that the bearded young chap, who was struggling to speak Urdu, was aggressively advocating the implementation of this system.  The group is active in highlighting the troubles of Muslims around the world by sending e-mails to members across the world and updating their web-site, (Khilaphah.com).
These Muslim missionaries not only motivate boys from Muslim families to join the religious schools, but also convert non-Muslim whites from the western countries.  Bilal, a Caucasian from Los Angeles, who was converted a couple of years ago by these missionaries, got himself enrolled in one of the religious schools of Karachi "to broaden his knowledge of Islam."  Bilal, who has a Jewish mother and Catholic father, studied for over two years in Jamia Binoria, Karachi.  He has recently gone on a year's 'tableegh' (preaching) of the religion. "You have to begin life with truth and Islam is the only truth," he told me. According to Mufti Naeem, head of Jamia Binoria SITE, Bilal will preach the religion of Islam in the US for six months, and for another six months in Pakistan, along with local missionaries.
Anwar Ahmed, a businessman from Karachi who had known Bilal earlier, finds him a completely changed man.  "He now discuss nothing but Islam, listens to either Qawalis or audio cassettes of the Holy Quran instead of the pop music that had been his only pastime," he says.  Bilal strongly believes that Islam will take over the world very soon.  "He had been telling me that there are huge numbers of white men in the west who are converting to Islam and there is going to be a revolution very soon," says Anwar.  Given the growing number of conversions in the western countries, Bilal also advised Anwar to switch over to the business of marketing items such as tasbihs  and prayer mats, as according to him, there is a great market for them in the west.
Although many parents in the west want to bring up their children in a religious environment, some have begun to worry as dozens of boys who take the plunge end up in jihadi activities.  "Most of these children, who had their upbringing in a highly religious atmosphere, easily fall prey to the different militant Islamic organisations who have a presence in the west," says an insider in one of the militant organisations.  He adds that these Islamic militant groups use universities and mosques in the western countries as a happy hunting ground for their activities.  "They meet young men in university campuses or mosques, invite them for a meal and discuss with them the atrocities perpetuated against  Muslims in different parts of the world, including Bosnia, Iraq, Chechnya, Palestine, Kashmir and Afghanistan."  These boys, he said, are persuaded to support their Muslim brothers verbally, financially and, if they can, physically for the greater cause of the Islam.
According to activists, even if many of the students don't participate in the holy war, they give huge donations to the organisations fighting for "the cause of Islam" and engaged in "fighting the enemies of Islam."
Insiders in the militant outfits in Pakistan say that although a huge chunk of funding for the many militant Muslim outfits comes from Saudi Arabia and the Islamic states in the Gulf, supporters in the western countries have also been great financers of these groups. "Even if one out of 10 boys is convinced, that's a significant achievement," says one of these militants.  In fact the activities of not only the missionaries, but even the jihadi organisations have paid off as many of the youth have been used as cannon-fodder in different conflicts involving Muslims.  In the recent "war against terrorism" in Afghanistan, at least three Muslim youth of Pakistani origin from the UK alone died while fighting alongside the Taliban forces and at least five others were rounded up and are presently held at Guantanamo Bay along with the Taliban and Al Qaeda fighters.
Sources said that the four British Muslims who were killed in a US-bombing raid over Kabul were also initially prepared and trained to fight inside Kashmir by Al-Muhajiroun.  Later on, they were dispatched to Afghanistan to fight against the US alongside the Taliban.  Aftab Manzoor, a taxi driver from Luton, is believed to have led the group. Manzoor had become the father of a baby girl only last year.
The 25-year-old was the son of Chaudhry Manzoor, a grocer in Britain.  He was a student at Luton University, taking a computer course.  He is believed to have been a religious man, socialising with devout Muslims most of the time.  His parents travelled to Pakistan from London soon after hearing news of his death.  He was buried in his ancestral village of Sakria, just outside Islamabad.  Sources said that he went to Afghanistan under the nom de guerre of Mohammed Omar, and is thought to have travelled from Luton after September 11 with one of his fellow Muslims, a neighbour in Luton, Afzal Munir, setting out for Kabul from Pakistan after the US attack on Afghanistan.  Munir also died with him. Unlike Manzoor, who had been doing part-time jobs including driving a cab, Afzal was dependent on the income of his father who is in the construction business. He left behind his father, mother, three sisters, 11-year-old twin brothers and many other friends to mourn his death.
The third man, Yasir Khan, is said to be from the Sussex commuter town of Crawley, and was living with his mother.  He is believed to have been working at Gatwick Airport as a loader.  "Besides being UK nationals, the things common in these boys was their faith in Islam, their love for the Islamic Ummah, and their wish to save the Islamic Ummah from the infidel west," states an activist from a religious group.  He said that these foreign fighters are poorly trained, poorly equipped and few in number, but their motivation is always very high.
One of the five UK nationals of Pakistani origin presently held at the US airbase inside Cuba, is 19-year old Asif Iqbal.  Hailing from Chak 92 near Jaranwala near Faisalabad, he visited his home village after 15 years soon after September 11.  "He stayed only for three days and never missed a single prayer," says Mohammed Atiq, his neighbour in the village.  His father, Mohammed Iqbal, who was also visiting the village in Punjab to find a suitable girl for his son, told his fellow villagers that Asif kept bad company in the beginning and turned to religion just two years ago. "He has now confined himself to religious activities and socialises with Muslim missionaries alone in England," he said.
While his father was still busy looking around for a match for Asif, he left the village along with two others, apparently friends from the UK who came and took him away.   The villagers said that although his father never talked about where his son had gone, he seemed disturbed most of the time.  His father stayed at the village for a month, and then left for London.  "When he didn't get any news about his son, he thought he might have died and sent some money back to the village from London, asking his brother to donate it amongst the poor in the village to pray for his soul," says the villager, who said that this is how the people of the village came to know about Asif's 'journey for jihad' to Afghanistan.  Asif's family, meanwhile, came to know that he was alive and held in the US camps after they saw his name in the newspaper. "His father has now sent  more money, but this time to be distributed amongst the poor in the village to pray for his long life and early release," the same villager said.
The story of Ahmed Omar Syed Shaikh is a similar one, with a journey from the London School of Economics to Tihar jail in India to his recent arrest on charges of masterminding the kidnapping of Wall Street Journal  reporter Daniel Pearl, from Karachi.
Given the environment of many of the expatriate families of Pakistani origin and their upbringing in a religious atmosphere, observers say that it has become much easier for militant organisations to win over these youth and use them for their own purposes.  And in the words of one observer, "Other than the religious belief, which is one of the common bonds, another major factor in these youngsters joining the jihad is the effort to relocate their links with the place of their origin."  It is a million-dollar question if these hundreds of young students — who are presently studying the 'purest form of religion' in Pakistan — will continue to foment conflict and violence within and outside Pakistan.
Next