Once upon a time, the sky covering the world of Pakistan sports used to be full of bright, young stars. Over the years, those skies have become cloudy and the stars have become few and far between. Or so it seems. Because if you look harder you will see that despite all the prevailing doom and gloom in Pakistan sports, its world is still a hotbed for incredibly successful young talent, both on and off the field. Newsline zooms in on some of the brightest stars of 2018, who are now set for even bigger victories in 2019.
Shaheen Shah Afridi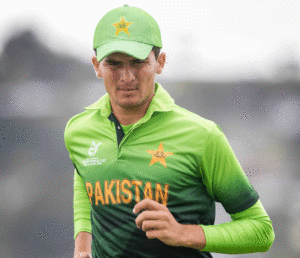 There is just one Wasim Akram, but there is another left-arm pacer who is growing in stature: the 18-year-old Shaheen Afridi. A 21st century cricketer in all respects, the baby-faced Shaheen has already donned Pakistan colours and seems destined for greater glory. The tall Shaheen was singled out as a future prospect when he was just 15, and his ascent to international cricket was hastened by the fact that he is the younger brother of another Pakistani Test cricketer, Riaz Afridi. Riaz played his only Test when Shaheen was just four years old. The big brother helped mould Shaheen into a world class cricketer and soon he was representing Pakistan internationally. He made a major impact in his Quaid-e-Azam Trophy debut with 8 for 39, the best-ever figures by a debutant in the competition. He made his PSL debut for Lahore Qalandars and after taking five wickets for just four runs in a group match, he was picked for the Pakistan team touring the West Indies, where Shaheen became the first cricketer born after the turn of the millennium to represent Pakistan when he played the third T20I against the West Indies. Soon he was in both the ODI and Test teams. After a successful entry into international cricket in 2018, Shaheen is fully ready to make his presence felt on the international stage, especially at World Cup 2019 in England this summer.
Shadab Khan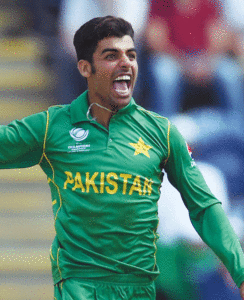 Everything which has happened so far in Shadab Khan's burgeoning career suggests that here is a young man in a hurry. This 20-year-old from Mianwali, came out of nowhere to become a major star of the Pakistan Super League, before walking into the Pakistan team as one of its most lethal spinners. A big turner of the cricket ball, Shadab is a strike bowler who is one of the reasons why Pakistan is currently the world's best team in the Twenty20 format. Shadab's heroics in the PSL season in 2017 earned him the Pakistan cap and he made his international debut at Bridgetown, Barbados with a Twenty20 game against the West Indies in March. He was an instant hit in his first two T20s, taking seven wickets for 21 runs and winning the Man-of-the-Match award on both occasions. Since then he has played 29 One-day Internationals and an equal number of T20 Internationals, besides featuring in four Tests. Shadab has cemented his place in the two limited-over formats as a specialist spinner, but I believe that he has great potential to become an all-rounder as he certainly has good batting skills as well.
Ahmed Baig
Golf is regarded as a rich man's sport in Pakistan even though players like the young Ahmed Baig, who hails from a modest background, are making big strides in it. Ahmed is all set to become a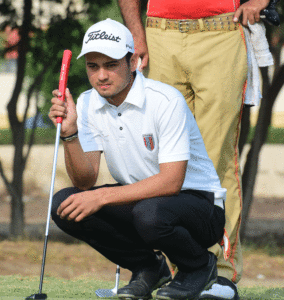 professional golfer in 2019, after making waves at the junior and amateur levels in 2018. He began 2018 by winning the Faldo Series Pakistan title in Karachi and then stunned the golfing community by winning the Qatar Open Amateur title in Doha. Ahmed was in terrific form in the Qatar Open and played over 54 holes, winning it on the final hole with a superb birdie. He was tied with the professional, Joshua White, till the 17th hole of the final round, but managed a birdie on the par-5 18th to win the title. Later, Ahmed became the first Pakistani golfer to emerge as winner of the Nick Faldo Series Asia Under-21 Championship in Vietnam.
Rimsha Ijaz
Even more surprising than Ahmed Baig's rise is the emergence of a young Lahore girl, Rimsha Ijaz. In November 2018, Rimsha produced an eye-catching performance to upstage her male rivals in the eighth Faldo Series Pakistan Championship. Taking advantage of the absence of defending champion Ahmed Baig, it was Ijaz who revelled in the spotlight in the 10th leg of the 2018-19 Faldo Series Asia season at the 
. Rimsha will have a further chance to showcase her prowess in the 13th Faldo Series Asia Grand Final, to be hosted by Sir Nick Faldo at Laguna Lăng Cô in Danang, Central Vietnam, in March, 2019.
Murtaza Yaqoob 
It's mostly been downhill for Pakistan hockey since their record fourth World Cup triumph back in 1994 in Sydney. At the 2018 World Cup in India in December, Pakistan failed to win a single match and was unable to make it to the last-eight stage of the event. One of the biggest reasons behind the downslide is the fact that Pakistan has failed to produce world class players like Shahbaz Ahmed, the legendary player who almost singlehandedly helped Pakistan win the world title back in 1994. However, there are some young players in Pakistan hockey who have the potential to become world-class stars. One such youngster is Lahore's Murtaza Yaqoob. A grandson of 1964 Olympics silver medallist Afzal Manna, Murtaza is 16 years old. He has already represented Pakistan at the international level and was top scorer at the five-nation Youth Olympics Qualifiers in Thailand in 2018 with 14 goals. Murtaza's older brother, Azfar, has also played for Pakistan, including at the Asian Games. A student of Government College University in Lahore, Murtaza wants to emulate his grandfather by winning laurels for Pakistan at the international stage.
Arshad Nadeem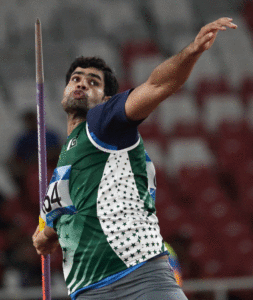 Unlike Shadab and Shaheen, who are now household names in Pakistan, not many would know much about Arshad Nadeem. But he is a major success story in his own right. Arshad is a 22-year-old javelin thrower who has represented Pakistan on the international stage. Arshad belongs to WAPDA and last summer created ripples in the country's sports circles when he clinched a bronze medal at the Asian Games in Indonesia with a 80.75m throw.
At the 2016 South Asian Games held in India, Arshad won a bronze medal with a 78.33m throw that also enabled him to achieve the third spot in the IAAF World Under-20 World Rankings.
He won a bronze medal at the Asian Junior Championship in 2016 in Vietnam with a throw of 73.40. At the 2017 Islamic Solidarity Games in Baku, Arshad claimed a bronze medal with a 76.33m throw. He was also sent to Mauritius a couple of years ago for training by Pakistan's athletics governing body (AFP) but he flew back after hardly staying for a fortnight, due to home sickness. Arshad has a great future ahead of him, but he will need to overcome such issues to win bigger laurels in 2019 and beyond.
Shahjahan Khan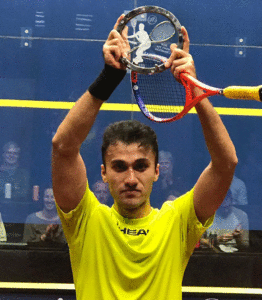 Just like hockey, Pakistan's once mighty squash empire is also in tatters. Gone are the days when legends like Hashim Khan, Roshan Khan, Qamar Zaman, Jahangir Khan and Jansher Khan used to ride roughshod over their rivals and win major titles almost at will. There was a time when Pakistan used to have around seven of its players in the world top-ten rankings. Today, Pakistan doesn't have a single player in the top-50. But there is hope. Players like Shahjahan Khan are keeping the green and white flag afloat in the world of professional squash. Though the young Shahjahan is not from the famous Nawa Killi, squash is in his blood. His uncle, Hiddy Jahan, is a golfing legend while his father, Zarak Jahan, was a top-ten player who has won the world team championship for Pakistan. His uncle, Zubair Jahan, is also a former top-ten player. Born in Quetta, Shahjahan is now based in Boston and recently won a title in Canada to qualify for the million-dollar World Championship in Chicago in February 2019. Shahjahan won the Simon Warder Memorial Squash Open 2018 in Sarnia, Canada. He is now in the top 100 and aims to break into the top-20 by the end of 2019.
  Inayatullah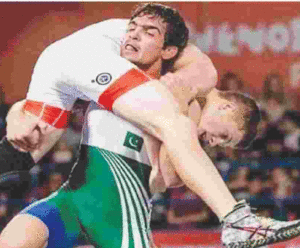 Wrestling was once a major sport in Pakistan and the country's grapplers used to win medals at important international events. Things have gone south for the sport in the country, though young wrestlers like Peshawar's Inayatullah are fighting back. The rookie wrestler grabbed the headlines in 2018 by
winning the 65kg bronze at the Youth Olympics in Buenos Aires (Argentina). He defeated USA's Carson Taylor Manville 3-1 to win the first ever bronze for Pakistan in his individual capacity. Inayatullah also won a gold medal at the 2017 World Beach Wrestling Championship in Turkey.
Qaiser Afridi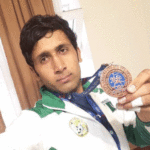 A 17-year-old judoka from Jamrud, Khyber Agency, Qaiser won the gold medal in the – 90kg Hong Kong Asian Cup Cadet and Junior Championships held in July 2018. He also claimed a bronze in the Cadet Asian Judo Championship in Kyrgyzstan in June 2018. At the 2016 South Asian Games in India he won a bronze medal. He claimed a gold medal at the 2018 South Asian Seniors Judo Championship in Nepal. Because of his skill and growing experience, the young Qaiser is an Olympic prospect for Pakistan. He has the killer instinct and can turn out to be a better fighter than Japan-based Olympian Shah Hussain Shah.
Adnan Mohammad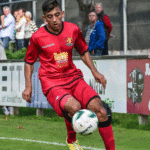 Pakistan football was mired in turmoil during the best part of 2018 because of a power tussle between officials, but despite that, young players like Adnan Mohammad kept the sport alive. Regarded as a talented winger in Danish Superliga, the 22-year-old Copenhagen-born player made his international debut for Pakistan during the SAFF Cup in Dhaka held in September 2018. Pakistan finished third in the event. He was also sent to Palestine for an international friendly match held in 2018 in Al-Ram which Pakistan lost 1-2. Adnan represents the Danish first division club, Lyngby Boldklub. He previously played for FC Nordsjælland and the Norwegian club, Arenda.
Nooh Dastagir
A young weightlifter from Gujranwala, Nooh won a bronze medal in the +105kg in the 2018 Commonwealth Games in Australia. He lifted a total of 395kg, to make a junior record. He also won a bronze medal at the Commonwealth Junior Championships in Malaysia in 2016 and in Pune in 2015.
The writer is ranked among the battle-hardened journalists covering sports. As sports editor for The News, he covers sporting action extensively in Pakistan and abroad.
Next