Nabeel Siddiqui's bio and work experience, at age 25, astound. He did his undergraduate in civil engineering, and has since worked on major construction projects, in social entrepreneurship and as the current CEO and co-founder of the successful start-up ModulusTech, which is dedicated to providing low carbon, low cost, sustainable housing. ModulusTech has won several awards, and Nabeel has been invited as a TEDx Speaker and represented Pakistan at the world's first Global Manufacturing and Industrialisation Summit.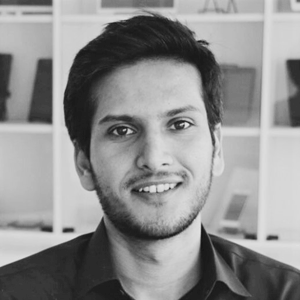 During his undergraduate in NED University, Nabeel worked for three years at a start-up called Counselling Pakistan, a non-profit in the education sector which guided students in their college applications for further studies abroad, and to help them assimilate in international environments. The social impact of the work the non-profit did, played a role in his ventures in social entrepreneurship.
This took flight when Nabeel came across the then viral photo of Aylan Kurdi, a Syrian boy who had drowned in the Mediterranean Sea, trying to flee the civil war, and whose body was washed up ashore. Nabeel and his friends — and future co-founders Yaseen Khalid and M. Saquib — researched into how the crisis escalated. It became clear the problem was a shortage of housing facilities for the refugees. There were no proper shelters or even makeshift tents in harsh conditions, and the options that were available were not taken into consideration as they cost too much.
Nabeel has written a blog on ModulusTech's website, titled, How Social Causes Lead to Innovation, sharing the start-up's story. The piece is enthusiastic, determined and inspirational.
Reminded of Pakistan's own concerns with displaced people and refugees, Nabeel felt personally inclined towards further researching into the problem. Upon learning from a 2015 UN Habitat report that over 1.6 billion people lack adequate housing, Nabeel and his friends were incredulous. Surely it was not impossible to provide standard living conditions at a low cost in a short period of time. The three friends started working on an idea at the end of 2016, to make a modular, easily transportable and energy-efficient house in one day. It took the better part of nine months to create a design and a prototype. The final prototype of the house took them only three hours.
After successfully testing the first model, within the lowest possible cost bracket, the trio launched ModulusTech. While the fresh graduates had no prior experience in business, their passion and energy took the lead, steering how they rethought and creatively approached housing. They set up in an incubator, Nest I/O, supported by technological luminary Jehan Ara.
The first official product they launched was the modular, flat-pack house — one that can be assembled and then packed away into a box —  that in comparison to traditional housing had a reduced carbon footprint by 50 times over, while providing electrical and plumbing facilities. It was a house that could be built in three hours, by three people, using only $3,000,  and has a lifespan of 30 years.
Nabeel and the co-founders made it a point to create a house according to the US international standards of living. They were aware of the harsh conditions displaced people and refugees are often susceptible to, and wanted to create a space they would be comfortable and safe living in. "If you assemble the house yourself, you feel an ownership towards it," said Nabeel. "You can even integrate two houses into one, by joining two units, or you can make a school or an office."
Any one of those features would have been enough to label the start-up as a trailblazer in the entrepreneurial world, but it was the winning combination that provided an environmental, sustainable and cost-effective solution, that earned ModulusTech international grants from the United Nations Industrial Development Organization's GCIP Programme,  United Nations Environment Programme and the Islamic Development Bank, along with seed investment from local investors such as Magnus Communications.
"I learnt that a non-profit business model doesn't really work in Pakistan. We were fortunate Nest I/O didn't charge us anything," said Nabeel. "Having an innovative product, however, gave us a competitive advantage. Our product generates a lot of interest among clients and investors."
The interest the products garners, is due to the immense workload the co-founders tirelessly take on. Working over 100 hours a week and still taking work home, Nabeel is no stranger to the grind of a successful start-up.
A perfectionist in his own right, the CEO of ModulusTech is learning to delegate among a team of 10, mainly so he can focus on bringing the larger projects of the start-up to life. The second product in ModulusTech's line will be an autonomous house, one that can provide its own energy and water through an external filtration system. The concept was displayed for the first time at an event by the School of Tomorrow, at Beach Luxury, earlier in 2018.
The start-up is also involved with Imran Khan's Naya Pakistan Housing Programme. "I think our product fits their agenda," Nabeel deliberates. "The way to solving the displacement problem is an industrialised housing approach, which is one we operate on."
Next