No Place for the Displaced
Land has always been at a premium in the metropolis of Karachi. While the elite have made a place for themselves in exclusive housing societies, other segments of the population have had to fend for themselves as best they can. Mushrooming katchi abadis and encroachments on thoroughfares have provided one solution for the housing needs of the poor. While some informal housing has been regularised, many residents have been faced with summary evictions and displacement over the years. Pledges of relocation and resettlement are made but seldom kept. These dynamics have often led to scuffles on ethnic lines. 
In the last couple of years, operations to reclaim possession of lands, anti-encroachment drives to evict people living in informal settlements on lands acquired by developers, and clearing water passages like Gujjar Nullah have resulted in thousands of inhabitants being deprived of the homes they occupied for decades. 
The year 2018 marked the beginning of an anti-encroachment drive brought to the heart of the city when shops in markets owned by the Karachi Metropolitan Corporation (KMC), leased to traders decades ago, were bulldozed, in response to court orders to clear footpaths and pavements of encroachment. 
On the other hand, orders by the courts to cancel illegal allotments of amenity plots and removal of encroachments from 35,000 amenity plots, on 112 locations, have seen little progress. The court has, on many occasions in its hearings during the last two years reprimanded concerned officials of the Karachi Development Authority and other departments for not complying with its orders. Every time the court remonstrates, officials start a halfhearted campaign and keep on delaying action. Some marriage halls and other buildings were partially demolished on court orders, but reconstructed again. When it comes to taking action against informal settlements and houses, however, the same officials crack down hard on inhabitants. 
In 2016, lands allotted to the Aligarh Old Boys Housing Society were evacuated from goth dwellers using full force, and many people were injured after police opened fire on protesters. Residents of one such village, Allah Rakio Burfat goth, had documents of possession issued under the Sindh Gothabad scheme, but even that could not protect them from the onslaught.  
Similarly, a demolition drive was initiated on both sides of Gujjar Nullah and hundreds of houses demolished. A woman who fell into the nullah along with her son after their house was demolished was rescued, but her son perished. When the demolition drive began, officials claimed that revamping the nullah would take a few months, and those affected would be resettled. The revamping plan was initiated after a delay of two and a half years, but Municipal Commissioner Dr Saifur Rehman stated that only those with valid documents would be provided plots and compensation, and there were no resettlement plans for others whose houses were demolished. 
In June 2018, the Supreme Court issued orders to evacuate families of retired employees from federal housing colonies. These colonies include Federal Capital Area, Pakistan Quarters, Martin Quarters, Jamshed Quarters, Clayton Quarters and other residential areas. Residents given a ten-day deadline to vacate protested. They complained the court had not heard them out, issuing orders based on the account of estate officials alone. 
Officials claim that residents have occupied these localities illegally, some have built multi-storey buildings, some have sold to other parties, while many have not paid outstanding dues and utility bills. Residents state that many have ownership rights and have lived in these localities for decades. They contest official claims of ownership, saying the Evacuee Trust Property Board also has ownership claims over the land. 
The issue drew attention from political parties during the campaign for July 2018 general elections. Candidates vowed to defend residents against eviction plans and help them get ownership rights. But officials went ahead with an eviction drive in October that led to violent clashes between residents and law enforcement agencies. As a result, the drive was halted and the Supreme Court gave a two month extension in the deadline for eviction.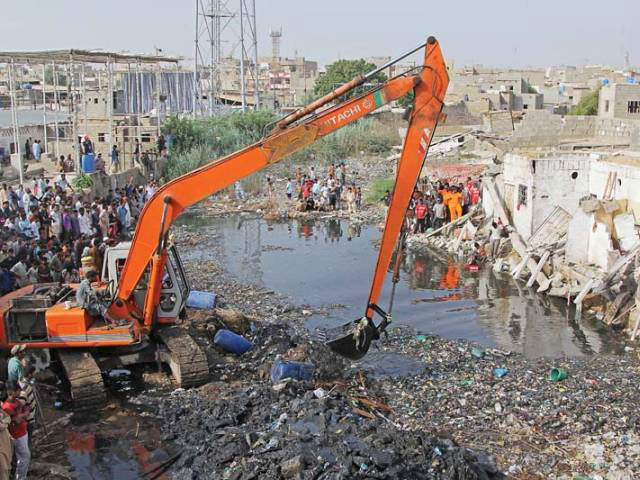 The revival of the Karachi Circular Railway (KCR) has witnessed delays over the last 18 years. One of the reasons for the delay has been the issue of resettlement of people faced with eviction from lands owned by the Railways. 
Court orders to revive the KCR and remove encroachments from its route gave rise to unrest among residents who expressed concerns regarding forced eviction with no resettlement plans. The unrest led to the Federal and Sindh governments asking for a review of the court orders. The court then clarified that it had not issued orders to vacate or demolish houses. 
A few years ago, when the Japan International Cooperation Agency (JICA) got involved in funding for KCR revival, a firm commitment on the part of the Sindh government to resettle people vulnerable to displacement in 28 settlements along the route was one of the issues that led to the JICA backtracking from the revival plan.
When it comes to resettlement, the track record is not reassuring. People displaced by the Lyari Expressway project were given alternative land in the distant localities of Taiser Town, Musharraf Colony (Baldia Town and Hawkes Bay), but these localities lacked basic infrastructure and amenities. Meanwhile, lands vacated on both sides of the Expressway were resold to builders who constructed multi-storey buildings, where a single apartment is sold for six million rupees. Ironically, people evicted from these lands were given small plots in these distant localities and only 50,000 rupees as compensation.
When the plans for revamping Gujjar Nullah were drawn up, it was said that 29,000 people would be displaced. The Orangi Pilot Project (OPP) provided an alternative plan in which only 9,000 people would have been displaced. Since officials were more interested in getting the lands cleared than revamping of the drainage system, they went ahead with their own plans in the absence of resettlement options.
Amidst the changing political landscape in Karachi, it seems that its inhabitants have no say in matters that directly affect their lives, while rapacious builders and colluding officials rule the roost.  
Ali Arqam main domain is Karachi: Its politics, security and law and order
Next