Princess Abida Sultan, popularly known as Bia Hazur, was born in Bhopal 1913 to Nawab Hamidullah Khan of the princely state of Bhopal. She was the eldest of his three daughters and her grandmother, H.H. Sultan Jehan Begum, was the ruler of Bhopal at the time. She later abdicated her position in favour of her son, and the Princess was recognised as his heir apparent at the age of 15. Bhopal was the only one of the princely states to be ruled by women for over a century and the Begums of Bhopal proved to be bold and able administrators.
Abida Sultan was brought up by her grandmother, the fourth and last Begum of Bhopal. Her mother was only 13 years of age and her father, Nawab Mohammad Hamidullah Khan was 19, and still a student at Aligarh University. Encouraged by her father, an urbane and sporting person, the Princess grew up to be the most daring and courageous of the bold women of Bhopal.
Traditionally, children were expected to start learning the Quran at the age of four years, four months and four days. With a Bismillah ceremony on New Year's day, 1918, Abida was woken up before dawn to perform fajr prayers. Endless Quran lessons were given under a kerosene lamp. For the slightest mistake she was punished. At the age of six, she completed the Arabic version of the Quran and before her eighth birthday, earned her second distinction, completing the translation or lafzi tarjuma of the whole Quran. There were 40 days of celebrations, mehndi ceremonies, endless presents were given and also received. The only present that interested her was a lovely horse.
Once she finished the translation, she had tutors for English and French, Persian and Arabic, history and geography, math, Quran, Hadith, Fiqah and then outdoor games and sports. She would start her day at 5 am with Namaz and Quran, and carry on till bedtime at nine pm, with no break.
The princess was an indomitable tomboy and it was not an easy task for her grandmother to educate her. She took no interest in feminine pursuits and preferred the rough and tumble of sports and outdoor games. The palace retainers, clerks, dhobis and tailors made up her hockey team, and they also played in the Bhopal polo team. Some of these players were later selected for All India teams.
On weekends, a carpenter and a sunaar came to teach her their trades, and she also learnt patta binnaut, the art of self-defence in sword fencing, with another ustad.
Girls were expected to learn to ride from early childhood and the princess lost no opportunity to gallop out of sight. Her riding trainer, Chinar Singh, was exasperated with the princess. Once she wore a Jaipuri lehriya on her head to imitate him, stuck a beard on, and bolted on her horse with Chinar Singh following her, yelling "Ya Ali Madad, Yaseen Ya Mohammad, Rajput ki laaj hai." He tried to stop her but could not catch up and she got away to the delight of the spectators.
During her grandmother's long absences, the young princess learnt to drive and went tearing around in a car propped up with cushions, since her legs were far too short to reach the pedals.
The princess and her two sisters were brought up in a frugal, spartan style by their grandmother, Sultan Jehan Begum, who was known as Sarkar Amman in the family. Her pocket money of five rupees a month was saved and with it the princess bought a saxophone. In addition to the piano, violin and mandolin provided by her grandmother, proficiency on the saxophone was thus added to her command over musical instruments.
The family formed their own band, with Beena, the Princess mother, on the piano and the rest playing mandolins, violin, saxophone and even kitchen utensils. The princess had also done correspondence courses on mechanics, bookkeeping and accountancy and was often found under her car in dungarees, fixing the engine.
In India, she learnt to fly at the flying club and was considered to be one of the best fliers who was allowed to perform aerobatics. Tap dancing was also a favourite pastime.
She started training for polo, as well as tent pegging with her father's team. Princess Abida was also obsessed with squash. She was coached by Charles Reed, a professional player and two markers, Waris Khan and Mahabat Khan. She became the All India Women's Squash Champion.
Riding and shooting had equal importance in the royal family. They were taught that every Pathan must be a good marksman. At a young age, Abida began to hunt with an air gun, collecting pigeons and sparrows.
Very proudly, her grandmother used to send a portion of the princess's shikaar to the father's 'mardana' side, to show that she was a good shikari. Before being allowed to handle a rifle, the princess had to do military exercises and pass the marksmanship tests. Every morning the military instructors took the princess and her younger sisters to practice on the range. Her marksmanship was then put to test in the jungles, starting with deer, sambar and panther, until she finally reached the stage of shooting tigers. Princess Abida had no fear of anything and even went after a wounded tiger. The princess eventually shot 73 tigers over a span of 20 years.
Chiklode, a country retreat, was Hamidullah Khan's favourite shikargah. The princesses went to Chiklode on horseback, along with their father and his staff. Completing a journey in bright moonlight through dense jungles, they reached a shikar camp once, only to discover that they were to live there in a well, a dry well covered with a shamiana being the coolest spot. This was the jungle abode of the princess, her sisters, mother and grandmother.
While on a visit to Cooch Bihar along with her mother, who was like a friend and elder sister, she started clandestine visits to the cinema. One day, they were at the movies when all of a sudden Sarkar Amman walked in and saw them. She shouted the house down, the manager had to turn on the lights and stop the show to find out the cause of this noise. When the lights came on, what they saw was an apparition draped from head to toe in a burqa with a diamond tiara on her head. Shaking her walking stick at the girls, she herded them back home.
During their stay in Cooch Bihar, the Maharani introduced her to fox hunts, where the princess was mostly found in the ditch. About 11 years old at that time, she was going over hurdles and winning second prizes which was not good enough. Her father was not going to be happy with anything but perfection!
Shikar in Bhopal was not a sport or a pastime, it was a way of life. Bhopal was a well known haven for shikaris, and hunting for tigers was a major accomplishment for the royal family. From the princess's earliest childhood, she accompanied her elders to shikar camps. For days on end they would live in tents and travel on bullock carts. Her father, who was a superb marksman and fearless hunter encouraged her to undertake daring sorties to the jungles with trained shikaris, cars fitted for shikar and reserved shikargahs. The princess would venture into the jungle at night in search of the tiger and seldom returned empty-handed.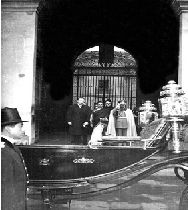 When the princess was 18 years old, she accompanied Sarkar Amman to London for the coronation. Being underage, she was not allowed to drive there. She asked Sarkar Amman to buy her a horse, but the brief canters in London were tame and monotonous compared to the spirited rides with Indian polo ponies. In London, a piano teacher from the Royal Academy gave her daily lessons and for violin, a Mrs Thompson came to coach.
While in London, all three sisters were enrolled as Girl Guides and Brownies. By then, Quran and other conventional subjects had gone into cold storage. The Guides uniform was altered for them, and they wore Highland kilts over tight white stockings when they were sent out on the streets to sell poppies on 'Poppy Day.'
In London, the princess picked up jazz by ear and played with her father. She was in her element banging away at the drums or playing the latest jazz hits on the piano.
Sarkar Amman had abdicated in favour of her son Hamidullah Khan, who became the first male ruler of Bhopal, after 107 years of women's rule. The family then went back to Bhopal. Abida Sultan was 13 years of age , and was made to wear the burqa while she was looking forward to her horses and guns.
The princess was used to jumping off the train before it came to a stop to buy puris and saag at the station. But now, donning a burqa, she felt like a prisoner. Even the purdah, however, did not deter her from riding. She would steal up to the tongas, unbridle the ponies and gallop away.
One day while she was pillow fighting with her sisters, Sarkar Amman asked her to get ready for her nikah. She kept asking the maids whose nikah it was and then during the ceremony created an uproar by answering, "Yes, I do," loud and clear to the mullah, shocking the other women in the room.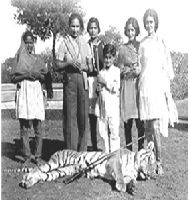 The princess had long hair upto her waist, but one day decided to chop off her hair. Ever since that time till the day she died, she kept short hair. Sarkar Amman fainted when she saw the Princess with her hair cropped.
As heir apparent at 15 years of age, Princess Abida Sultan was ready to take military parades and accompanied her father, now ruler of Bhopal, on his official tours. In her training as heir apparent she was supposed to learn Hindi and go out in the fields with the patwari to learn how to measure the lands.
The princess decided to give up the purdah, with the encouragement of her father. Sarkar Amman was disturbed at first, then at the ripe old age of 68, took off the burqa herself.
On October 2, 1950, the princess arrived in Karachi. She had made the decision to leave her family, hearth and heritage, for Jinnah's 'Promised Land.' Her only son Shaharyar was asked by his grandfather, the ruler of Bhopal, to come back and claim his rights, as he wanted the succession to remain with the rightful heirs. Shaharyar refused and decided to stay on with his mother in Pakistan.
He was sent to a military school where he had to learn to shoot, swim rivers and climb trees. Shaharyar loved shikar until he left Bhopal and then it dawned on him that it was terrible to kill animals. Abida's son joined the foreign service and served as foreign secretary and ambassador to France.
Hussain Shaheed Suhrawardy chose the princess to accompany the Pakistani delegation to China. Mr. Suhrawardy mentioned to the Chinese leaders that Princess Abida was an expert markswoman and had shot 73 tigers. The defence minister and his colleagues were intrigued and asked her if she would like to try some target-shooting at the Chinese army's shooting range. She was not going to duck such a challenge, even though she had not handled a rifle since she came to Pakistan. At the range the princess took the army sniper's position, which she had been taught as part of her military training in Bhopal.
While she had supported Fatima Jinnah in her campaign against Ayub Khan, Abida Sultan withdrew from public life to become a virtual recluse. Princess Abida Sultan's simple and peaceful abode in Malir in which she lived without electricity for eight years, was her home for over 50 years.
Her yearning for sport and adventure was restricted in Pakistan; there was no big game shikar and she had no horses to indulge her passion for polo and riding, so she turned to squash, with the legendary Roshan Khan.
Though she could not play polo in Karachi, she umpired polo matches. She could not practice hockey or cricket as it was unthinkable for a woman to play with men. So she concentrated on squash and became a better player than she had been when she had won the women's title in Bombay in 1949. While in Bhopal, hours had been spent in the swimming pool at home; in Karachi, the Princess swam in the pool at the Grand Hotel, Malir.
Soon after the princess arrived in Karachi, she was asked by Essa Jaffer, the agent for the Skoda Motor Car company, if she would be the chief guest and give away the prizes at his motor show. She accepted on condition that she would be allowed to perform a stunt in the new model herself. At the Karachi polo ground, in front of a large crowd, without any experience of stunt driving, the princess raced the Skoda several times over a wooden platform, thrilling the spectators.
Music remained a passion. The princess learnt the sitar with Master Ziauddin, who later became the head of the orchestra at the PIA Arts academy. She loved to play the tabla and dholak and sang and danced with it. At her grandson Ali's wedding in Malir, she played the dholak and made everyone sing along.
She also played the sitar, with her son Shaharyar on the tabla. She preferred classical music but would also play light film tunes on the harmonium. She had an ear for music and could pick up any tune and reproduce it.
In Pakistan, the Princess played cricket at the Gymkhana Club with Iskander Mirza and at the Napier Barracks. Bia never played her matches with women, because she didn't find it challenging enough. Hassan Mian recalls her going for a swim, playing tennis and target shooting when she visited him in Islamabad at the age of 70.
At 86, she drove alone all the way from Malir to condole with Begum Salma Ahmad at her daughter's death. A year later, she drove to a hospital in Gulshan-i-Iqbal to get a cataract removed from her eye. After the surgery was performed, she rested for a couple of hours and drove back home alone.
The princess remained completely fearless and never had any qualms about living on her own in a remote farm in Malir. A man once came into the compound of her house and asked her for a glass of water. By the looks of the man, she realised there was something wrong. She caught hold of his hand and would not let go. The princess had a strong grip and the man tried to wrench himself free but to no avail. All the servants came running, tied him up and called for the police. She was later informed that the man was a murderer and escaped convict.
Bia Hazur never learnt to be afraid even in the new circumstances she found herself in. She always slept by herself in the verandah of her house, with a gun by her side. She passed away peacefully in Karachi, her adopted home, on the 11th of May.
Next