"Forget that you are a journalist. If, as a human being, you care at all about those who are suffering, you will not publish this report. I implore you: please don't aggravate the situation. It is already very precarious," a senior official from the United Nations Human Rights Council told Newsline on condition of anonymity. "We already made a big mistake by talking to the press earlier. We will never know how many lives were lost because of it. We cannot make that mistake again."
The report she was referring to (about which only an enquiry was made) was a comprehensive survey carried out by the UNICEF late last year about the condition of thousands displaced by the conflict in Balochistan. An internal document, parts of which were leaked to the press, the survey estimated that over 86,000 displaced persons were living in make-shift shelters with no access to clean drinking water or any health facilities. The report stated that the majority of the IDPs (internally displaced people), 59,000 in number, were women and children. Twenty-eight per cent of the children under the age of five were "acutely malnourished." In fact, six per cent of the children were so underfed that they were in danger of perishing without immediate medical attention. The assessment also revealed that 80 per cent of the hundreds of deaths among the IDPs were those of children under the age of five. The report concluded that according to WHO standards the "situation is critical."
For several months now, aid agencies have been desperate to gain access to the parts of Balochistan where villagers are caught in the crossfire between rebel tribesmen and government forces, but their efforts have been consistently blocked. "We have tried everything to get aid across but all our attempts have been systematically undermined," said Ronald Van Dijk, head of the UNICEF mission in Pakistan. "Meanwhile, surplus supplies of medicine and food are lying in warehouses in Quetta. "I even know of aid groups that tried to deliver relief without permits, but they got turned back on the road." Officially, the UN cannot deliver aid without formal permission from the host nation, something the agency has been desperately seeking for the last nine months.
Then, on December 21 last year, under pressure from foreign diplomats and donor agencies, the government finally gave the UN official permission to deliver its million-dollar-aid package for Baloch IDPs. The UN was allowed to set up 57 feeding centres in the area (on the condition that no UN official would communicate with the press). The same day, however, an ecstatic official from the UNICEF spoke to journalists and expressed his joy at the decision. "This should have happened ten months ago. Hundreds of children have died needlessly because of the delay," he said.
A few days later, the permission was abruptly revoked. The same week, Abdul Sattar Edhi, head of the Edhi Foundation, was explicitly told not to deliver any more aid to the affected Baloch people as the situation was highly "sensitive." Edhi's son, Faisal Edhi, also made the mistake of talking to the press, but he did so only after their relief efforts had been halted.
The situation in Balochistan is, indeed, bleak. Thousands remain displaced and are living in miserable conditions. Many have poured into neighbouring towns and those with better resources have made it to the urban centres. The low income peasants have fared the worst. Small groups of displaced peasant families remain encamped over a vast and isolated area that is becoming increasingly insecure as the fighting spreads. It is spring now, time for the traditional harvest. But for many like the Bugti tribesman, Issa Khan, there is little to rejoice about. It has been a long, unforgiving winter in the open fields, and many children have not survived. "When the winter came we knew that some of our children wouldn't make it," he says. "I am a proud man, but my eyes welled up hearing my children cry in the bitter cold nights when I couldn't find food for them." Issa Khan and his family left Dera Bugti after the government launched an offensive on the town. He says he couldn't find a safe passage out of the area for many days because both the rebels and the military had mined the town to restrict movement. His jaw quivers as he remembers those nights. "It was like doomsday. They (the army) bombed everyone indiscriminately. They didn't care that we were only poor villagers. The fact that we are Bugtis was enough," he says bitterly. "I lost three members of my family, and we couldn't even give them a burial. We had to leave them lying there like animals… and they call us terrorists?"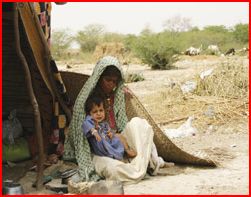 When asked if he is proud to be a Pakistani, he responds with a resounding, no. "If I am a Pakistani, where are my rights? They don't treat us like Pakistanis… they use us for target practice and test their new weapons on us.There is a reason why they don't want anyone to come here. They don't want the world to see that they are treating people like animals."
A few miles away, 70-year-old Pir Baksh Marri heads a commune of displaced families. Back home, he says he owned cattle and some modest farmland that he spent his life's earnings on. His crops were destroyed by the bombing, but now wonders if he should have left. "We left everything we owned to escape, but I think maybe we should have stayed there and died," he muses. "There is nothing here. We are at the mercy of God… sometimes we gather enough grain to eat, but every day is a gamble."
There is no clean drinking water in these camps and no medicine. Many women have died in childbirth. Water-borne diseases are rampant and dozens of children have died of typhoid, hepatitis and, of course, malnutrition. "We buried eleven of our children here," says Pir Baksh. "Nobody should have to see their children die."
Rebel attacks on government installations in these districts have increased in recent months, often bringing down the wrath of security agencies on the local populace. There is a heavy military and intelligence presence in these areas that extends south from Kohlu and Dera Bugti districts across the provincial border of Balochistan and Sindh into Jacobabad. Residents say that this deployment has only aggravated the woes of the locals, as well as the refugees. "The government won't let anyone help us, but they still don't leave us alone," says Sher Ali, a man living in one of the camps. "People from the agencies come and harass us all the time and call us terrorists. My child hasn't eaten in days. Do I look like a terrorist?"
On the outskirts of towns like Dera Murad Jamali and Jhapat, some native landowners have allowed several families to stay on as labourers. But the locals are often hostile. Old tribal enmities and newer political alliances further complicate the situation. Fear of reprisal by security agencies also prevents locals from aiding refugees. Locals like Rafiq Soomro, a school teacher, know that government agencies have infiltrated the population and hired countless informers. "You can't trust anyone here anymore," he says. "There is so much suspicion; nobody knows who's working for whom." The climate of fear and suspicion is hardly surprising in light of the hundreds of reported cases of alleged disappearances at the hands of government agencies in these areas. "They come at night and take away whoever they want," says Jan Udeho, a local journalist. "If you are talking against the government, they will know…and they will come and pay you a visit. Sometimes they abduct family members of fighters so they can put pressure on them to surrender."
Almost two years on since the insurgency began, and several months after the government announced that peace had returned to the area, most of the population of Dera Bugti and Sui has not returned. "Why should I go back and live under the rule of those traitors who bombed our women and children," says Murad Baksh Bugti. "I know I have nothing and can't fight for my rights, but I would rather my children die of starvation here than go back there in shame." This sentiment echoes throughout the community of IDPs, who mostly comprise members of the Marri and Bugti tribes. Here, the government and its security agencies are viewed as the enemy who drove them from their homes and killed the man they called their leader, Nawab Akbar Bugti. "We will only go back when someone from our leader's family is reinstated as the rightful sardar," is the almost unanimous consensus here.
Any doubt that the government's killing of Nawab Akbar Bugti has elevated him to the rank of a martyr for the Baloch cause can be laid to rest here. Even other clans like the Marris, who held long-standing grievances against the cantankerous old Nawab, now view him as something of a hero. "Whatever his other faults, he was a fighter and fought for the rights of his people," says Ghulam din Marri.
Resentment against the armed forces is at an all-time high in Balochistan. But the government vociferously denies that any such situation exists. Officials maintain that peace has returned to Dera Bugti, Sui and other areas, and that those who had fled the fighting have all returned. But this view is refuted by many like Dani Bux Magsi, a local journalist and chairman of the Dera Allah Yaar press club. "Yes, the area has been repopulated but not by those who left it. Dera Bugti is a different place now. It bears no resemblance to what it used to be just a few months ago. It is now ruled by the government and its hired thugs."
After ceremonially marking an end to the sardari system in November last year, the government resettled expatriate tribes like the Kalpar and Masuri in Dera Bugti and Sui. The Kalpars, a Bugti sub-tribe, were expelled from Sui and Dera Bugti 10 years ago by Nawab Bugti. There is deep resentment between these two tribes, and much blood has been spilled on both sides over the years. "Now that they have come back, they want to exact revenge on the supporters of the Nawab. The government wants to control Dera Bugti, so they are patronising these tribes," says Dani Bux Magsi. "It is like the British policy of divide and rule." Even former Prime Minister Mir Zafarullah Khan Jamali, whose constituency is now hosting many of the refugees, acknowledged that "the government seems determined to change the demographic complexion of Dera Bugti."
It is unclear exactly how many people have been displaced by the fighting. Estimates vary wildly, depending on the source. The Asian Human Rights Commission (AHRC) puts the number at 200,000; the nazim of Dera Bugti, Kazim Bugti, says no less than 100,000 people have been displaced.
Meanwhile, the credibility of the aid agencies is also under fire. "It is up to aid agencies to direct the press and to shed sufficient light on the issue," says one analyst. "Why are they quiet? Obviously, quiet pressure is not working. This demands a strong international condemnation." The Christian Science Monitor recently quoted an unnamed western diplomat as saying: "The UN is now desperate. They are literally begging us for help." The UN is not alone in its frustration. Other organisations such as Oxfam, CARE and the International Committee of the Red Cross (ICRC) have also been trying to gain access to the region. In Islamabad, frustrated aid workers remain quietly furious at being denied access, but in the words of one: "Our aim is still to get help to the people, and we have no choice but to cooperate with the government if we are to stand a chance of doing that. They are slowly coming round."
For its part, the western media (largely preoccupied with Pakistan's 'war on terror') has also chosen not to focus on what the New York Times calls, 'Pakistan's other war'. But this other war will not go away quietly. In fact, all reports indicate that the insurgency is gaining momentum. The army may be winning the military battle against what it calls miscreants, but it is, once again, losing the moral war.
Next