"Writing this novel was a way of trying to belong"
– Tahmima Anam
Curious to know some of the experiences that went into the making of A Golden Age, Emile Chabal decided to meet Tahmima Anam in Cambridge. She came to read excerpts from her book for 'Wordfest,' Cambridge's annual literary festival, alongside debut authors Paul Torday and Jeremy Page. It was an unusually warm spring day and the discussion ranged far and wide – from the intricacies of contemporary Bangladeshi politics to the meaning of intellectual engagement. Excerpts from the interview…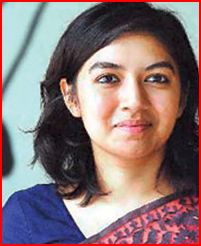 Q: What is the relationship between your PhD on the Bangladeshi freedom fighters' movement and the novel?
A: I was already an undercover writer in the guise of being a doctoral student, but I wasn't one of those people in their 20s who could just write. I felt I needed to build up my confidence. It's proven very useful because the book is political in Bangladesh, and having a PhD allows me to reply to those who would doubt my legitimacy because I've grown up abroad and not lived through the war.
Q: One thing people are unlikely to grasp fully outside Bangladesh are the political ramifications of the book. Do you feel like you've written a political book?
A: Mostly what I wanted to do is take that historical moment away from politics and talk about how ordinary people lived through the war. Whether this is political or not, I'm not sure. How, say a widow, a housewife or a refugee survived the war and how it changed their lives. Whenever people in Bangladesh ask me, 'What's your national aim?' I reply that I want people to be able to own this part of history and remember it as theirs.
Q: Do you feel that you are doing something new? Because of the relative lack of literature in English surrounding 1971, who did you take as your inspiration?
A: My Bangla is poor and much of the literature I've read about 1971 has been in translation, but I know there is a lot of literature on the subject – in fact, all Bangladeshi literature is about 1971 in some way, so it is not so much writing an unwritten history as translating it for a wider audience. In terms of inspiration, however, I admire not only the 'greats,' like Rushdie or García-Márquez, but younger authors as well, among them Chimamanda Ngozi Adichie, whose latest book, Half of A Yellow Sun, also deals with a war from the perspective of characters who were not major players.
Q: How did your status as an outsider affect your perceptions of the 'national goal' of 1971?
A: I feel very implicated in Bangladesh. I don't have an immigrant's viewpoint and therefore don't have stakes in a place other than Bangladesh. Nevertheless, I definitely wrote the book from an outsider's perspective and that's why the novel is told from Rehana's point of view and not that of her children since she, too, is an outsider. Part of the book is about Rehana discovering where her loyalties really lie. And for me too, I think, writing the novel was a way of trying to belong to a place that I don't always belong to — sometimes I feel I belong and sometimes I don't. Now that I've written this book, I feel I belong so much more; people come up to me and say, 'Now that you've written this about your country, we embrace you as a citizen.'
Q: Your book ends on a note of defiance and hope. To me, that seems peculiar since the story of 1971 is both tragic and full of unresolved contradictions.
A: It's funny you say that because when I talk to people about the war, they never think of it as a tragedy, though, to be fair, there is a big difference between the way the rich and the poor talk about 1971. The poor generally talk about 1971 and their feeling of being betrayed: they thought they were getting something but materially their lives didn't change at all. When you talk, on the other hand, to the elite or those who were student revolutionaries, they very rarely think of it as a tragedy, even if terrible things happened to those they knew. For them, it's a moment of hope, the 'best time of their lives', and I borrowed that for the book. That's also why I wrote about 1971: I wanted to say something uncomplicatedly positive.
Q: Why were you not pushed to write a counter-voice to this nostalgic story?
A: There is a dissenting voice in the form of Silvi, who doesn't believe in the premise of the war, but if you're talking about the story of the violence committed by the Mukti Bahini then, yes, that is absent from the novel.
Q: Is this something you have been thinking of writing about?
A: I think the Pakistani side is completely different; it is the army's side. I think there is a big difference between Pakistan and the Pakistan Army. It is a distinction I only recently learned to make when I went to Pakistan this year and met people who had protested against the war; this was a transformative experience for me. As for the Bihari story, I think it is one that really needs to be told. I didn't put it in the novel by choice — partly a narrative choice.
Q: Was that the first time you'd visited Pakistan?
A: No, some of my family moved to Karachi in 1947, so I used to visit as a child. Then, when I developed a sense of history, I no longer wanted to and refused to go for 15 years. I finally went back when I organised this conference on 1971 in January, which was a very moving experience as I got the chance to meet people who had left the army or had gone to jail for opposing the war. It made me realise that, much as it is difficult for us to imagine having a foreign force committing atrocities on us, imagine what it would feel like to live in a country that was capable of such a thing. Who knows in future who the army might turn on?
Q: 1971 is certainly one of Pakistan's great silences.
A: Yes, having said that, I feel things are changing: 1971 has finally been introduced into school curricula and there is now a university course on the subject at Karachi University. In terms of acknowledgement, I think the problem is not just with Pakistan; Bangladesh, too, was very quick to let go of the past. While I don't think being litigious is necessarily a good thing for a national wound, if you think about South Africa's Truth and Reconciliation Commission, it seems as if Bangladesh has skipped a step. I think Bangladesh has not only 'forgiven' Pakistan but, in some ways, has a longing to be more Pakistani, more Islamic.
Q: How do you feel perceptions of Pakistan are changing in Bangladesh?
A: I know some people who refuse to go to Pakistan and have a lot of anger towards Pakistan. But you'd be surprised at how few they are. There is so much fighting about what happened in 1971 that it is hard for those locked in the debate to focus their energies outwards.
Q: Did you consciously try and incorporate some of the big themes: rape, refugees, guerrilla fighting?
A: Most of these things did happen, certainly if you take the perspective of a middle-class woman from Dhaka like Rehana. But there are also a lot of things that do not appear in the book: for instance, there are no battle scenes, no politicians and the peasant story is not told. With Rehana, I wanted us to be able to see the war through a mother's eyes; this seemed to me the most authentic way of telling the story.
Q: As an author, are you comfortable in the role of 'spokesperson'?
A: If I were English, or from somewhere else, I could simply say that I only write fiction, but I have real stakes in the future of Bangladesh and I can't retreat behind the mask of an artist. Being an artist in a country like Bangladesh means you have to have opinions. In the subcontinent, being a writer has always been a political act; this idea that the novel is 'outside' the workings of the world is very European — and, even then, it is inaccurate.
Q: And what's next?
A: I'm writing the story of Rehana's father — a Muslim zamindar in Calcutta at the turn of the century — and it ends in 1947. It's actually part of a trilogy. A Golden Age is the second book. The first will deal with the Partition of Bengal and the last will focus on modern-day Bangladesh.
Next