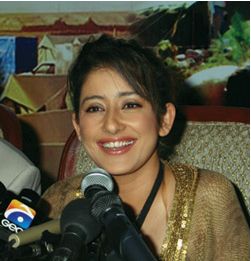 It didn't take her long to learn the ways of Karachiwallahs. Fashionably late and suitably attired for the press conference arranged by Geo, Manisha Koirala was well worth the long wait. After an hour-and-twenty minutes of anticipation, the Bollywood super-star, who had disappeared from our screens, came waltzing back into our lives. And what a comeback it was: the cameras wouldn't stop clicking, sight took over all other sensations, and the Geo team's pleas to the press to step aside proved to be in vain.
When the excitement subsided, Ms Koirala appeared in the line of vision — petite, radiant and smiling. However, she wasn't there to simply look good. Horrified by the images of the earthquake's devastation on her TV screen, the star of the hit, Bombay, and the flop, Paisa Vasool (her home production), said that she couldn't sit back any longer and wanted to help in whatever capacity she could. That is why she jumped at the chance to travel to Pakistan when she was invited by the Mir Khalil-ur-Rahman Foundation (MKRF) to appear in a live fundraising telethon. But a little bird tells us that Ms Koirala charged Geo a cool 30 lakhs for her "good Samaritan" act.
Manisha opened the floor to a question-and-answer session. And the topics ranged from her favourite role, to her political inclinations, to her views on Indo-Pak productions, to her opinion about Meera, to her views on Islam, to her interest in doing the telethon, to her long disappearance from Bollywood, to her views on the Kashmir dispute, to the explicit nature of Bollywood productions, to her favourite Pakistani cricketer. The Nepali beauty tactfully ducked some questions, and candidly answered others. For starters, her long absence from the big screen has been because she was studying film making at NYU. Now she plans to sign on films. In fact, she has chosen a comedy and a thriller to mark her return. The movie that she is most proud of is Bombay because it conveyed a meaningful message. She believes that "the Indian film industry has a very big heart. It doesn't matter if you are Indian, Nepali or Pakistani. There's a place for everybody in Bollywood." She also thinks that Meera is a beautiful woman. And she believes that the developing friendship between Pakistani and Indian artists is a healthy trend. She has grown up loving Imran Khan because all the women in her family are his fans. And she respects Islam because it conveys a message of peace.
Koirala also expressed a desire to visit the earthquake-affected areas, but the following night she was gone — back to the Bollywood buzz. Now, not everyone can be Angelina Jolie…
Next