To say that things look bleak for Pakistan ahead of the World Cup would be an understatement. With key bowlers Shoaib Akhtar and Mohammad Asif out and seasoned all-rounder Abdul Razzaq also unavailable, Inzamam-ul-Haq's men do not seem to be in the run for the coveted crown in the Caribbean. Things have just gone too bad for them.
But that is what the head tells you. Follow the heart and you'll find hope.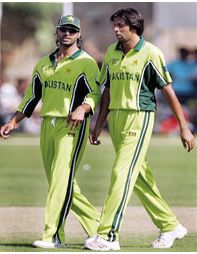 Pakistan faced similar problems in the lead up to the 1992 World Cup, and at one stage they were ruled out of contention for the title by even the most ardent of their fans. But led by Imran Khan, Pakistan bounced back from the injury-based absence of top strike bowler Waqar Younis and a series of early mishaps to lift the trophy in Melbourne.
If a team largely made up of bit players could win the World Cup through sheer commitment, then there is no reason why this Pakistan team cannot go all the way. Yes, it may seen laughable, but even this depleted Pakistan squad is capable of winning the World Cup.
Ask Pakistan's vice-captain Younis Khan, and he will tell you exactly the same thing. "There's been some doom and gloom surrounding the Pakistan camp with the bad luck that we've had. But the team is feeling confident about the World Cup," he says. "All the boys are very positive and in good spirits, and nobody is thinking that we cannot do well in the West Indies. We will soon have the chance to prove it on the pitch." Younis himself is among the few reasons why Pakistan still counts itself in the race for the top prize.
Younis is an important part of Pakistan's batting line-up, which is easily among the best in the world, at least in the one-day arena. He comes in at the crucial number three position and is followed by the prolific Mohammad Yousuf and the accomplished Inzamam-ul-Haq. Then there are the likes of Shoaib Malik, Kamran Akmal, Azhar Mahmood and Shahid Afridi. The ouster of Abdul Razzaq because of a knee fracture has been a setback, but his replacement, Azhar Mahmood, is an equally capable all-rounder and was an integral part of the Pakistan team that reached the final of the 1999 World Cup in England.
"One of the best ways to win one-dayers is to score enough runs," Pakistan's coach Bob Woolmer points out. "The sort of batting we have, nobody can rule us out." The Englishman is hoping to end his stint as Pakistan's coach with a successful campaign in the West Indies. But even Pakistan's strongest attribute has a weak link: the openers.
Pakistan has been unable to prepare reliable opening batsmen in recent years, and even Woolmer has failed to bring about any worthwhile change in this area.Pakistan invested a lot of hope in left-handed opener Imran Farhat, opting to open with him during the best part of 2006. But in no time the flashy batsman was replaced with somebody even more profligate when it comes to losing his wicket — Imran Nazir. The hard-hitting batsman was inducted in Pakistan's 15-man World Cup squad on the basis of a solitary 50 during the one-day series against South Africa in February this year.
Imran Nazir joins Muhammad Hafeez as Pakistan's 'first-choice' opener for the World Cup. It is a combination that is far from ideal. Hafeez has a better temperament than his partner, but has so far failed to convert his potential into actual runs.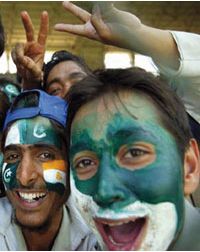 Having Imran and Hafeez at the top of the order is a gamble that the Pakistani selectors and the team management have opted to take. They had the choice of selecting somebody more reliable, such as Yasir Hameed, who has been much more prolific in one-day games and inspires the sort of confidence that the other two openers lack.
While Imran Nazir got the selectors' nod for his ability to whack the cricket ball in power-play overs, it is Hafeez's bowling skills that earned him a ticket to the Caribbean. To be fair, Hafeez and Imran are not bad cricketers. They are young, talented and among the better fielders in the team. As Younis rightly points out, they just need to apply themselves. Hafeez, 26, has failed to capitalise on his talent, and in 44 ODIs, averages a little below 20, though he has contributed to the team's cause with 33 wickets.
Similarly, in the 65 ODIs he has played, Imran averages about 23 runs, a truly under achieving performance. Both of them like to play their shots, and chances are good that on Caribbean wickets, which are expected to be batting-friendly, they might just click. But in reality, it's all so uncertain.
The middle order, though, is a different story. It begins with Younis, one of the best batsmen in the world; next comes Yousuf, who with a record 1,788 Test runs in 2006 still shows no signs of losing his touch; and then there is Inzamam, one of the most prolific run-getters in ODI history and still perfectly capable of piling up the runs.
As captain, Inzamam has a lot of responsibility and has the added work of compensating for an awful outing in the 2003 World Cup, where he scored just 19 runs as Pakistan crashed out in the first round.
All-rounders Shahid Afridi, Shoaib Malik, Azhar Mahmood and Yasir Arafat are all talented players with the guts to floor even the strongest of oppositions, but only on the best of days.
Even though the bowling department has been struck a deadly blow with the exit of Shoaib and Asif, it is still not as bad it seems.
The pace attack is spearheaded by medium pacer Umar Gul. He is one bowler, who can really trouble most batsmen. Gul has been nursing an ankle injury, but he is reportedly fit and is raring to go in the World Cup.
Rana Naved-ul-Hasan has proved his match-winning skills in the past, though he is currently enduring a lean patch of form. Still, he is a player blessed with fighting spirit and is expected to bounce back in the World Cup.
Most people reject fast bowler Mohammad Sami as good-for-nothing, but stats tell a different story. Sami has played 79 ODIs and taken 111 wickets at an average of 29.16, and his ecomony rate is under five. These figures are certainly not bad. Besides, he has grown in stature as a batsman in recent times, and with a little more effort, he can join the list of bowling all-rounders. The experience of Azhar Mahmood, the consistency of Rao Iftikhar Anjum and the young legs of Yasir Arafat add some more variety to the pace attack.
Furthermore, Pakistan is better off than most competing teams when it comes to spinners. Leggie Danish Kaneria has proven his wicket-taking abilities while Afridi, Hafeez and Shoaib Malik are all useful spinners.
There is no doubt that it would take a die-hard optimist to see all these plus points in a Pakistan team that is far from the sort of combination one would have liked to represent this country. But there is no point in fretting about the reasons why Pakistan were unable to field a better side. Now is the time to listen to the heart rather than the head.
The writer is ranked among the battle-hardened journalists covering sports. As sports editor for The News, he covers sporting action extensively in Pakistan and abroad.
Next