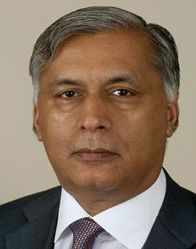 Outsmarting and outmaneuvering all the other contenders vying for the prime minister's slot, Aziz, 55, has squeezed the maximum benefit out of his less than five years of investment in Pakistani politics. His financial wizardry and President General Pervez Musharraf's implicit trust in his talent and professional skill, enabled Aziz to by-pass the more conventional and populist routes to power. He has been handpicked and offered the top job on a golden platter. Only a few Pakistani politicians have been lucky enough to get this royal treatment.
The markets and business circles have hailed his nomination as prime minister. The premier Karachi Stock Exchange 100-share index greeted the news with a more than 3.4 per cent rise in a single day on June 28 — the biggest in seven months. For market players Aziz — the prime minister — means a continuation of his economic reforms and what they call, "business-friendly" policies.
However, opposition politicians and many independent analysts say this nomination has again underlined the harsh fact of Pakistani politics: that power in this country flows through the military. The parliament stands in the shadows.
Is there a silver lining behind this move? Many in Pakistan are ready to bet on Aziz in defiance of the prophecies of doom and gloom by all shades of politicians and political analysts. They are pinning their hopes, expectations and dreams on the concept that Aziz — unlike the majority of politicians — is not tainted with corruption. He has guided Pakistan's near bankrupt economy out of a minefield and brought it to a stage where we are aiming for a higher GDP growth of more than 6 per cent that is expected to help reduce poverty.
But will it be possible for Aziz, who has spent most of his professional life at Citibank and has no political base of his own, to deliver and survive the machinations of local politics, lawmakers and their cronies? Known for his colorful personal life, love of music, passion for golf and art and urbane outlook, he stands in stark contrast to the political culture dominated by feudal and tribal values. The stakes and risks are high.
Aziz joined Citibank in 1969 in Pakistan and remained with the bank till President Pervez Musharraf plucked him out of Citibank, New York, soon after his bloodless October 1999 coup, to run the country's battered economy. A graduate from the reputed Institute of Business Administration and University of Karachi, Aziz, like many talented Pakistanis, made his name and career abroad holding important executive positions from Athens to Singapore to New York. Though his peers regarded him as a brilliant banker, when he took charge of the finance ministry, many doubted the ability of a man accustomed to handling billions of dollars of a handful of the mega-rich to manage the few hundred million dollars of this impoverished country of 140 million people.
But Aziz, whose family migrated from East Punjab at Partition, walked Pakistan's precarious financial tight-rope with surprising skill. He met the stringent International Monetary Fund (IMF) conditions of introducing reforms in the country's stagnant economy — thanks to the fact that a non-elected government was in power and was able to take a series of unpopular steps. That included the tough decision of expanding the tax base, reducing price controls, opening Pakistani markets for international competition, improving agricultural production and trimming subsidies. The budget deficit was kept below 4 per cent as the Pakistan government tried to make the best use of the fiscal space it got as a result of the rescheduling of more than 12 billion dollars of foreign debt and billions of dollars in grant and aid in exchange for Pakistan's cooperation in the war against terror. For the first time in history, Pakistan completed two IMF programmes and now the country plans to come out of fund's supervision by the end of this year.
Drawing on his vast network of global contacts, Aziz helped Pakistan gain entry into foreign capital markets. A 500 million dollar Eurobond issue provided much-needed funds for domestic development and the government intends to test these waters again as it plans to stay away from an IMF managed economy. Today Aziz is one of Musharraf's most trusted lieutenants, which analysts say, places him at a far more advantageous position then his predecessor, Zafarullah Khan Jamali. With the military firmly behind him, Aziz will be far more effective in decision-making and less open to blackmail and demands of parliamentarians as well as party members. "The military will manage state affairs for him," says a Karachi based economist working for a Canadian-funded research organisation. "This is the best and only surety for Aziz. He does not stand on a thin layer of ice."
But for many, the military's dominant role raises an ethical question: where does democracy stand in this land of the pure and will the new arrangement unleash a crisis that could threaten this carefully laid applecart?
Aziz will not just be confronted with the challenge of keeping the members of his united but fractured Pakistan Muslim League in line, but also to deal with domestic governance, including issues such as poverty reduction, unemployment, distribution of resources within the provinces and terrorism. Will he succeed and survive where so many others before him have failed, gone into exile, into prison, or even to the gallows?
The road ahead is not a cakewalk, given the volatile nature of domestic politics, the deep-rooted corruption, the threat of a coup and the growing resistance by hard line Islamic parties and militant groups, which resist modernisation and change.
But those who have worked with him during the last five years, describe him as a tough-minded man who has come a long way from the boardrooms of Citibank to the rough and dodgy political labyrinth of Pakistani politics. His newest job should not daunt him. His finance ministry colleagues say he has always kept his cool under pressure while steering the economy away from near bankruptcy.
"He remained relaxed even in the worst of times and during the most challenging situations. Therefore we never felt tense," said one of his close associates. "He will ensure that the train remains on track."
Next