From Hollywood to Karachi
An exquisitely designed and crafted garment splashed with the colours turquoise and twilight is more than mere garb. A designer of such garments, Yousuf Bashir, has returned to Pakistan after extensive professional success with many big names in Hollywood movies, haute couture, fashion houses and garment firms. Yousuf's creations are spun from high quality fabrics and hand-loom French chantilly, distressed suede or delicate cashmere knits, steeped in colour.
Yousuf's design signature presents a blend of "cultures in which eastern designs are customised from a matrix of western art." His signature style can be spotted in all his creations, be they for Madonna or for a sale at Neiman Marcus or another garment store. A writer, entrepreneur, artist and designer, fluent in Urdu, Sindhi, Seraiki, Punjabi and Spanish, Yousuf now intends to bring his talent home to Pakistan, and the opening of his design house in Karachi should provide a welcome addition to the fashion scene.
Yousuf was born and raised in Karachi and attended Pakistan Steel Cadet College in Steel Town, Bin Qasim. When he graduated, he "was a crazy kid, just a little out there." He moved to the US in 1991 and completed a degree in food science in Lincoln, Nebraska. He wrote extensively for a local newspaper, "mostly very pro-Pakistani stuff and some controversial articles that got me in a lot of trouble, but that is what I believed in."
Yousuf eventually opened a 'fashion cafe' in Lincoln, The Silk Cafe. The food scientist became a successful restaurant owner and was named entrepreneur of the year for two consecutive years by a local news channel. Design had always been a passion for Yousuf and he now turned his attention to fashion design. He hired an old Armenian tailor who taught him practical, as well as creative craftsmanship with cloth. But he learnt the subtleties of design on his own. "The tailor taught me how to sew, do patterns and drape, then I got some books and started sketching, sketching, sketching."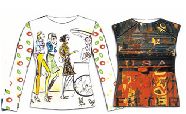 Yousuf moved to Los Angeles in 1997, setting his sights on Hollywood and the music industry. His first high-profile client was Madonna whom he was introduced to by Arianne Phillips (Mod Squad). He made Madonna's costume, her set and the clothes for her dancers at the Enchante MTV Awards which included Madonna's "Om Shanti" video. He then started working closely with Sheryl Crow and subsequently designed for Alanis Morissette and Jewel as his career snowballed, primarily as a music video designer handling both set design and garments. His creations have been worn by Naomi Campbell, Tyra Banks, Brook Shields, Angelina Jolie, Oscar winner Denzel Washington and many others. He collaborated with Arianne Phillips and Eduardo (Kama Sutra) on several feature films. "I've become a little picky about the features I work on. I've shifted from mainstream Hollywood to more independent sort of films, docu-dramas filmed like documentaries but scripted, or historical pieces for which I do my own research."
Yousuf came into mainstream design with collections for Arden B, the Silvestio Brand, Bebe and then a company called Lapis. He did knit-top design for Arden B and for Bebe he was denim-designer. From there he went to dress-design, doing day dresses as well as producing Kenneth Cole's first women's line, called Geisha. Yousuf built up a reputation in the garment industry. His clients included major garment stores like Nordstrom, Barneys, Neiman Marcus, Bergdoff, XOXO and BCBG. Major mills in France, Turkey, and Mexico bought his fabric design as his design projects diversified, going from airline interior themes and airline employee wear to T-shirt patterns for an Israeli company called Security.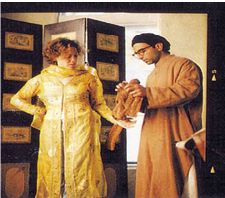 In 2002, Yousuf built a vertical company with overseas/US production and his label, Yousuf Bashir, also arrived in stores. "We did the garment design, we did the first samples and patterns and, depending how they wanted it, we did their productions, locally or overseas, mostly in China or India. I had a digital-imaging studio, and we did ad campaigns and photo shoots. Under one roof, we did everything."
Yousuf Bashir is now setting up a design studio in Karachi that will feature his portfolio of creations. In regard to coming to Pakistan, Yousuf says, "Here everything has changed, yet everything is the same — and Karachi is the smallest biggest town I have ever seen. I am looking for a location in the city, I definitely want to do something here. Something the city has not seen, something the city deserves."
He is teaching, at present, an intensive eight-week course in fashion design at the Indus Valley School of Art and Architecture.
Designers, like other artists, colour their creations with the content of their experience and vision. "My main inspiration comes from nature. My culture has a lot of influence on my designs. Whatever I do, there will be some touch of desi in it. But my emphasis when I design is not so much on the embellishments — embroideries etc. — but on the cut and fit. My garment needs to fit like a glove. It has to look perfect. It has to be finished, so that it can be worn inside out. That's my emphasis and design philosophy."
Colour tones, patterns and breath-taking colour combinations, nevertheless, are featured in Yousuf's kaleidoscopic collections. "If I'm doing a line with bright colours, I would sit in an aquarium or go snorkelling on a coral reef to find the colours that would blow my mind. For earthy or natural colours I would sit in the desert after it rained, outside LA, in Joshua Tree Park; the steam from the earth, the cactus, it's intoxicating. You can't get better colour tones anywhere. Nature has given it to us, why go anywhere else."
Yousuf is currently continuing production for Barney and Nordstrom and has an operational sales office in the US. He is doing patterns for a line for Christian le Croix for Paris in 2005. Yousuf combines eastern and western design aesthetics and his individuality comes through in his garments. "I make my designs for my audience, whatever the audience requires. I make something they will appreciate, and it has my signature style."
Next