Pakistanis are often made to feel worthless in their own country.Demonstrating this heavy-hearted statement, Syed Faraz Ali unveiled his first sculpture exhibit Darkhuast Bara-e-Indiraj at Art Chowk. His two years of studio work revealed a unique collection of Duchamp-esque sculptures that could easily be found in world-class contemporary museums or in private homes.
Turning his erstwhile canvas themes into stainless steel sculptures, Ali's immense talent in handling different mediums gleams through each immaculately laid out and well-balanced piece. Clearly an artist who does not shy away from his beliefs, Ali has chosen clear elements with which to convey his message.
Deeply moved by this nation's suffering, most of Ali's work deals with violence and the loss of identity that a Pakistani faces. His art is a socio-political commentary that liberally uses the images of flags, stamps, barcodes and the chenek (kettle).
The chenek, a utensil commonly used by the vast majority of people in this nation of tea-drinkers, could be interpreted as a symbol of community and friendship; yet for the artist, it symbolises broken trust. "For me the chenek is a symbol of violence," says Ali, "it reminds me of the people struggling to be noticed in this country."
Hailing from a family that has been in the business of making stainless steel utensils, the artist has a keen eye for kitchenware and the people using it. In his travels to North Pakistan, Ali saw the chenek used by the émigrés and internally displaced people affected by the wars. The chenek, in these circumstances, made an impression on the artist which grew into a symbol that he continues to develop in his many works.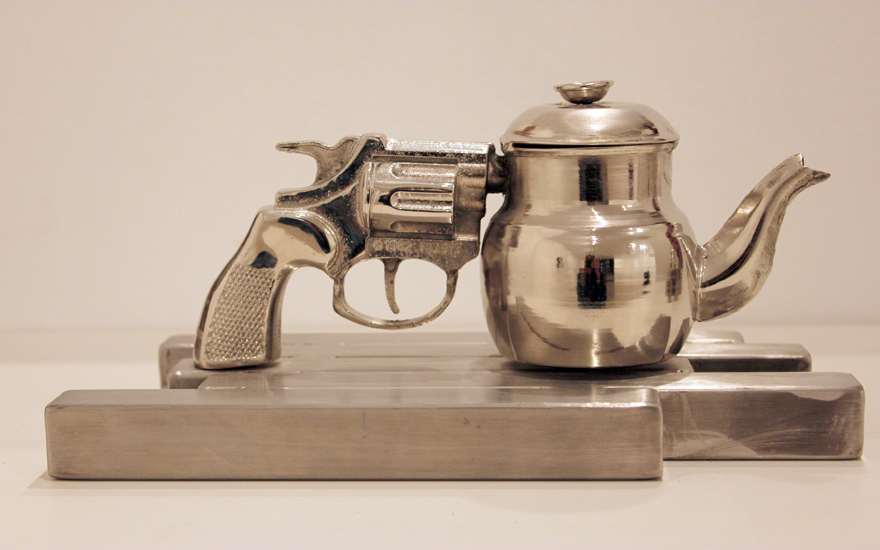 While violence rains down upon our fellow citizens, the rest of us turn a blind eye. The people who are suffering or dying are treated as non-entities, whose lives are worthless and whose deaths don't matter. The artist brings up his patent theme of suffering Pakistanis who have to 'apply for registration,' as the title suggests, to be recognised as human beings.
Ali's sculptures deftly criticise the vulgarity with which we treat our own and how we allow others to treat us. The piece Hidden Truth physically holds a mirror against the violence that our nation faces to reveal that money is behind all the suffering. While the stunning piece Guns and Roses eloquently represents the brutality with which we have turned away our own by backstabbing them through the façade of friendship, in Politricks, a trail of ants is drawn to a violence that promises liberty, the way it would be drawn to something sweet. The theme of flags is brought in through the red white and blue-coloured kettles hanging like meat in Caution Hot II.
Through his work it seems the artist is trying to understand why he views ordinary items in such a violent light. A new theme in the artist's works is of cartoon characters, thus alluding that he is on the path to understanding yet another innocent symbol that has turned dark for him.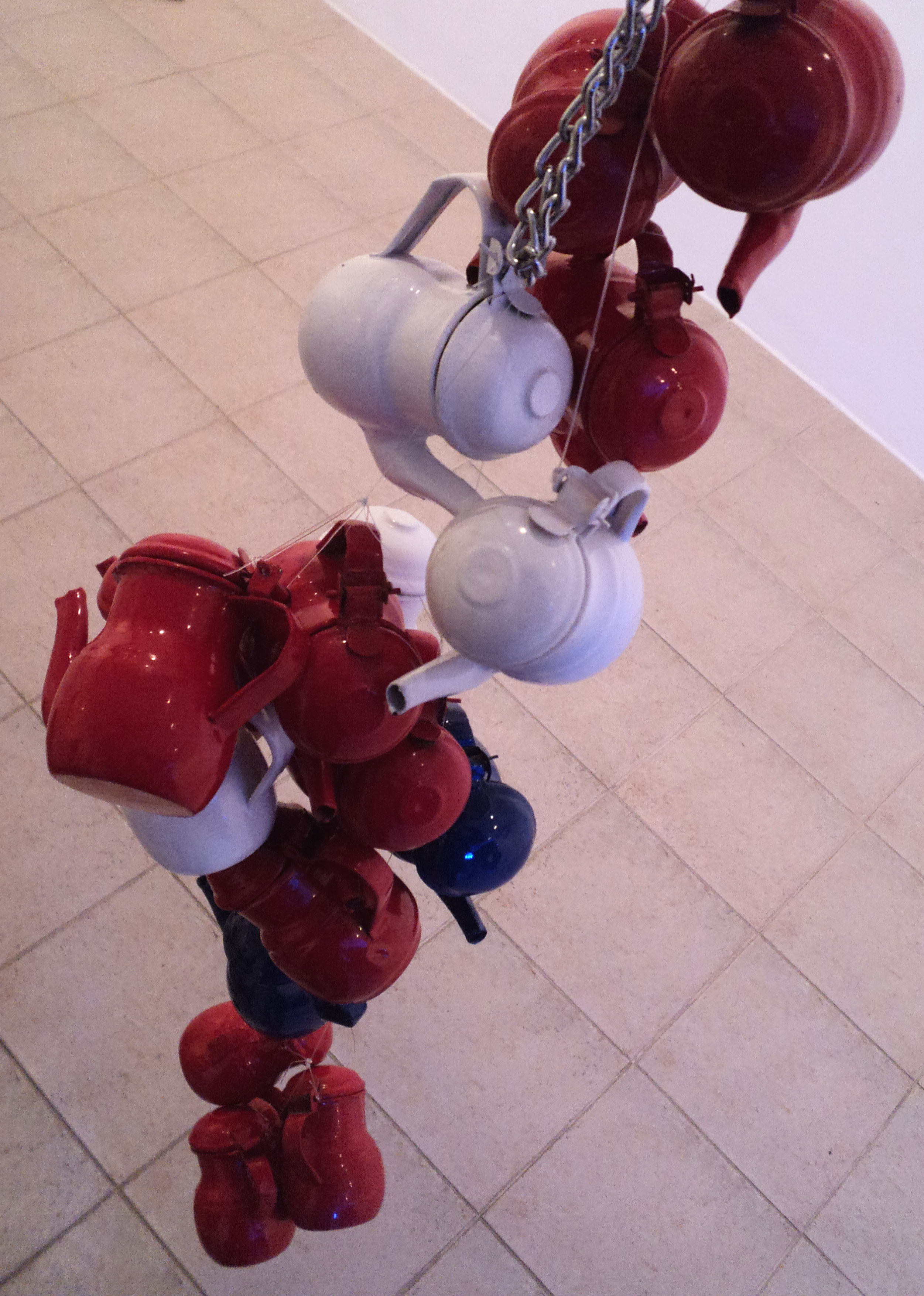 Ali believes that the conveyors of violence are like puppets being manipulated by hidden sources. Moreover, the use of cartoons in the history of violence can be noted in World War II. The Disney production house played a big role in delivering war propaganda to the American army and civilians. They made miles of film educating people on everything, from how to use weapons to how to buy war bonds. They even made anti-Nazi comic films starring the likes of Donald Duck. To this day, if an American is in the voting booths and doesn't want to vote for any of the candidates, he can click on the comic icons of Mickey or Donald. These characters were the first symbols of the Americans that foreigners saw — the American army would decorate their bombs and weapons with Disney characters, making these faces the new age symbols representing a new world nation.
In the piece Armytoon, Ali hits the spot with his camouflage print made up of plastic cartoon heads. For him there is no clearer way to depict the mindless violence that plagues the country. A smiling Mickey stands with a golden gun held behind his back in Souvenir from Afghanistan, and a well-balanced row of smiling tomcats stand on their head in surrender to an armed and erect gold tomcat in Untitled.
"I used Tom because he's a character who suffers a lot of violence," says Ali, "yet we find him funny." In Death Unwanted, Ali experiments with natural and artificial forces of destruction. Demonstrating manufactured violence, a comical tomcat mounts a chenek, appearing to ride a dropping bomb. Right next to him is a shark, an obvious symbol of destruction. The work is clear, contemporary and flawless in its delivery — a sharp message from an expressive artist.
Finally, one stops at the piece, The New Way to Kashcool. Appearing to be a winged wash basin with a donkey-headed tap, the work reminds us of how the people of this nation are treated like donkeys and milked for their resources. Within the basin is a pattern of bullets symbolising the dollar.
An apt ending to Ali's unique story of violence.
Next