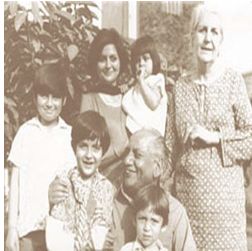 This very personal piece on Alys Faiz must begin with an apology to all those who are used to writing and reading rather impersonal obituaries. Much has been written about the public figure that Alys Faiz was, what she did and what she stood for. It may be time now, to recall the remarkable person she was, to the extent that we knew her, for even close friends of many years often do not fully know one another.
Alys to her close friends, Mama to her children, Auntie Alys to a large brigade of younger people, and Mrs Faiz to everyone beyond the fringe of immediate intimacy, she was the perfect example of a saying Mumtaz Daultana was fond of quoting, but in reference to Alys' husband, Faiz Ahmed Faiz: "He bred friendship without encouraging familiarity." This evaluation conformed just as much to Alys, for two reasons. One , she had a commanding presence, and two, because most people knew her only as the woman by Faiz's side.
I was one of the few people who had met Alys before meeting Faiz, and it was through her that I sometimes understood him. But that was more than 50 years ago, when as an inexperienced and hesitant apprentice to journalism, I was ushered into a small compartment that had been crafted out of what had been a much larger room at The Pakistan Times. The partial wooden partition separating my cubicle from those occupied by others, did not touch the roof, and as the voices of various staff members filtered through, I was always well aware of the activities of each one of them. The wife of the newspaper's incarcerated editor was in charge of producing the children's page as well as the more tedious task of measuring contributors' input in inches and typing out their fees in triplicate. The very first impression she made on me was a motherly one — I felt protected and encouraged by her interest in my professional advancement, although she never minced words about the competition in the field.
Those were exceptionally difficult days for Alys. Her husband was facing charges that carried a high penalty. She had to bring up and educate her two young daughters on a meagre income and was thus obliged to don herself in uncalendered long cloth. She sizzled with anger at all those tormenting Faiz but kept her personal anguish to herself. Her biggest complaint was against Lahore's heat, as she bicycled to the office under the scorching summer sun. "I don't think I will survive this summer," she would often remark. Her zest for life proved her wrong. Those were the days of struggle — learning about one's capacity to resist, battling against the odds, denying one's self for one's convictions, and learning about the satisfaction inherent in standing up for the oppressed.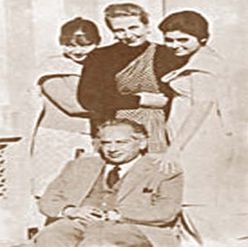 Alys also had to fight her way through a male-dominated office environment. Even a small task like getting permission to build a women's washroom required a struggle. A young reporter sought her company by claiming that Faiz Sahib treated him like his son. He did get his cup of coffee but also the repartee — "I am not responsible for Faiz's wild oats." Normally, however, politeness and a penchant for the under-statement were her trademarks. But she could always be counted on to be honest. When a guest once asked for a 'small' amount of milk in her tea, Alys corrected her immediately. "You mean a little," she said. She once persuaded me to review my articles as a film critic with a hard-hitting single sentence: "It seems you can no longer enjoy a film," she said. And she was first and foremost, a member of the team she worked with. She may have argued with Mazhar Ali Khan at times, but there could be no question about her loyalty to the captain.
Alys loved books and could often be spotted in public libraries. For her it was essential, especially in times of adversity, to derive sustenance from cultural pursuits — music, theatre, cinema, even from TV documentaries. She was always careful about living within her means and although this led some people to believe that she was parsimonious, this was not entirely correct. She helped along Faiz's sense of financial propriety, and if she insisted on Faiz being compensated for the use of his name in commercial ventures, she was only acting as his authorised agent.
She was a meticulous housekeeper, capable of running a decent establishment without riches. She insistedthat her husband always leave his bedroom properly dressed, and she refined his sense of punctuality. She considered it her duty to protect Faiz against people who wished to exploit him and also against friends who sought his company for pleasurable pursuits that lay beyond the limits set by her. When she said it was time to leave, it was time, whether the place was a friend's house or the BBC club in London. But she also knew the limits of her capacity to regulate Faiz's free spirit. She suffered quietly and chose not to see what could not be endured.
It was not easy to befriend her because she insisted on only associating with intellectuals and those who loved their fellow human beings. She did not like people who, in her words, "spoke at length and said little," and also those who left their sentences unfinished — 'Like Faiz, you too,' she would protest. She, however, could communicate in silence with Aziz Siddiqui, who like Faiz, was a man of few words. Yet Alys was always a caring spirit. She was always concerned about her associates' problems. Once, on holiday in a foreign capital, a local friend, while recounting the attractions of his city and desirous of my visiting him again, mentioned without reason that I should return to have my heart examined. She overheard this remark, and without my knowing, set about impressing uponAsma Jahangir the urgency of saving me from climbing the stairs to my fourth floor office.
What poor workers did by way of their commitment was more welcome to her than noisy affairs staged by rich hypocrites. A function in the village Kala Qadir was as enjoyable to her as a grand carnival in Lahore, and she never declined a single offer to join factory workers protesting for change.
Although Alys was devoted to her siblings and yearned for reunions, she loved many Pakistani people much better than her own countrymen. She did not like her life in exile and did not take kindly to those who she thought was a party to Faiz's retreating to Beirut. Her greatest trial was Faiz's death. But the only words that hinted at her pain were these: "Five years without him," she would say, and later, "Fourteen years without him." But they were enough to communicate her agony. As a 'gritty Brit,' which is how she often described herself, it served no purpose to complain and instead she would observe — "I have seen only a few faces today, you know I cannot go out."
Many people labour hard to leave indelible footprints on the sands of time, but only a few make their mark by simply being who they are. Alys Faiz was one of those people.
Mr. I.A. Rehman is a writer and activist living in Pakistan. He is the secretary general of the Human Rights Commission of Pakistan Secretariat.
Next