Whose Style is it Anyway?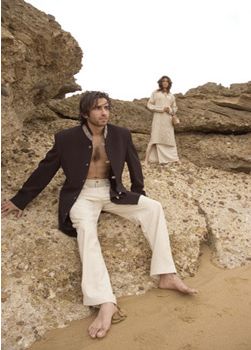 As the flame of Pakistan's small but increasingly significant fashion torch moves into the 21st century, one integral question needs to be asked: have we evolved a creativity genre which is indigenous to our culture, or are we simply adapting western trends? With more and more designers taking shows abroad, is the global market becoming aware of a garment called the shalwar, or are Pakistanis just getting better at wearing the pants? As collections get scantier, hemlines higher and necklines deeper, conservative elements maintain that what current Pakistani fashion promotes is totally alienated from 'Islamic culture'. But do history and religion alone define the limits of a culture or is culture dictated by a changing national psyche?
Many are quick to point out that the sari is culturally symbolic of India and should therefore not be promoted. But if the sari only symbolises India, then what is Pakistani culture ? Wiping out all pre-Partition historical influences is tantamount to erasing history itself. Right from the Indus Valley Civilisation, the region has been invaded by multi-cultural forces. Do we eradicate the influences of Alexander and the nomadic Parthians and Kushans, who came into the North Western Frontier Province? Do we wipe out the influence of Persia, the Muslim Arabs, who came through Sindh, the Turks, who entered through Bengal or the Sikhs from the Punjab? Should we then also demolish Mughal influence or two centuries of the British Raj?
If anything, Pakistan is extremely fortunate to have this rich, multi-cultural heritage as inspiration. Today's fashion is an amalgamation of history and modernity, with cable TV being the single most influential factor in changing current Pakistani lifestyles.
International fashion, too, has been influenced by South Asia, particularly in the last five years. A glimpse of the Indian subcontinent has been more than evident on international catwalks, from the brocade borders at DKNY, mirror work on Prada skirts or the British Raj in Armani prêt a porter. Our shalwars are being adapted and our Punjabi kurtas have gained world wide recognition. Our crafts too are becoming globally prominent, but unfortunately, it is India that has grabbed the spotlight. It's time to market ourselves in better packaging and launch Pakistan into the global fashion market.
Aamna Haider Isani is a leading fashion writer and an editor at Instep, the fashion and entertainment section of The News.
Next