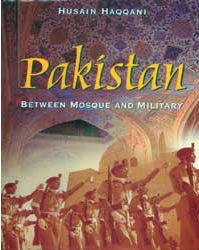 What has gone wrong with Pakistan? This question has acquired a flaming reference at this critical moment in our history. We look before and after, as the poet said, and pine for what is not. With its certified triple 'A' rating — that almost proverbial allusion to Allah, army and America — Pakistan finds itself either forsaken or betrayed by its sanctified guardians. In this process, great confusion has engulfed its original vision and its guiding principles.
Fortunately, an anguished search for answers to our predicaments has produced some very insightful appraisals of our recent history and analyses of the difficult choices we must make to find our destiny. Husain Haqqani's definitive exposé of the unholy alliance between the Pakistan army and radical Islamists is an excellent addition to this catalogue. His book, Pakistan: Between Mosque and Military, is very well researched and, coming from someone who has had an apparently dubious involvement with the power game, surprisingly objective. In fact, Haqqani has made good use of his insider's knowledge and experience. He has also been a diligent journalist and that has obviously stood him in good stead in undertaking this task.
This objectivity and rigour in scholarship may have been dictated by his sustained exposure to American academia. He is a visiting scholar at the Carnegie Endowment for International Peace in Washington D.C. In addition, he is an associate professor of International Relations at Boston University. Looking at Pakistan from that safe distance and being endowed with agreeable facilities for research and contemplation must have been very instructive.
In this respect, I should refer to another book of seminal importance that covers the same ground. Pakistan's Drift into Extremism: Allah, the Army and America's War on Terror was published late last year. Its author, Hasan Abbas, is a former government official in the police service and had some access to the corridors of power before finding refuge in American academia. It was there that he researched and wrote his credible interpretation of 'Pakistan's drift into extremism.' Like Haqqani, he had his stock of relevant documents and classified information. Thus, we have some intimate glimpses of the internal working of the government and the dominant role that is played by our own ISI and America's CIA.
Both these books underline the importance of research and meaningful assistance that is generally available to scholars in American and other western institutes and think-tanks. In addition to the intellectual infrastructure that exists in those climes, the sense of freedom that is necessary for a writer to be candid is obviously a welcome bonus, particularly as conditions in Pakistan have become very discouraging for such an enterprise. It does become hard for an intellectual to flourish in an environment that enforces collaboration with the establishment for even professional advancement and success.
Husain Haqqani's previous career in Pakistan would tend to certify this trend. In many ways, his audacious inquiry into the genesis and escalation of an alliance between 'mosque and military' is an act of redemption. One hopes that this regeneration of a considerable talent will be firmly protected — intellectually as well as morally.
Pakistan: Between Mosque and Military, is particularly valuable because of the credible evidence that Haqqani has mobilised for his thesis. He has rummaged through an entire range of material on Pakistan to support his arguments. There are, for instance, almost 900 annotations. And these references come from official documents, personal interviews, and well-researched books by recognised experts. He has been very thorough in arranging and expounding pertinent facts.
America's pronounced partiality towards military rule, irrespective of its professed desire to promote democracy around the world, comes out in glaring terms. Figures provided by the United States Agency for International Development (USAID) show that between 1954 and 2002, the US dished out a total of 12.6 billion dollars in economic and military aid to Pakistan. Haqqani notes that 9.19 billion dollars were given during 24 years of military rule, while only 3.4 billion dollars were provided to civilian regimes covering 19 years. But even more crucial has been America's tacit approval of the Pakistani military's desire to dominate the political system.
Haqqani has traced the entire history of Pakistan to decipher the role of the military and its control over our national security policies. The chapter that mainly deals with the civilian interval between Zia-ul-Haq and Pervez Musharraf is titled: 'Military Rule by Other Means.' In this account, the ISI plays a leading role. So much so that "the IJI's 1990 campaign had been directed almost entirely by General Hamid Gul, who was now a corps commander, and his former subordinates at the ISI." Earlier, for the 1988 elections, in a bid to thwart the Pakistan People's Party and Benazir Bhutto, the Islami Jamhoori Ittehad (IJI), a coalition of Islamist and pro-military parties, was "assembled" by the ISI. "The ISI funded the IJI and ran a dirty tricks campaign on its behalf."
For obvious reasons, Haqqani's book is a very depressing chronicle of what we have made of our freedom. It makes clear that strong links between Pakistan's military-intelligence apparatus and extremist Islamists survived the U-turn in the wake of 9/11. So, is there no hope for the emergence of a truly democratic and socially progressive Pakistan, notwithstanding the 'enlightened moderation' slogan?
In his eighth chapter, Haqqani concludes with this thought: "Pakistan was created in a hurry and without giving detailed thought to various aspects of nation and state building. Perhaps it is time to rectify that mistake by taking a long-term view. Both Pakistan's elite and their US benefactors would have to participate in transforming Pakistan into a functional, rather than ideological, state." But is the present leadership of Pakistan ready to give up its longstanding ties with radical Islam?
The intense focus on linkages 'between mosque and military' tends to overwhelm the reader and perhaps Haqqani could have found a more detailed relevance to the ongoing peace process between India and Pakistan. There is enough about Kashmir in the perspective of jihad and radical Islam, but some recent, very dramatic developments in the peace process should have had a bearing on the central theme of the book.
Ghazi Salahuddin is a respected senior journalist in Pakistan. He currently works with the daily The News and the Geo television network.