When I was a T-Bird in my high school production of Grease, the directors gave us a printout of the lyrics of 'We Go Together,' and for a few minutes I just kept staring at it.
"Um," I said finally, "what does 'rama lama lama ka dinga da dinga dong' mean?"
They didn't really know how to answer. And throughout the rest of the rehearsals, they had to explain words like 'putz' and 'the fuzz' which were lost on an eager, but uninitiated crowd. Even the boys didn't know what 'to put out' meant, and we were all slightly underwhelmed by the limits of adolescent rebellion being confined to smoking, drinking and some innocuous flirtation when we ourselves were having far um… friskier evenings.
The truth is that Grease represents an isolated time and space in American history. It's about a generation of baby boomers that were born towards the end of the Second World War that began to seriously challenge the social and political norms that were previously held dear. The title Grease itself comes from 'greasers,' a rebellious American youth subculture.
The problem, ultimately, is how is a Pakistani audience supposed to know?
Grease doesn't have much of a plot. We're at Rydell High School, where Danny Zucco — played by the astonishingly good Ahmed Ali — the leader of a group of leather jacket-clad narcissistic punks called the T-Birds, comes back from a summer fling only to find out that Sandy Dumbrowski, the aforementioned fling (an ordinary character played by an ordinary Ayesha Omar) is now a full-time student at his school. The tension, then, comes from Danny trying to maintain his image as a playboy alpha male while exposing his soft, marshmallowy side to Sandy.
The richness of Grease, however, comes from the subplots. Sandy is initiated into a giggly group of girls who call themselves the Pink Ladies, led by the decidedly un-giggly Rizzo, quite easily Grease's — and this production's — most interesting character.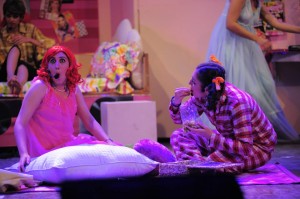 In Sanam Saeed's brutish yet fragile Rizzo, one can see the beginnings of the Second Wave of feminism, a movement broadly fought over sexuality and reproductive rights. She's a desi aunty's worst nightmare. She smokes and drinks. She's sexually uninhibited, knows what she wants and when she wants it. This isn't simple rebellion. In Sandy, Rizzo finds her antithesis: a prudish goody-two-shoes who toes the line and doesn't allow herself any pleasure — an almost Victorian caricature. Sandy, then, becomes a reminder and a confirmation of all the things Rizzo despises, quite emphatically articulated in the sizzling, sarcastic number, "Look at me, I'm Sandra D."
The problem is that Grease is not a good play. The moments of dialogue in the script, the movie, and ultimately this play, are restless, hurried transitions from one song to another. The plot is thin and uncomplicated, character development is sparse, and the leads are ultimately shallow and uninteresting. The play's comic relief comes from the physical and emotional bullying of Eugene and Patty Simcox, two actually pleasant characters portrayed as nerdy and overeager — both were played wonderfully. I called Ahmed Ali's performance astonishing because I couldn't believe he could tease so much out of a largely empty character. Perversely, then, that Nida Butt exposes the very same faults that one can see in Grease's other adaptations is a testament to her fidelity to what the musical was meant to be: a catchy, entertaining, but ultimately superficial romp.
Ms Butt largely nails the Pakistani debut of Grease (playing at the Karachi Arts Council through February). She brought in a live band, cleverly perched on top of the stage while the class of '59 schmoozed, boozed, danced, sang and had their hearts broken and then mended again underneath. The scene transitions were swift, the songs well-choreographed, the acting solid — almost all the actors deserve praise for keeping cringeworthy accents at bay. The extra in the glittering gold jacket was great fun to watch, whoever he was.
But coming back to my original point: how does a Pakistani audience process Grease? This isn't simply a question of elitism — that comes with the venue, the price tag and the language already — but more of cultural affinity. Even a person who's been to the United States will have difficulty in understanding the context in which Greasewas written and produced. I don't mean to sound patronising, but the only reason I'm familiar with the play was because I was in it. The idea that we can somehow recreate a 1950s' non-descript American small town and document the social and cultural machinations of the time in a non-descript corner of Karachi is both a compliment to the will and commitment of the director, and a lamentation of the yawning cultural gap between the performers and the audience.
Still, even for the uninitiated, there's plenty for a Pakistani audience to relate to: gang violence, peer pressure, premarital sex, unwanted pregnancy, academic pressure and social stigma. If that doesn't work then the songs are catchy and ever-hummable. And if nothing else, there's the spectacular last scene in which Ms Omar dons that same stunning outfit that gave John Travolta multiplying chills.
One can safely say that from her more amateur days of Chicago, Nida Butt has matured into a serious, self-assured and ambitious director.
This review was originally published in Newsline's February 2014 issue.